The view from our private, 10-seater Cessna plane is breathtaking. We're cruising through cerulean skies over Thailand's eastern seaside soaking in the blue-green expanse of the Gulf of Thailand. Untamed jungle, pristine beaches, lagoons and glistening rainforests veer into view as I train my camera lens on the landscape.

Post our 90-minute flight from Bangkok, we land in Koh Kood, Thailand's fourth largest island and an unspoiled paradise far beyond the country's touristy trail. Located just 350km southeast of Bangkok, Koh Kood feels like a land before time. Untouched slopes, wild interiors and immaculate beaches compose its raw glamour.

Our destination on the island is Soneva Kiri, a 102-acre, award-winning Six Senses eco-luxury property. As the plane's wheels kiss the island's dusty runway at Trat, and the thrum of engines falls away, we're greeted by Soneva's staff who come bearing cold towels and refreshing cocktails. We're introduced to our Ms Friday, Chompoo, a charming local Thai, who escorts us to a waiting speedboat which ferries us to the resort.

Soneva Kiri nestles within a lush tropical rainforest, its rustic-chic design is inspired by the isle's charms. It is sustainably crafted with recycled wood like the poles that bring to mind the stilts of the local fishing villages We check into our four-bedroom villa overlooking the glittering ocean. As we flit from room to room, taking in its accoutrements and understated glamour, "oohs" are followed by "aahs". We check out our infinity pool with a slide, capacious bathrooms, a gym and breathtaking view of the ocean.

Each of the resort's collection of 35 villas also comes with its own private butler. Beautifully-designed interiors are made from eco-friendly materials and thoughtfully constructed to blend seamlessly into the island's striking landscape, what's not to like? The low-impact energy-efficient rooms are built from natural materials and powered by renewable energy sources to let in as much natural light as possible and whittle down the need for electric lights.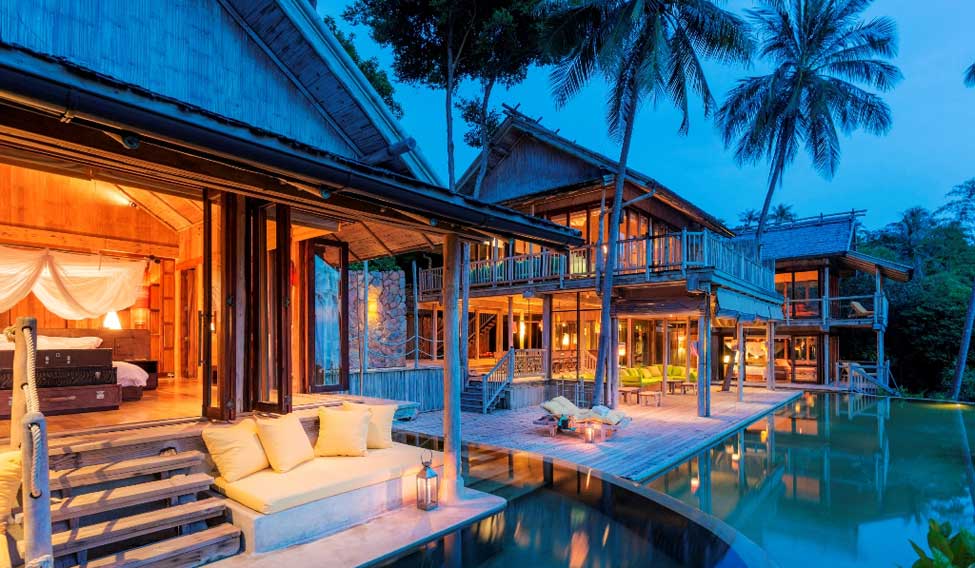 Barefoot luxury
Soneva Kiri advocates a slow life and barefoot luxury, antithesis of the 24/7 world with its onslaught of technology, noise, stress, demands and obligations. As the resort's Manager Andrew Whiffen put it, "We call ourselves the `no shoes; no news' resort. It is all about informality, absence of schedules, the feeling of freedom and simplicity without sacrificing comfort. The idea is that guests are enveloped in the natural world, engage with it, with themselves and with each other".

Over the course of the week, we understand Soneva's philosophy better as we luxuriate in its first-class service while enjoying the island life. We trek deep into the heart of the ancient rainforest delighting in sightings of exotic flora and fauna, we dig our toes into the soft sand of coconut palm-shaded beaches tuning into the oceanic roar, we stroll through pristine waters, the ocean lapping at our calves, we dine on authentic Thai cuisine under a glittering vault of stars!

At the resort's Eco Centro, a 'waste to wealth' centre, we watch the resort's discarded articles and materials being morphed into treasures. Unused coconut shells are magically repurposed into beautiful tea sets or clocks, coconuts lying plentifully around the beaches are collected and oil extracted from them for use in the spa, beach corals are embellished to make pretty paperweights... the list is endless.

Care is taken at every step to minimise the resort's carbon footprint. The in-house organic vegetable gardens are watered with naturally filtered recycled water, and sustainable waste management systems transform waste into a valuable resource. To protect the island's environment, Soneva Kiri has banned plastic bottled water (it uses only glass bottles), launched coral restoration projects to help local marine life flourish and raised over $5.5million through a carbon levy to help thousands of underprivileged.

Sustainability, as Whiffen elaborated, isn't about sacrifice; rather it's a celebration of abundance. "The unique environment, cultures and experiences shared with guests are not meant to be experienced just once. Sustainability ensures that future generations can enjoy them for years to come," he explained.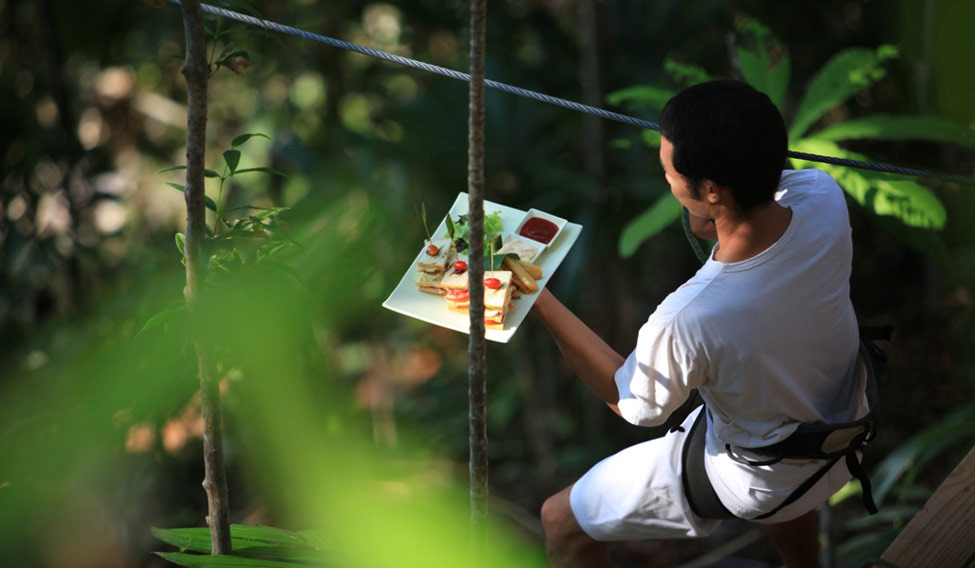 Sustainable development
This sensitive view underpins much of Soneva group's development in the hospitality sector. Helmed by award-winning entrepreneurs Sonu Shivdasani and his wife Eva, the group has two more properties—Soneva Fushi and Soneva Jani in the Maldives—all of which adhere to the concept of responsible luxury. The Soneva Foundation invests in projects that have a positive environmental, social and economic impact, and importantly, offset carbon emissions from the resort's activities and guest flights.

It is fascinating to listen to the resort staff's engaging stories about how ingeniously the resort was crafted in 2009. Apparently, during construction subsoil from the site was mixed with rice husks and straw (agricultural waste products) and moulded to make mud bricks and plaster for the interior walls. Recycled egg crates were used in the drainage layer of the roofs while soda water bottles were utilised as glass bricks for the shower.

Recycled waste products and green building techniques that require minimal mechanical energy were deployed during construction while the use of cement or concrete was eschewed. Most of the timber used for the resort was harvested, kiln dried and treated on site itself and is held together with hardwood dowels handmade by a local boat maker.

Some poles and rafters were made from locally sourced Casuarina driftwood. The remaining timber poles and beams were locally sourced. Pine is used for the joists and reclaimed teak is used for the deck areas. The teak leaf ceiling gives the building a nest-like appearance.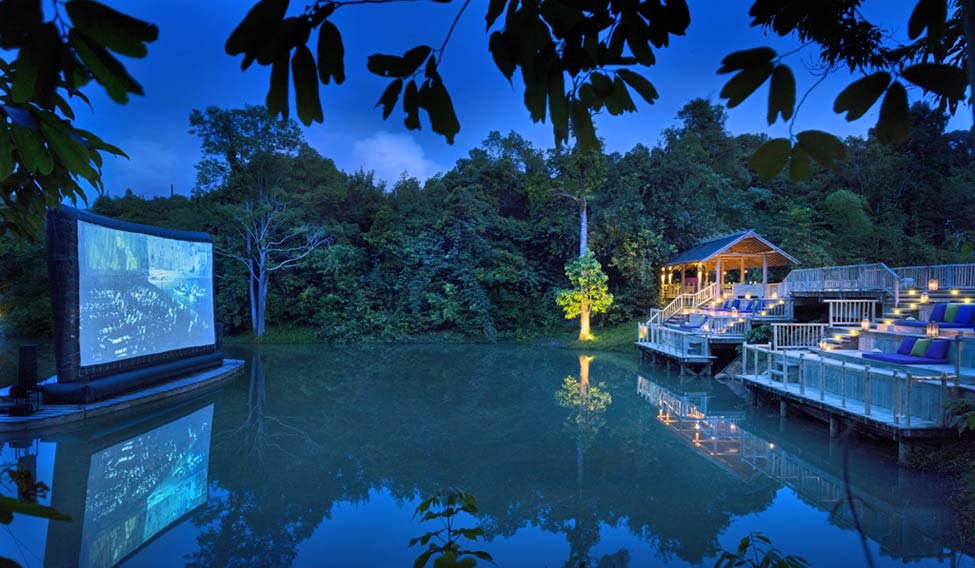 Yet none of the green measures seem to diminish the resort's luxury aspect. In fact they augment it. Cinema Paradiso, an outdoor cinema is where we watched old Hollywood classics under the stars. At the resort's state-of-the-art observatory, we were star struck (literally) exploring the glimmering galaxies through a telescope. A visiting astronomer showed us the constellations, the moons of Jupiter and the halo of Saturn's translucent ring.

Treepod dining at Soneva is exactly what it sounds like and so much more. Comfortably seated in a bamboo pod, we're gently hoisted high up into the Massang trees of Koh Kood's ancient rainforest. Here, we watched the surf-tipped oceanic waves rise and crash as a 'flying waiter' zipped back and forth via a zip-line bringing us delicious treats and fresh coconut to drink. Pure heaven!

If the beach, dining in the trees and eating all the free ice-cream and chocolates you can stomach (at the resort's ice-cream and chocolate parlours) aren't enough, Soneva is also home to the blissful Six Senses Spa where we experienced an amazing singing bowl massage (the seven-metal bowls used by Buddhists for prayers) and partook in a complimentary yoga and mediation class.

Spending a week at Soneva completely changed our view and expectations about what a luxury hotel brand should be. It reinforced us in our belief that 'luxury' isn't just about gourmet dining, bed linen with a record-breaking thread count, fancy toiletries and swanky hotel lobbies. It is also about giving back to Nature, optimising God-given resources, providing life-enriching opportunities to individuals and communities all at the same time!