Americans have become creative with their pumpkin carvings for jack-o'-lanterns this Halloween season. Trumpkins are pumpkins with US presidential candidate Donald Trump's face carved on it. The new fad alludes to Trump often being described as a 'scary and dangerous' person. A Twitterer, after making a carving, realised that Trump looks "huge and orange", like a pumpkin. That triggered a whole barrage of tweets with everyone's own carved version of Trump.
Some of them tend to highlight his big pouted lips, while others put in elaborate effort to replicate the hair with shredded pulp of the pumpkin.
Some are made to look scary, with angry holes for eyes and a frowning mouth wide open.
Not all of those carvings are intended to poke fun at him, though. Some carvings are beautifully etched, with detailed works, and its creators plan to keep them on their front porch to make it clear who they're supporting this time.
To add to the craze, numerous articles have cropped up, with instructions on how to carve or paint a Trumpkin. One of these include an option to add "accessories" to the carved pumpkin: "a tie, an American flag, a "You're fired!" speech bubble, a 'Make America Great Again' cap, a tax return".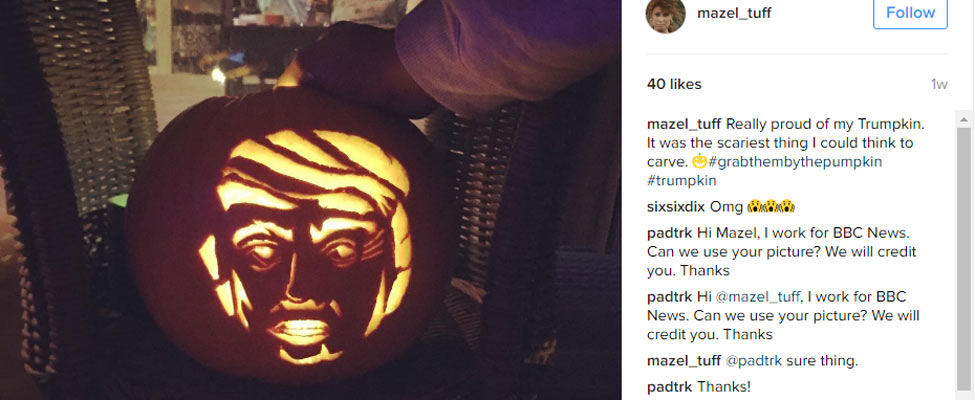 This isn't exactly a new phenomenon, though. Last year, when the primary vote season coincided with Halloween, Trumpkin carving picked up.This year however, the emotions behind the carvings—pro-Trump or against—are stronger.
A Melania Trump costume has been going viral, worn by journalist Jemima Khan for the UNICEF Halloween Ball. Jemima wore a white dress and carried a placard that had a call to vote for Trump. But, the icing on the cake was that she had two inflatable hands over her body, with Trump's face looking over her shoulders (hence the moniker, 'groper costume'). The journalist, according to reports, looked remarkably similar to Melania, and sent a clear message with the costume.