A student from Amity Law School in Noida who was denied the chance to write his exams due to low attendance committed suicide on August 10. Sushant Rohilla, a fourth-year LLB student, had missed classes due to a fractured leg, and attained less than the mandatory 75 per cent attendance. He had written a letter to the management, pleading for clemency. He had said that besides his injury, he had also organised college activities that brought laurels to the university. When the authorities turned a deaf ear, he hung himself.
The suicide came into national limelight when Rohilla's family pleaded for justice a week later. Students and friends reacted on Twitter with the hashtag #JusticeForSushant, blaming the college authorities for his death.
On August 16 and 17, more than 300 Amity students staged protests outside the campus. They called for the resignation of two members of the faculty, who, they claim, were fully aware of Rohilla's health conditions and his contributions to college events. According to reports, the two faculty members have been sent on leave by the university until a decision is taken.
Along with Rohilla, 18 other students were also barred from taking their semester exams due to low attendance. The students said that they were assured clemency, but the university went back on their word at the last moment and informed them that they were not eligible for readmission to the next year.
Sushant's father, Jagdish Kumar, posted a touching message on Facebook, which quickly went viral. In the post, he said, "He brought accolades to the college. He was loved by all. His act of suicide was provoked by some officials of the Institute over trivial but illegal arbitrary issues. No student should ever be tortured over attendance. No student should ever be compelled to ever contemplate such step. I will get my son justice."
Amity University responded by saying that they had "no role" in the suicide. Its statement said, "ALS Delhi is affiliated to Guru Gobind Singh IP University (GGIPU), Delhi. The students were detained as per the decision of GGIPU and in that Amity Law School itself had absolutely no role."
Am alumni of Amity Laws, know how attendance rules used to be waived for some kids of powerful,don't know if still true.#JusticeForSushant

— Ishkaran S. Bhandari (@Ish_Bhandari) August 16, 2016
Students called out on the university's lack of empathy. Some pointed out previous instances where students with less than 75 per cent attendance were allowed to write exams. Sushant's attendance, according to the university, was 43 per cent.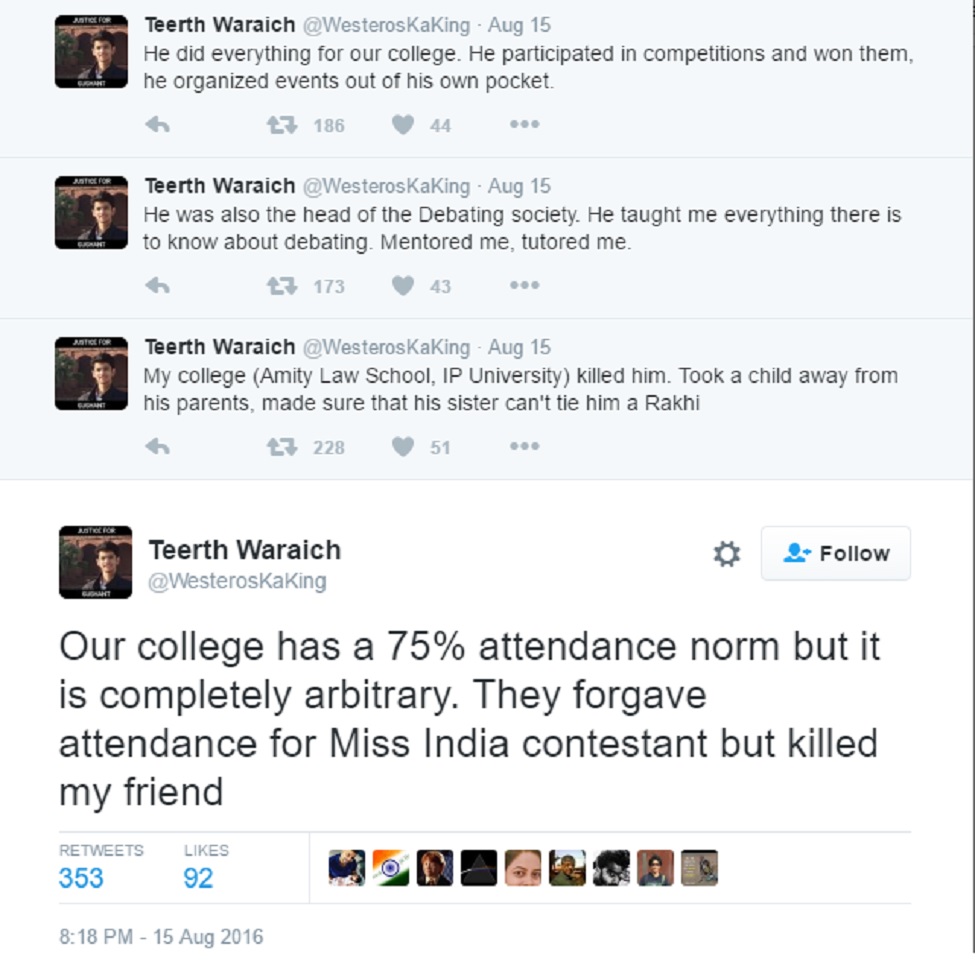 However, some Twitterers found the reason for his suicide ridiculous.
Suicide should not be obstacle for discipline #JusticeForSushant is a wrong trend. He could have cleared papers in next semester.

— ARUNESH NARAYAN (@narayanarunesh) August 16, 2016
Can't understand this #JusticeForSushant . A rule is called a rule for a reason. There might be bias in enforcing it, but suicide is stupid

— M. Aamir Khan (@makmares) August 17, 2016
The incident triggered a larger debate about the atrocities committed by school or college authorities on students in the name of discipline and policy.
Imparting education shud be a pleasent experience, not a blackmailing nd exploiting tactics. Raise Voice agnst Hypocrisy #JusticeForSushant

— Veer Vikrant Singh (@lexveer_vikrant) August 16, 2016
Stand-up comedy group All India Bakchod's Rohan Joshi spoke up about his ordeal with a professor through a string of tweets. He said that the professor made him redo an assignment 20 times. "It got to a point where I'd be weeping in my room over the assignment and my mum would come in and draw for me a bit, late at night," he shared. The candid tweets and AIB's post on Facebook received huge response, as more students opened up about the ordeals that they had gone through at the hands of professors in college.