If you are an art and culture enthusiast, make sure to save the date. The picturesque city of Goa is set to host a multi-disciplinary arts event, Serendipity Arts Festival, between December 16 and 23. The festival director Preeta Singh talks about the festival in a conversation with THE WEEK. Excerpts:
What makes Serendipity Arts Festival a must-visit event?

Serendipity Arts Festival will be a first-of-its-kind multi-disciplinary arts event over period of eight days in Panaji, Goa. The festival will be curated by a panel of experts from major disciplines such as performing arts, visual arts and culinary arts. There are two curators from each field, each with distinct backgrounds and representing different aspects of the discipline, in order to start conversations and exchange artistic styles, generations, and geographies.

With art and craft exhibitions, music performances, dance, theatre, visual arts, and culinary arts, conclaves and workshops, the festival has something for everyone. Practitioners and audience will be able to interact with each other in an immersive space that seeks to create discursive opportunities, promote exchange of ideas, and inspire the youth to access and engage with the arts at a larger level.

What is the USP of the festival?

While we have many art festivals in our country that cater to specific art forms, what we lack is one single inclusive art festival that lets audiences experience and enjoy the various art forms under one roof. Serendipity Arts Festival is trying to challenge this norm and is attempting to make art inclusive and accessible to all.

Rather than just being a showcase of Indian art, the festival is a cultural experiment that hopes to, over time, affect the way Indians interact with art on a daily basis by addressing issues such as arts education, patronage culture, interdisciplinary discourse, and accessibility of the arts. From the audience's point of view, we are creating an experience that shows how the arts are connected and interdependent. You might, for example, go to the festival as an avid follower of classical dance but come away with a new found passion for street art or performance art.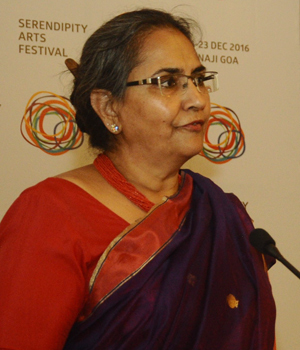 The curation of the festival, from the selection of artists to the allocation of venues, has been carefully thought out to encourage this kind of discovery and exploration. It leads to the idea of interdisciplinarity—this conversation across disciplines. While some of our projects do this directly by challenging conventions of categorisation, be it genre, style, geography, or generation, the overall structure of the festival and the environment we are creating will greatly enhance this idea. The aim of the festival is to create a platform for all arts that allows them to coexist and intermingle in a meaningful way. In the coming years we hope to integrate an even broader range of art forms.

What is the agenda of the discussions and events?

The Serendipity Arts Conclave, which is an integral discursive feature of the inaugural edition of the festival, will invite its participating speakers to engage—each from their own research preoccupations and ongoing work—with a single question: What should an arts institution of the future in Goa look like? This question will be approached through a 5-panel structure, and will be answered within the following themes: Mapping Other Modernities; Bridging Disciplines; Building Institutions/ Cultural Infrastructure; Regional Histories of Pedagogy; and The Armature of the Humanities.

The Collector's conclave is a discourse designed keeping in mind the idea of archives, conservation and preservation of our culture and history. It will address the need for patronage and its potential to affect change. It is necessary to provide young practitioners of art the opportunity to express their creative talents. This gives them the ability to better their lives and those around them.

Is this the first time that such an event is taking place?

Yes. While there is a growing art scene in India, there are eminent issues to address like building an infrastructure and growing the audience and art patronage in the country. We feel that, in our country, every discipline of art is evolving in isolation whereas we believe that all these disciplines can be brought together to achieve even bigger and creative outcomes. An interdisciplinary festival such as this promotes sharing of multiple forms of expressions, which can enrich human life. We are attempting to challenge the conventional ways of looking at art, by emitting the isolation of various disciplines. We hope to bring together hundreds of artists from various disciplines for interdisciplinary projects that will educate and open up space for creative dialogue, with the intent to engage people with the legacy and future of arts and culture.

Besides the key notable speakers, what can people look forward to at the event?

We have an intensive schedule of over 40 exhibitions, performances, workshops, among other activities that will be accessible to audiences throughout the eight days of the festival. It will offer many stellar projects such as a never-seen-before theatrical production by circus troupe Talatum; Sandhi—four commissioned dance productions curated by Sanjeev Bhargava, Selfie Project by Dinnesh Khanna that will highlight the relationship between technology and art; Open Site (a street art project) curated by Riyas Komu; Young Subcontinent curated by Riyas Komu that will have works of 24 young artists from across the subcontinent region, and Choreo Lab—a project that aims to promote sharing and appreciation across the cultures, among many others.