Dismissed minister S.D. Somasundaram had fixed 10a.m. on September 5 for launching his new party. The venue was near the gate of his small Nandanam house, to which he as promised to shift within a month from the ministerial bungalow on posh Greenways road, about five minutes drive away.
But at 10 a.m. he was still at the Greenways road bungalow, perched on the short portico wall, with a handful of his supporters around him. They were anxiously waiting for a taxi to take the ex-minister to the venue of the ceremony.
But the youth sent for the purpose returned without a cab. There were no taxis in the vicinity, he helplessly explained. Someone in the crowd then offered to fetch one from Mandaveli taxi stand, about three km away. SDS thanked him and told him to hurry up.
Another person suggested, for the third time within five minutes, that Somasundaram could as well go in one of those cars belonging to his followers, since it was already getting late. "I am not a rich man and how can I expect to travel by car always? No, I will go by a taxi," Somasundaram told him. "Besides, can I presume that my friends will always give me free rides in their cars," he asked.
The taxi finally arrived and the small caravan took off. SDS looked up a batch of engineering students on fast on the Sri Lankan issue and arrived at the Nandanam venue at about 10.30 a.m. There, he first addressed a press conference where he announced the name of his new party and its flag.
It was clear his intention was to irritate MGR as much as possible. The name he gave to his new party was, 'Anna Dravida Munnetra Kazhagam' (ADMK) which is what MGR's party is commonly called, though the official name is 'All India Anna Dravida Munnetra Kazhagam (AIADMK).
Explaining why he chose that name, SDS said, "When MGR first launched his own party, he called it the 'Anna Dravida Munnetra Kazhaga.' But within six months, he suddenly changed the name to 'All India Anna Dravida Munnetra Kazhagam.' Obviously because he feared Mrs. Gandhi. I opposed this change which I came to know only through the newspapers.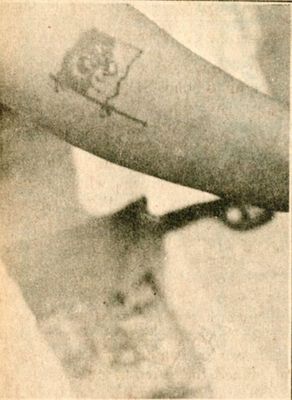 "Had MGR started his party as MGR-Kazhaga, none would have joined him. And had he adopted the 'All India' prefix at the beginning, people like me, with strong anti-Centre feelings in tune with our mentor Annadurai's ideals, would not have joined MGR. Anyhow, now that there is no 'ADMK' but only the 'AIADMK' ruling this state, we have decided to call our party the 'ADMK'."
A couple of hundred people had gathered when SDS hoisted the Dravida 'tricolour.' Half a dozen district leaders from the AIADMK camp were introduced as having crossed over to SDS. The thin attendance was sought to be explained by 'Tiruchy' Sounderarajan, MLA, as being due to lack of preparation and sending away of many volunteers to the villages to mobilise support. Sounderarajan has himself not yet resigned from the AIADMK. He is busy meeting MGR's MLAs in an effort to get as many of them switch loyalties.
"They will come but it will take some time. Most of them have their own personal problems and they are afraid that MGR would use that to harass them," said Surulivel, an ex-AIADMK MLA.
SDS created one more problem for MGR. His party flag has three colours – black for social change against old superstitious practices, red for social revolution and white for purity in public life. And the Kazhagam men have some strange ways of exhibiting their affiliations. The DMK men wear white dhoties with a black and red band as the border, while the AIADMK members have their white strip separating the black from the red in their dhoti borders. Now the AIADMK dhoti borders would resemble the SDS party flag. It remains to be seen how MGR tackles this problem.
SDS too has one peculiar problem. Most of his followers now are men from the AIADMK camp and they carry tattooed on their right forearm the AIADMK party flag. This tattoo mark cannot be removed unless one is prepared to disfigure his arm substantially. So SDS will be carrying the MGR tattoo into his camp.