Of Miles and Me is Nipun Nayyar's photo exhibition that is currently underway at Mumbai's Jehangir Art Gallery. Nayyar calls it a photo travelogue which is in its second edition for which he has travelled extensively. Whether it is random stays in villages in Himachal Pradesh, Dominican Republic or Tasmania, the colours, sights and pregnant sounds all seem to come alive with every photograph.
Nayyar, a travel photographer, focuses mainly on landscapes, portraiture and street photography. Using a Cannon 5D Mark III and 28 mm 1.8 lens, he does a fabulous job capturing numerous moments as well as emotions. Whether it is the innocence of childhood that you want to escape into or burgeoning youth which you don't wish would slip away or old age in the form of gnarled hands and wrinkled faces, Nayyar's work comes from a kindhearted place and truly captivates.
Nayyar, who finds portraits interesting, says that he holds his camera really close to people's faces while taking his pictures. "I do portraits really close and it can be intimidating for people. Shooting portraits is very dynamic," he says. Living proof of it is a beautiful woman from Himachal Pradesh he has managed to capture through his lens in all her old-age regal glory. There is also another photograph taken during his journey from Lahore to Karachi which is of the first namaz (prayer) of Ramzan. Nayyar, an Indian, travelling from the US to Pakistan, on a train, says that while he didn't want to intrude, he is quite proud of it. "That's a unique photograph within my portfolio as well. It was an unfamiliar setting and there was an unknown sort of fear, it was awkward but as an experience, it was wonderful. The challenge was creating the distance of approximately three and a half meters but it was spontaneous," he says.
Nayyar's exhibition has landscapes too and they are so gorgeous that you will feel that they're going to be snapped up by Apple for their next batch of screenshots. Each photograph is so nuanced that you can actually count the number of protruding peaks on the mountains or count the bubbles in the waves of the ocean that he shoots. Then there are those pictures which he shoots that have an almost mystical and dream-like quality to them, half hidden either by a mist or fog and they sure are bound to enhance any living space. There are several landscapes which have also been shot in a lot of snow and Nayyar manages to captures the snow's sheen supremely well.
Among his finest work is "squares" and this series is all about "symmetry" and "geometry." He says that he loves the "light" there. "I figured out what neighbourhoods within New York have a particular light in summers, have a particular light in winters, from 8 am -10 am in the morning and from 4 pm -6 pm in the evening. Then, everyday, I would go there, walk around and shoot and that's how it happened."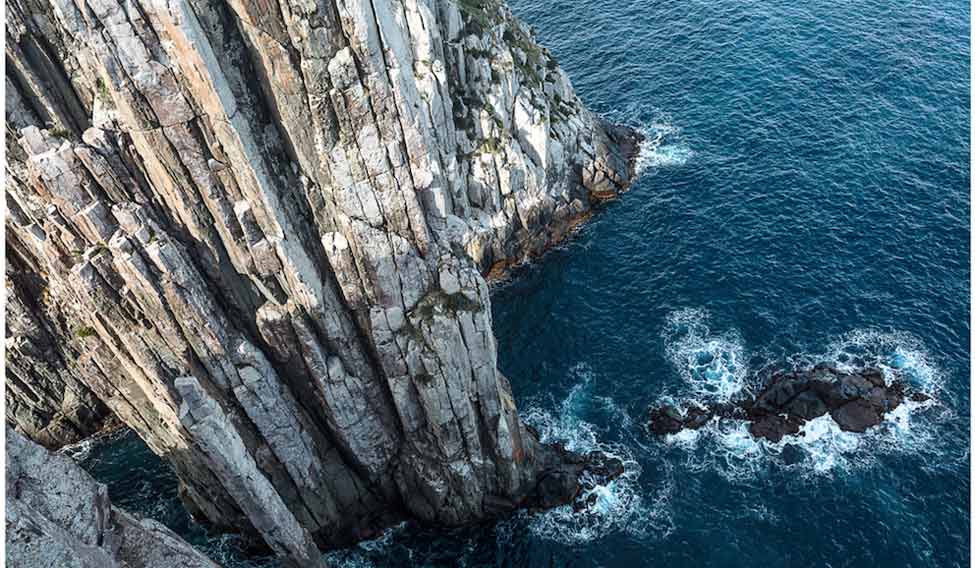 Within street photography, Nayyar tries for a minimalistic aspect. "There is a design sensibility which is both visually and conceptually minimalistic along with an aspect of being alone in the visual. I try to capture just one person, and try and keep it uncluttered," he says. However, that can be challenging in India and New York, because here street photography comes out with many people on the streets. "But that's the process that I enjoy when I am with my camera, as a photographer; the patience of waiting for that particular person who would suit that moment of the frame, the light and everything."
Nayyar, who shot the photographs over a period of four years visiting eight countries, 26 states in the US of which 15 states he visited solo, is very picky with his prints and admits that he wasn't too happy with either matt or glossy paper until he saw the magic of canvas and how it transformed pictures. He prefers his snow pictures on gloss because "the white aspect shines," he says.
Nayyar, like most artists, fights a battle between the artistic side and the commercial side inside of him, and he often has a tough time deciding what size the photographs are going to be. While most of it is about the artistic eye, there are some for which he says, "there are no particular rules, it just speaks to you and it says, "I'd look good if I am big."" 
But then there's also the business side of it. "From past exhibitions and people's logic, I feel I have come up with a concept that if someone is to put up a frame in their office or in their living room, they usually go for landscapes or abstracts. And if I'm going for a landscape, the bigger it is the better.  I can customise the sizes of portraits, if art galleries are interested in buying. I usually go for five editions for the bigger ones, for the smaller ones I go for ten," he says.  
Nayyar will be in Delhi, next month, so all those who want to catch the magic of his photography, don't miss out on your chance to do so there.