What message does the Women's Day give to a woman who was born as a man? Asks Manabi Banerjee, the first transgender principal of a college in India, and she would respond in quite an unusual way. "Yes, Women's Day is created by a men dominated society, and nothing else. It is male chauvinism," she says.
"A man cannot live without a woman. From getting one's towel to bathroom, to preparing breakfast, a man needs a woman. A day is, therefore, made by men to observe Women's Day. It is nothing but recognition for such laborious job. For a man, a woman is a commodity and, in return, he gives her some recognition. March 8 is such a day," said Manabi, principal of Krishnagar Women's College, Kolkata.
Born as Somnath, in a middle class family at Naihati, in Kolkata, Manabi faced lot of struggles in life, even from home. Within Somnath, however, remained a girl who desired to be like the other girls in the society. For a sub-urban area like Naihati, such recognition, however, was a distant dream. Though it was torturous, Manabi, perhaps out of fear, remained within Somnath's body for many years. When she realised that education is the tool for bringing about change, Manabi worked hard and completed her PhD in Bengali, and got a job in a college at West Midnapore district, in West Bengal. Manabi went for a sex-change surgery in 2003 and huge doses of hormone therapy transformed her body. Her colleagues in the college, however, were reluctant to accept Manabi as woman. It was then that some of her students came to her rescue. "So I am still continuing," she said with a smile.
Ask her if she has any regret, and she would say, "I felt secure when I was a man. But I did not want that security. A woman's life, that I desired, is very pathetic," she says.
Manabi gets furious when she talks about the insecurity a woman faces every day. She asks, "Why don't we hear about of male foeticide, and always hear only female foeticide. It is disheartening to see parents saving money for a girl's marriage, from the day she is born?"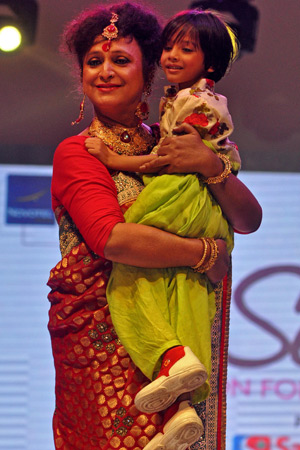 "For more than a decade, I was threatened for transforming to a woman and, even now, it continues. It is as bad as female foeticide," said Manabi.
Manabi hopes that a woman's life is to be celebrated every day, and not just on the Women's Day. She is also concerned about those women who long to be men, but remain silent out of fear. A few days ago she spotted a girl who is man-ish within.
"If I could feel the pain of not being recognised, by the society, as a woman, I can understand the feeling of the girl, too, who bears the same pain within," she said.
When Manabi asked her why she did not express herself, the girl said that it was her fear of being isolated in the society that pulled her back.
"I tried to explain things to her through my own life. But I was taken aback when she told me that she had understood me as a eunuch," Manabi says.
A society where girls are not educated about the meaning of being transgender makes Manabi disillusioned. Things are changing in other countries, but in India the pathetic situation continues.
"What form of justice is this? We can celebrate Women's Day for hundreds years. Unless we educate our society, we fail to recognise that there could be men within women and vice-versa. A Women's Day, hence, does not bring much enthusiasm to me," she said.