If Lionel Messi stood shoulder to shoulder with Sachin Tendulkar, there would be little between them. Messi, at 1.69m, is just centimetres taller. But, just as Tendulkar grew into a giant in cricket, Messi is now indisputably the best footballer on earth. Their talents, their application, and the humility with which they cope with adulation, allows us to observe that genius exists on the playing fields.
I dare to suggest, even on Tendulkar's turf, that Messi's story is the more remarkable. He competes in the world's most popular recreation, and in football there are opponents who think nothing of trying to brutalise skill through greater physical might. Maybe a dozen countries count cricket their national sport, but soccer is played by 250 million people in 200 countries.
Being acknowledged as the world's top footballer—as Messi has been for the past four years—is unprecedented. To achieve that mantle while playing in another culture thousands of miles from where Messi fell in love with his game, has been his challenge since adolescence. Somehow, he still conveys the joy of a boy in the playground. Yes, soccer is a man's game (except where it is increasingly played by women). Yes, it is a contact sport in which men would willingly use force to crush him like a flea.
They have to catch him first, and he is so quick, so aware, so agile that more often than not he skips out of harm's way. Occasionally, the brutes do catch his limbs. Recently, a Basque by the name of Inigo Martinez ran the studs of his boot down Messi's Achilles. Messi is no coward, but the assault was cowardly.
Messi grimaced, he felt the heel with his hand, he bounced back up. And within minutes he, and his beloved ball, were mesmerising opponents afresh, bewitching them with speed of foot, with innate balance, with movement that a dancer would call ballet.
This movement, this lifelong friendship with a round, inanimate object, can sometimes run in families. Yet nothing in Messi's household gave him the gene. Nothing, that is, in the sense of physical endowment.
Similarly, nobody in Diego Maradona's immediate family was so gifted. Maradona, the previous Argentine idol (and incidentally also a small man in football terms) was born to poverty. His father worked at a factory sifting and grinding down bones of animal carcases in a shanty near Buenos Aires.
But if poverty spurred Maradona, Lionel "Leo" Messi did not have that motivation. His father, Jorge, worked at a steel factory, his mother Cecilia was a part-time cleaner. It is, however, rare to find a red-blooded Argentine male who is not inculcated in the obsession of football—doubly so in men of Italian extraction. Jorge Messi's family migrated to Rosario, in central Argentina, in 1883. In his spare time, Messi's papa ran a boys' soccer team called Grandoli.
His three sons played. Leo's personality seemed formed around the ball. He went everywhere with it. His determination was such that, though other kids named him La Pulga, the Flea, they couldn't knock him down, and couldn't entrap him.
Even at primary (infant) school where he was diligent, but helped through maths exams by a girlfriend, the teachers knew that football captivated him. It didn't take an expert to see that he had exceptional movement, like the timing of the ball onto the bat of Tendulkar. Calling Messi a flea does not begin to describe him. Defenders who today cluster around him two or three at a time are rather like men drawn to a butterfly, a beautiful, exotic creature who hovers and then is gone from their grasp in the blink of an eye.
The fact that he also delivers the end product of football, and that he breaks all the goal-scoring records known to man, would suggest he is an individualist. Not so. The greater measure of Lionel Messi is that he fits into the team he plays for; he creates as well as finishes; he sometimes even creates space for colleagues simply by disengaging—by moving away from the ball, drawing opponents with him.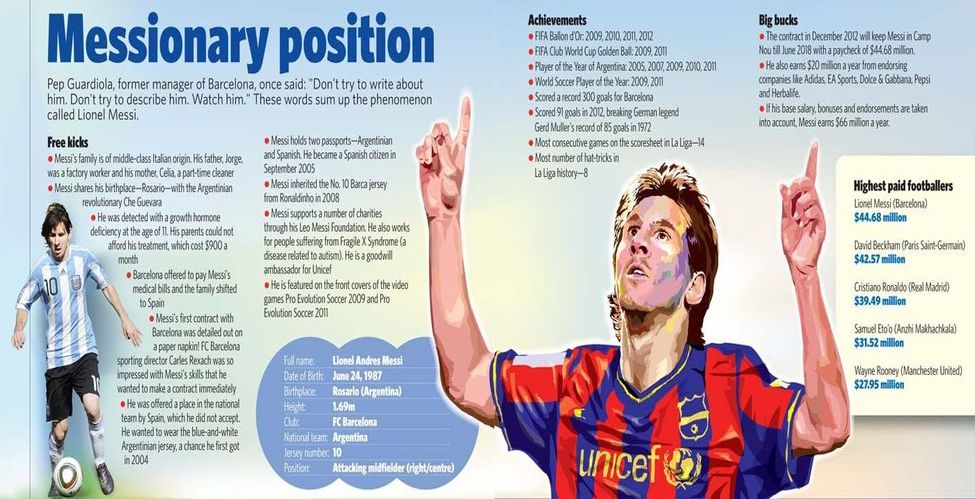 But what draws me to him is that he rarely, if ever, lets us down. The writer is not meant to put a player on a pedestal. Becoming messianic about Messi is a dangerous thing. Yet how does one remain impartial to a performer who, week after week, game after game, lifts the spirit of the onlooker on the countless occasions when win-at-all-costs philosophy has crushed the joy of it?
Messi, of course, does not operate alone. It can appear that way when he moves instinctively from the defending half of the field and, with a matador's sway of the hips, with at times imperceptible shifts of balance and dancing feet, he tricks one, two, even four and five, opponents. And then, the coup de grace of soccer, he faces the goalie. And he bamboozles that man too, when usually with that magical Messi left foot, but sometimes with the right, he creates a finish from an angle that defies geometry.
It is pointless, or almost pointless, to reduce this player's art to statistics. But in 2012, as Messi tore up every scoring record in the history of Spanish or global football, even the coach to Barcelona, Pep Guardiola, was obliged to admit he had seen nothing like it, and expects never to see anything better.
Guardiola's life centred on Barcelona. He is a Catalan, born in the autonomous region of northern Spain where the club is an expression of Catalan identity. In his boyhood, Guardiola came through the academy known as La Masia, a school based at a classical 18th century farmhouse in the confines of the cavernous, 90,000 seat stadium, Camp Nou. That academy is a school dedicated to teaching boys from 11 years upwards not only the reading, writing and arithmetic essentials, but a way of playing that flows like water.
Johan Cruyff, the Dutchman who played in one of Barcelona's great teams and then coached the 1990s team that Guardiola captained, opened the minds of the Catalans to Total Football. In essence, it turns a sport into performing art in which men on the field are interchangeable. Nobody is just a striker, a midfield player, or a defender.
Lionel Messi stepped into this environment when, at 13, he flew from Rosario to Barcelona. In a sense, you could say that the Messi family was coming home to southern Europe. There really wasn't much alternative. Leo had his obvious gift, but he was diagnosed at 11 as having a growth disorder that required expensive hormone treatment. The doctors said it could be cured, but the treatment would cost $900 a month. That was money beyond the means of a factory worker. It takes a lot for Messi to talk of his achievements, or his journey into greatness. But he said recently: "It was not difficult for me to move to Barcelona, because I knew I had to. We needed the money for my medicine to help me grow, and Barcelona were the only club that offered. As soon as they did, I knew I had to go."
Compelled to join the best club in the world in terms of forming apprentices. Destined to play from childhood with boys raised to form the core of the Spanish national side that currently holds the world title. And, in the words of Guardiola, who initiated Messi's term into this team: "We have before us the best player in every facet. Leo is capable of everything that a footballer must do, and he does it every three days. He has entered the history of Barcelona at 25 years of age, and if he continues like this he will score so many goals he will never be surpassed."
That was said before Messi completed 2012 with a 91 goals in 69 matches. That tally eclipsed the 75 goals that Pele scored for Santos and Brazil in 1958. It eclipsed the German Gerd Muller's world record of 85 set in 1972.
Along the way, Messi replaced Cesar Rodriguez as Barcelona's all-time accumulator of goals. "I'm very happy that Messi has surpassed my husband," said the widow of Rodriguez. "I'm happy because Messi is a very good person, like my husband was."
In that sentence, Senora Rodriguez conveyed something all of the statistics cannot compete against: The decency of Messi transcends the mark he sets.
Messi himself will not talk about his place in history, and is wise not to do so. In Zurich this January, he polled more than double the votes of the next player, Cristiano Ronaldo, for the FIFA Ballon d'Or—the annual trophy voted for among national coaches and captains and journalists. No player before him has won this award four times, but Messi dodged the questions as easily as he hurdles the tackles. "To be honest," he said, "I don't know where I stand in football. I want to concentrate on winning with Barcelona and Argentina. I don't like comparisons to somebody else. I do my job, and when it is over we'll see how well I've done."
He also talks, endlessly, of the players who make it "easy" for him. Players like Xavi Hernandez, the midfield brain of Barca whose passes pick out Messi and others to score goals. Players like Andres Iniesta who would, if there was no Messi, be up there as the greatest of his generation.
They came through la Masia. They know every movement, every muscle, every drill instilled into their youth. Could Messi be the player he is away from Barcelona? We may never know. He has signed for his playing lifetime to remain there. He has banked, so far, an estimated $110 million.
Deep down he is still the child of Rosario, though with a three-month-old son of his own, Thiago. But his career poses a question for you: If Messi and Xavi and Iniesta—each of them around the average height of the Indian male population—can be the masters of the world game, what physical reason could there be for Asia to think that football is beyond its dreams?
It's there, if cultural and historical barriers allow it to be.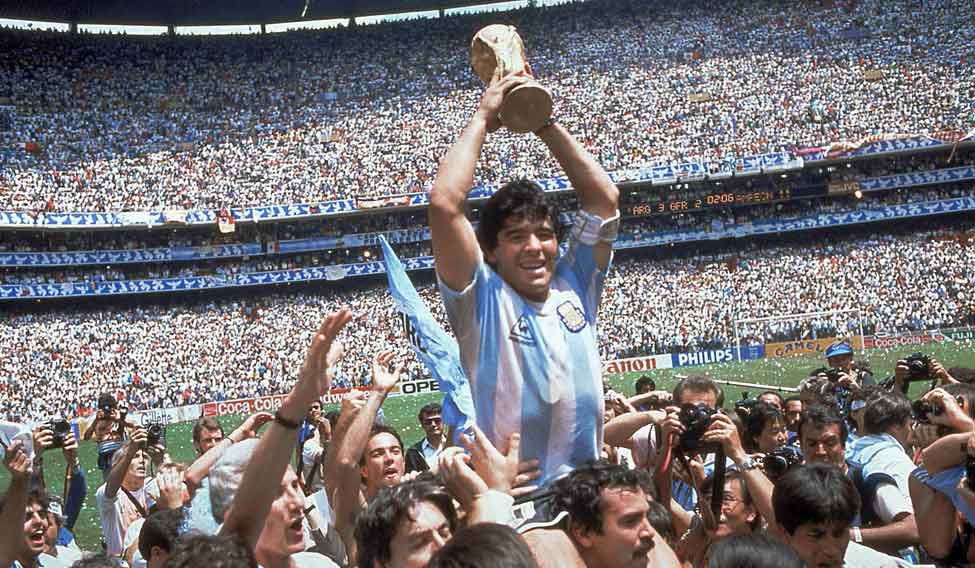 The holy grail
Compared with his successes in Europe, Messi's performances for Argentina, especially in the World Cup, have been disappointing. And, for that reason alone, the diehard fans of Pele and Maradona will always give Messi a lower rating in the debate about the game's greatest player.
Messi has lined up alongside a host of World Cup winning players at Barcelona. But wearing the blue and white stripes of his native country, Messi has been left pressing his nose against the trophy case glass. The joke in soccer is that Barcelona without Messi is Spain, but that Messi without Barcelona is lost.
Messi has 31 goals in 76 appearances for Argentina, comparable to Maradona's 34 in 91, but little to show for it. Named to Argentina's World Cup team as a 19-year-old in 2006, Messi was used sparingly in the first four games and not at all in a quarterfinal loss to Germany. Coached by Maradona himself at the 2010 tournament, Messi failed to score in five games. To purists, this hole in Messi's resume remains, no matter how silly that sounds.
Regardless of a player's talents, winning the World Cup remains a matter of opportunity. Only eight countries have won it, and only a few others can reasonably expect to. Because he plays for Argentina, Messi has a chance that Liberia's George Weah, another former world player of the year, did not.
Messi can end the argument about his legacy by leading Argentina to victory in Brazil in 2014, matching Maradona's achievement on Pele's home turf. It is not an unrealistic hope. Argentina is in first place in South American qualifying with 20 goals. Messi has scored seven of them.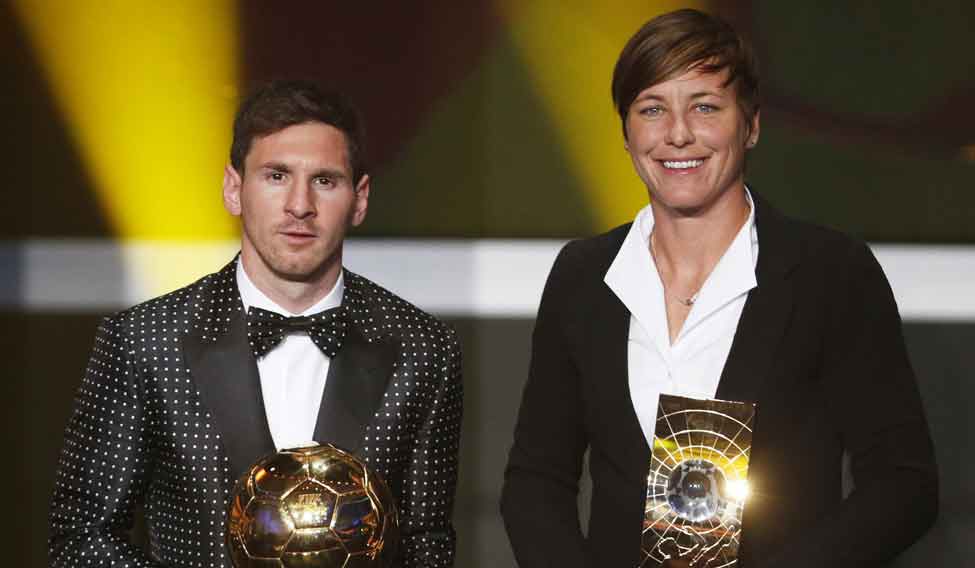 Soccer's gender divide
What a striking couple Lionel Messi and Abby Wambach (who led the United States to the gold medal at the London Olympics and was voted FIFA's women's player of the year) cut at the world player of the year gala in Zurich. And what a difference in their fortunes.
Messi continues to score more goals than any man in his game, and to reap the financial rewards commensurate to being the outstanding player of his generation. Wambach (net worth $3 million) won everything she plays for, leading the US to Olympic gold in London. Yet she entered the new year technically unemployed, as a professional player, following the collapse of the Women's Professional Soccer league in the US last year.
At 25, Messi is on the cusp of that great period in sporting life when physical capability merges with experience on the field. At 32, and with nowhere to play professionally in her country, Wambach may have to go abroad to see out her prime, and to earn a living at what she does best.
Little Leo? In size, maybe. With Wambach giving us a telling picture of sexual equality in reverse. This has to be the first time that the female honoree has towered physically over the male on the soccer stage. As they stood side by side, each holding their golden ball, Abby dwarfed Leo. She is 1.8 metres, or 5ft 11". He is 1.68 metres in his shoes. She weighs in at 77kg, and he tips the scales at 67kg.
They are, according to votes cast in every country among national team coaches, national captains and journalists, the figures and faces of the year just ended.
In the men's game, the majority recognised Messi. Wambach was recognised for being on the winning team, indeed for imposing her strength and size and goal-scoring opportunism on the highest level of the game. So whatever the polemicists might say, soccer is about more than the winning.
Rightly and properly, the clear winner of the men's coach of the year is the Spaniard Vicente Del Bosque. Here, again, was a male-female split. Del Bosque blinked in the spotlight, said his few words and sought the shadows. Pia Sundhage, the Swede who coached Team USA in London, took the microphone and sang her way through the ceremony. To each his, and her, own.