When you think of Indian sweets, it inevitably includes popular Bengali sweets such as rasgulla or ras malai. For those well-versed in Bengali desserts, sandesh and mishti doi are also lip-smacking favourites. This Diwali, go beyond the usual laddoos and barfis. There are a lot of Bengali sweets that are popular in the eastern region, but remain largely unknown outside it. Desserts like rosh bora and gokul pithe may not be available in all sweet shops, but are quite simple to try out at home.
A key ingredient in most of these delicious sweets is khoya (or mawa), which is made by boiling milk, and while continuously stirring, adding lemon juice until it curdles and separates into layers of greenish water and thickened milk. Strain the water, and use a cheesecloth to wrap up the khoya. Run it under cold water, and keep it hanging until all the water drains out.
Some of the sweets are usually made for Bengali festivals such as Sankranti or for winter festivals, but who said there's a season for making and eating sweets?
Lobongo lotika
These sugar-coated bite-sized sweets are crispy-fried, with a luscious centre filled with khoya, sugar and coconut. The thick stuffing, made by mixing khoya, condensed milk, grated coconut and sugar, is rolled into balls. It is then placed at the centre of small disc-shaped flour dough, and wrapped into a parcel. Use clove sticks to pin up the flaps; it gives a distinct flavour, too. Then, fry these in oil, dunk them into a sugary syrup (with a single-thread consistency) for a few minutes, and serve hot.
Kheer kadam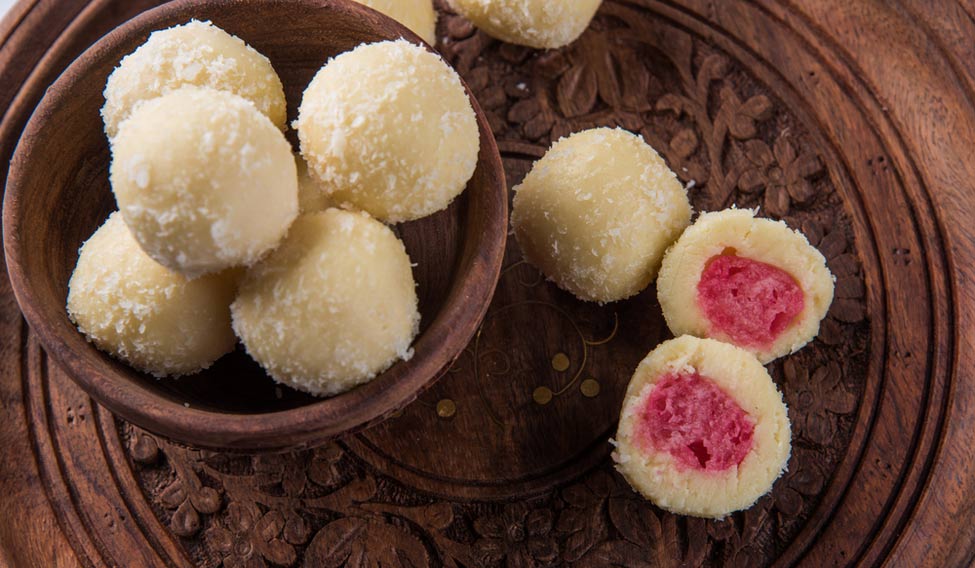 Also called raskadam, kheer kadam is a heavenly combination of rasgulla and khoya. Start by preparing rasgulla. Make small balls out of the dough, and add food colouring of your choice. Cook it in sugar syrup, preferably in a pressure cooker. Then, grate paneer and cook till it becomes golden. Grind this to form paneer dust. Flatten khoya dough (made of milk, khoya, sugar and saffron) into discs. Place a rasgulla ball on one disc, roll it all up, and dip in paneer dust. No further frying or cooking is required. Serve this mouth-watering delicacy chilled.
Gokul pithe
Pithe is generally made in Bengali households during Sankranti, and it melts in your mouth instantly. In a pan, mix grated coconut and sugar, and stir while adding khoya, until it turns into a light brown, slightly sticky mixture. Make rupee-thin flat discs out this dough. For the batter, add flour, ghee, milk and baking soda, and mix until it becomes thick. Dip the dough discs in this batter, and deep fry until both sides become golden brown. Soak in sugar syrup. Eat, and repeat.
Mihidana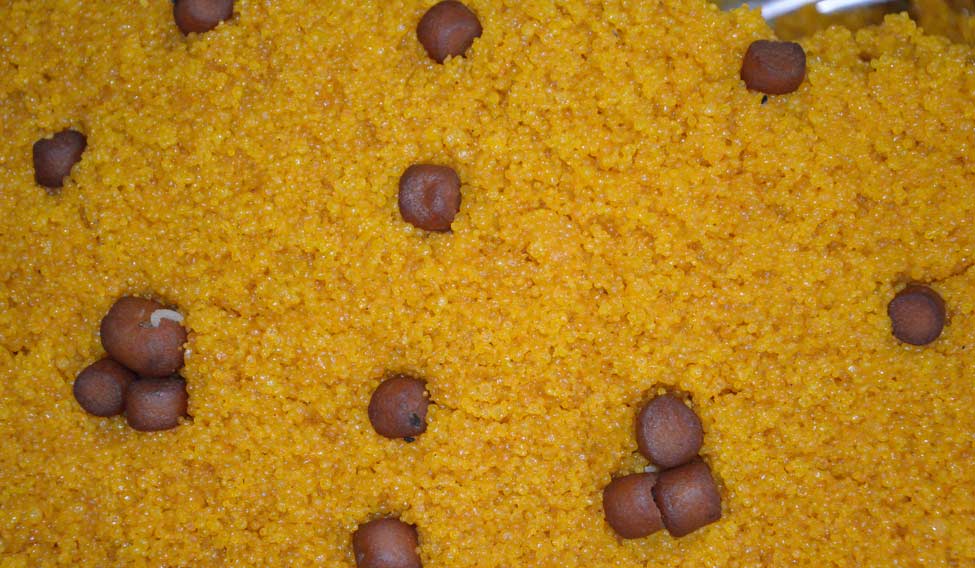 This is one quick sweet snack that you can easily whip up within minutes. The simplest way to make mihidana is by first mixing besan with water to make a paste. Then, pass this batter through a ladle with holes into a pan of hot oil or ghee. Heat and then dip the fried mihidana in sugar syrup, and cook till the syrup disappears. For add ons, sprinkle cardamom powder, saffron strands, diced pistachio and almonds. Top it off with rabri. Optionally, you can also bake it at this point for around five minutes and serve hot. Add a serving of rasgulla on the side to complete the taste.
Rosh bora
Most Bengali sweets are essentially incomplete without a dip in sugar syrup. Rosh bora is basically urad vada dipped in sugar syrup. First, remember to soak urad dal overnight. The next morning, grind with water to form a smooth, pasty batter. Add salt, sugar, fennel seeds, and pepper, if you wish. You might have to stir the batter for a while to make it smoother, crispier and fluffier. Roll into small balls and deep fry in oil till it is crispy brown. Soak in cardamom-sugar syrup immediately after frying, and let it cool while still in the syrup. Serve as it is or with a little unsweetened milk.
Kalo jaam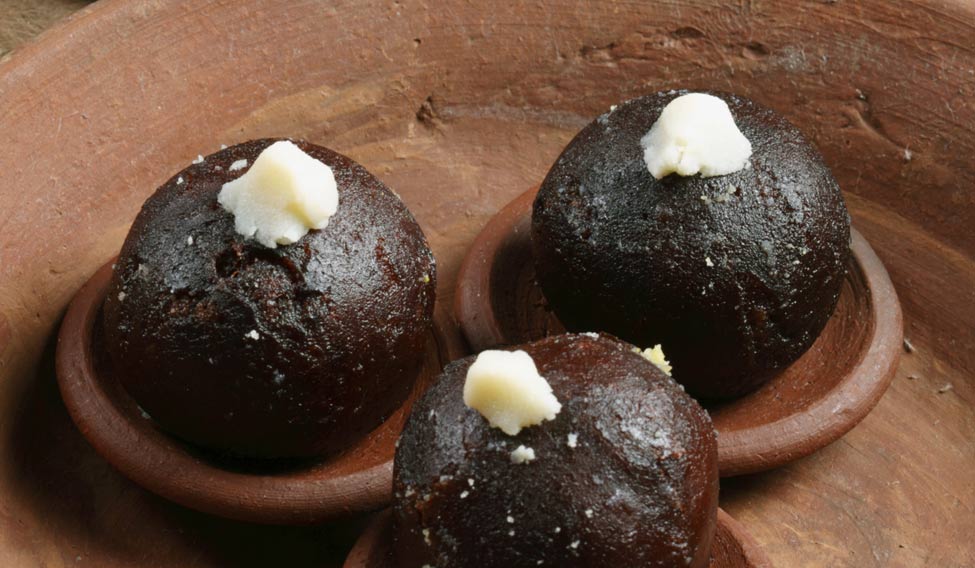 Kalo jaam is the bigger version of gulab jamun, with the addition of khoya. Mix grated khoya, grated paneer, maida, cardamom and milk. Shape balls of this dough into oblong lumps, bigger than the standard gulab jamun. Some recipes even call for inserting a colour-dipped khoya ball inside a bigger one. Fry till dark brown (but not burnt), then soak in hot sugar syrup for a while. Kalo jaam is served without the syrup, and sometimes sprinkled with more crushed khoya.