The dramatic personae in the momentous election of MGR's successor were V.R. Nedunchezhiyan, the acting chief minister who was the finance minister in MGR's cabinet; R.M. Veerappan who claims the longest active association with MGR as his manager and all-purpose man during MGR's film days and presently a senior member of the cabinet; V.N. Janaki, MGR's widow and a former film heroine; and Jayalalitha who has the record of having portrayed the heroine in the largest number of MGR hits and is presently the party's propaganda secretary.
That there are four claimants to the legacy of MGR is nothing surprising. MGR loved a durbar around him when he was the monarch in the film world and later was the unquestioned leader of a political party which, for a major period of its life, was the ruling party. MGR could never be alone. Solitude was anathema to him. He would always have around him an admiring coterie, beholden to him, actively liaising every action of his and reading in every comment or remark of his profundity no one would ever have imagined. One may call them 'durbaris'.
MGR's durbaris sincerely believed in the supernatural abilities of their 'vadhyaar'. They believed that he had conquered death, that he could never go wrong and that he represented the quintessence of everything that was good, noble and righteous. One might be tempted to characterize such an attitude as blind devotion from the point of view of the durbari and as the effect of charisma from the point of view of the individual so deified.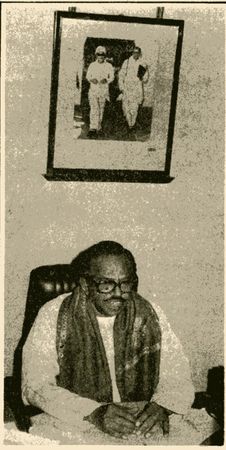 V.R. Nedunchezhiyan, who has staked his claim to the MGR mantle because he was deputizing for MGR whenever the need arose, is the last to be classified as an MGRite. In fact, Nedunchezhiyan was the only leader of the DMK (ever since it was launched by Annadurai in 1949) group who somehow kept himself away scrupulously from the tinsel world. C.N. Annadurai used to describe him as natamadum palkalai kazhagam, which literally means a mobile university. This was obviously a reference to Nedunchezhiyan's pseudo intellectualism. Annadurai also christened him as Navalar, which meant that he was rhetorical. In sum, Annadurai classified Nedunchezhiyan more as high-brow stuff, not in tune with the general run of his party members.
Annadurai rated Nedunchezhiyan politically as only slightly above the ordinary though he acknowledged his intellectual superiority over the others in the party. As one who had not much pretensions to intellectual or literary attainments, Annadurai felt that he could make effective use of Nedunchezhiyan's talents and he made him the number two in the 'big five' of the DMK. He also nominated Nedunchezhiyan as the general secretary of the party when he vacated the post a few years after founding the party. Indeed, at the Tiruchi conference of the DMK, Annadurai told party men that he would consider it a privilege to serve Nedunchezhiyan as an ordinary member. This was no doubt a remark meant more to persuade party men to accept Nedunchezhiyan as the party's general secretary. But unfortunately Nedunchezhiyan chose to take it at its face value. He has not yet got out of this delusion.
When Annadurai formed his cabinet in 1967, Nedunchezhiyan was no doubt his number two but in 1969, when Annadurai died, he was neatly outsmarted by Karunanidhi. Nedunchezhiyan cannot blame anyone else for his plight. Anna's encomiums had obviously gone to his head and he continued to fancy himself as an intellectual, superior to other party men including his cabinet colleagues. His standoffish nature proved his undoing because no party man went anywhere near him for anything. Also, he was reputed to be under the thumb of his wife Vishalakshi, and anyone wanting any favour from him had to make the approach through her. In any event, he had nothing to match Karunanidhi's expertise in public relations, organizing ability, oratorical skill and standing in the tinsel world as a celebrated script writer.
He kept out of Karunanidhi's cabinet for a while but after the spectacular success in the 1971 elections, he had no choice but to agree to become Karunanidhi's number two man. He continued in this till the dismissal of the government in 1976. When MGR broke away from Karunanidhi in 1972, Nedunchezhiyan had scoffed at the indiscretions of the matinee idol, pooh-poohed his move to start a new party and come down heavily on MGR's decision to name his party after Annadurai and to have Anna's picture on the party flag. In fact, Karunanidhi realized the potential of MGR and was less harsh. If his opponents were now to recall all the abuses Nedunchezhiyan had once hurled at MGR, he would be in a very awkward position indeed.
Nedunchezhiyan figured prominently in the list of those accused of corruption, submitted by MGR and the CPI leader M. Kalyanasundaram to the Center which ultimately led to the dismissal of the Karunanidhi government in January 1976 and the setting up of the Sarkaria Commission. As education minister, Nedunchezhiyan was alleged to have minted money by selling seats in the professional colleges. More than he, his wife figured prominently in the charges leveled by MGR.
Nedunchezhiyan walked out of the DMK in 1976 after the dismissal of the ministry but did not join the AIADMK started by MGR. He started an outfit of his own called the Makkal DMK (people's DMK). But this was a stillborn baby because Nedunchezhiyan, with his superior airs, could hardly secure the allegiance of even a dozen party men. He was nowhere in the picture in the 1977 election which swept MGR to power. A little later, he approached MGR with the proposal to merge his non-starter party with the AIADMK. MGR took him in his flock and put him in charge of the organization as general secretary. It was only after the 1980 elections that Nedunchezhiyan was brought into the cabinet.
MGR never fully trusted Nedunchezhiyan. He treated him only as some kind of a super chief secretary, whose advice he could seek to tackle complex administrative problems. At no time did MGR avail of Nedunchezhiyan's experience or ability to help him solve crucial political problems. His sole function was to deputize for MGR in the assembly, especially during question hour. And after MGR's serious illness, which affected his speech, he handled all the legislative work on MGR's behalf.
But Nedunchezhiyan did harbor high political ambitions and when MGR fell ill in August 1984, he initiated several moves for having himself nominated as chief minister. He continued to do this even after the 1984 general elections and MGR's reelection as leader. It was obvious that he was securing covert assistance from the Congress, the Center and even Governor Khurana.
All these moves, some of which very nearly came off, as when he air dashed to New York with a letter from the Governor to MGR seeking certain clarifications on the latter's state of health, were effectively thwarted by R.M. Veerappan, acknowledged as the strong man in the MGR cabinet.
Veerappan is the very antithesis of Nedunchezhiyan. He has had no formal education nor had he acquired any sophistication during his later days. He had drifted into Periyar's Dravidian movement and was lucky to have been assigned to attend on Annadurai, then reckoned as EVR's heir apparent. It was Annadurai who later asked him to work with MGR who was then an up-and-coming film star whom the Dravidian movement was actively wooing.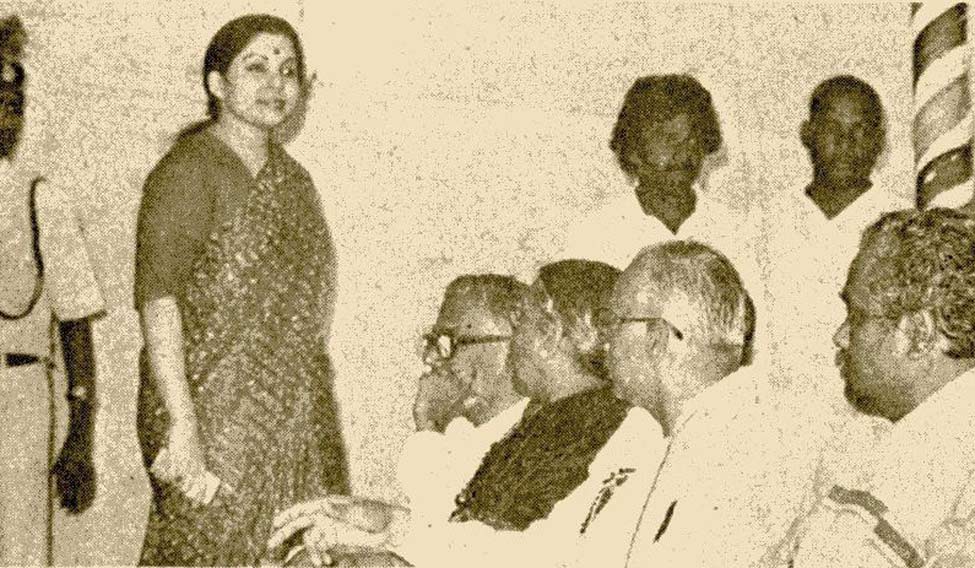 Veerappan struck up an association with MGR which was sustained till MGR's death. Designated as manager, he supervised everything connected with MGR. He managed MGR's Sathya Studios, supervised the production and distribution of all MGR films, was in charge of MGR's acting schedule in outside productions, and kept an eye on MGR's household. In fact, there was nothing relating to MGR's life and activities with which Veerappan was not intimately involved.
He was so engrossed in MGR's work that he had no time at all for politics until MGR broke away from Karunanidhi in 1972 and floated his own party. But once the die was cast, Veerappan threw himself into the task of organizing the party on the firm foundation provided by the MGR fan clubs. As the one in charge of the MGR films, Veerappan was intimately connected with the working of 'MGR manrams' and overnight, these 'manrams' were converted by him into AIADMK units. Veerappan was content to be MGR's backroom boy, remaining under the shadow of the superstar. He never contested elections because his duty was to keep a vigil on how the party fought them. It was only in June 1986 that he fought for the first time and won the by election to the assembly from Tirunelveli.
This too was literally forced on him because the legislative council, to which he had been elected after his becoming a minister in MGR's first cabinet in 1977, was abolished by MGR.
His surprise inclusion in the ministry in 1977 was a clear indication that MGR would not trust anyone of his cabinet colleagues during his first tenure as chief minister, except Veerappan, with whom he had worked for decades. Veerappan was in charge of information, Hindu religious and charitable endowments and forests. By themselves these are not key departments. But Veerappan's handling them invested them with a importance not known before. Veerappan became the super boss of the growing Tamil press. Links with the film industry were kept firm and its role in projecting MGR's politics was clearly kept in focus. Control over the huge funds of temples in Tamil Nadu gave him a leverage which none had realized hitherto. The exploitation of forest wealth became a vast area for wide and often fruitful patronage.
It was this period (1977 to 1986) that saw Veerappan grow into a mini Sardar Patel, the strong man of the AIADMK. No one dared cross his path. Partymen dreaded his ire and the bureaucracy knew who called the shots in the ministry.
MGR's grave illness in 1984, the responsibility of having to thwart various moves to force MGR to step down from the chief ministership, the organization of the assembly and Lok Sabha elections with MGR away in New York, MGR's re-election and continuance as CM till his death – all these were made possible only because of Veerappan's single-minded devotion to his master.
And yet MGR dropped him from the cabinet in October 1986 and brought him back only a year later, that is, just two months before he died. This break in Veerappan's service arose solely because MGR wanted to teach him a lesson. Word had reached him that Veerappan was growing too big for his boots and was even planning to take over in case MGR became physically incapable of continuing as chief minister. And the person who was responsible for MGR turning against Veerappan was Jayalalitha, his one-time heroine whom he had catapulted into the party hierarchy as the propaganda secretary.
The running feud between Jayalalitha and Veerappan was a very old one. One was MGR's manager and other his favourite heroine. The manager was always suspicious of the heroine's intentions while the heroine was irked by the firm grip the manager had over the hero's activities. Tamil film world is full of stories of the internecine quarrels between the two long before MGR had even thought of any political career for himself. One such tiff related to the production of MGR's last blockbuster Ulagam Chuttrum Valiban (The globetrotting youth).
There were some scenes to be shot in Japan and MGR was keen that Jayalalitha, who was the heroine in the picture, should also accompany him to Tokyo. Veerappan put his foot down because the heroine had no role in those shots. MGR was adamant and Veerappan countered it by saying that if MGR wanted to take Jayalalitha, he would like to keep out of the trip. MGR just could not afford to leave his manager behind and had therefore to leave his heroine behind, albeit reluctantly.
This feud between the two spilled over into AIADMK politics when MGR inducted Jayalalitha into the party in 1982 and, in a short while, made her the propaganda secretary. Veerappan resented it and made no secret of his opposition to her. Jayalalitha's arrogance made Veerappan's task easier because soon opposition to Jayalalitha within the party reached a boiling point. S.D. Somasundaram got himself expelled from the party on this issue but realizing the depth of the feelings of others, MGR simultaneously stripped Jayalalitha of her party post. But by then she had got herself elected to the Rajya Sabha and had become the deputy leader of the party in Parliament. She could build a rapport with Mrs. Gandhi quickly. In fact, one of the grouse MGR held against her was that she had discussed party matters with Congress(I) leaders in Delhi.
MGR fell ill when Jayalalitha was in the wilderness. Veerappan and his colleagues effectively shut her out in all the subsequent developments including the 1984 elections. She could not see MGR before he was taken to New York for kidney transplant nor was she permitted to see him after his return in February 1985. Her perseverance however paid off a last and the moment she moved closer to MGR, the first thing she did was to convince MGR that part of the Center's anxiety to have him replaced was because of Veerappan's strident anti-Center and anti-Congress(I) postures. MGR was then struggling against the moves of the Congress(I) to "advise him out of office" and in an effort to buy peace, he decided to drop Veerappan.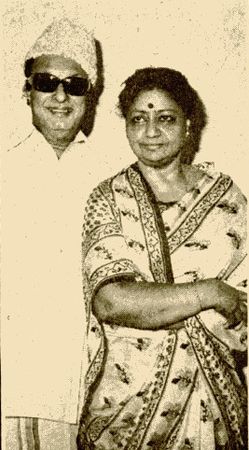 Veerappan, however, did not lose heart, He knew that MGR's hostility to him was only a passing phase and it would not be long before he got back into favour. When out of office, he kept a low profile and kept himself busy, making a number of films, all of which proved to be money spinners.
Ironically, it was the Congress politicians who helped him return to the cabinet. For MGR soon realized that the Congress(I) had not given up its efforts to talk him out of office even after he had sacrificed Veerappan. When Rajiv met him in New York in October, the advice was still that he should take rest. Veerappan was brought back immediately on MGR's return, signaling to the Center and and Congress(I) that MGR intended to continue firmly in the saddle.
The factors that contributed to Jayalalitha's rapid rise in Tamil Nadu politics are obvious enough. She basked in the glory of MGR, who took a liking for her. MGR was highly possessive of all his heroines. He never permitted them to act opposite other stars once they were paired with him. Janaki, Saroja Devi, Manjula, Lata, and Jayalalitha are among the heroines cast opposite him in his films. His preference for Jayalalitha was so strong that not only was she his opposite number in the largest number of films but she was also the only heroine for whom he planned a political career, too. Lata, too, was in the party for a while but MGR turned her out on the ground that she had played puranic roles. But in Jayalalitha's case MGR perhaps felt that he should guide her even after her acting days had ended. That alone can explain the amount of interest and care he bestowed in promoting her in politics.
Her launch in AIADMK politics was personally organized by him at a glittering function at Kanchipuram, the same venue from where he had launched his party. Special arrangements were made to coach her on the details of the Dravidian movement and one of the best speech writers in Tamil was permanently detailed to prepare the script for her speeches. Detailed instructions were sent beforehand not only to party men but also to district officers as to what they were expected to do to make Jayalalitha's propaganda tours a success.
The rank and file of the party understood the message but it was Jayalalitha who committed the cardinal mistake of misreading its significance. She soon began to imagine that next to MGR she was the party's biggest crowd-puller. She also did not understand that but for MGR's support, the party's rank and file would not have tolerated her arrogance and petulance even for a second. Like Humpty-Dumpty, when the fall came, it was with a great thud with no king's men and horses to put the pieces together again.
There was just no one to plead her case with the leader once she was out in the cold. MGR himself had to make the first move and that too because he wanted her re-induction to be a conciliatory gesture towards the Congress(I) and the central government.
If she today finds herself amid AIADMK crowds at her Poes Garden residence, Jayalalitha should be aware of the fact that it is only because MGR is dead. It was well known that he had issued specific instructions to all MLA's and MP's that they should have no contact with her. This 'order' had not been reversed till MGR's death and had he been alive today, it would still be observed strictly. With MGR dead, all those opposed who Veerappan were swarming around her in a desperate effort to bolster their strength and morale.
They very reverse is the case with V.N. Janaki Ramachandran who was beginning to acquire political importance in the aftermath of MGR's death. In fact, until MGR fell ill in 1984, no one had taken any notice of V.N Janaki. True, she was once a film star who had acted in a few films with MGR. But that was many years ago and no one remembers her as a film star. Nor had MGR given her any role in his political life. She was never seen in his company in public till 1984. She was content to remain in the background, silent and unobtrusive.
MGR's admission to Apollo Hospital where he had a stroke proved to be the turning point in Janaki's life. She became MGR's constant companion wherever he went. It is said that she alone could make out what MGR was trying to say and communicate it to others. She became his confidante on several issues. She supervised his taking the prescribed medicines and his diet. In fact, during the last two years, she was MGR's alter ego.
But even this position came to her only because of the initiatives of Veerappan who had wanted someone in MGR's household who would always be with MGR and with whom he could be in constant touch to counter attempts by the Congress(I) to persuade MGR to step down. Janaki had become Veerappan's ally from August 1984 and it is again as his ally that she stepped into active political life.