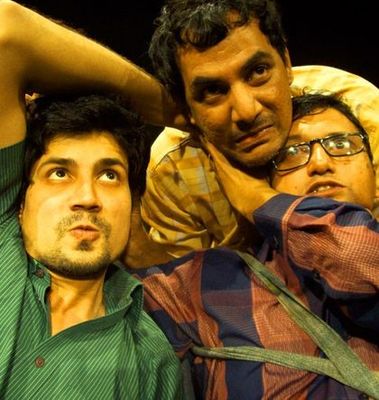 My recent visit to the Prithvi Theatre and cafe brought back a sweet wave of nostalgia. Besides, it couldn't have been more timely. Actor-director Manav Kaul's Aranya's Park was being staged to a packed house at the theatre. An original work from 2009—about displacement and trauma of humiliation—seemed even more relevant today, especially considering the current turn of events in Kashmir and the long-standing Israel-Palestine conflict.
At 80 minutes, the Hindi drama is set in a park with three benches that become point of contention between three men. All three want the best spot and try to prove why they deserve it. Each one's claim is superior to the others'. In the course of the conversation—mostly heated and combative—personal and larger politics come to the fore, revealing the fragility of life and emotion.
The setting could be any public park and these could be three strangers going about their daily routines, and it could be a silly squabble over a property. Starring veteran actors Shubhrajyoti Barat, Kumud Mishra and Sumeet Vyas, the play lights up the intimate theatre space with intense performances. Barat plays the man who thinks his afternoon nap is more important than Vyas passing time by reading a book—having been turned away by his psychiatrist. Meanwhile, Mishra hankers for the bench as the spot from where he can observe a colleague dry her hair on her balcony, in a building situated some distance away. But each one also has a deeper, personal and poignant story to tell.
In the course of the men's bickering over the benches, Kaul efficiently weaves in metaphors from the Kashmiri Pandits displacement issue, the Middle East conflict and the psychology of hurt and humiliation. Taut, intense performances by all three adds to the charm.
And, no visit to the Prithvi Theatre is complete without partaking the signature keema pao and special Irish coffee, the former served piping hot in tawa-style plates and the latter is a contrasted perfection. The rich, white, generous cream sitting haughtily over flavourful black coffee. A perfect sign-off to an engaging performance.