It will not be completely baseless to say that 2016 was also a year of unlikely newsmakers. While the world, particularly India, focused on matters of national and global interest, a few unexpected contenders sneaked into our daily news feeds and basked in the limelight of internet. Here are seven wonders from the passing year:
The power of pink
Days before demonetisation brought India to a standstill outside banks and ATMs in November, photographs of several bundles of hot pink Rs 2,000 notes started doing the rounds on social media. While national media debated on the authenticity of these photographs, especially since there had been no official announcement regarding new denomination notes from either the government or RBI, Twitter was abuzz with the possibility of a new, vibrant addition to wallets otherwise full of light-coloured notes. It has been over a month since the Rs 2,000 note was officially released, but the excitement and hoopla around it refuses to die out.
The unusual-coloured note became the butt of many jokes and memes on social media, and rumours in national media. It all started with rumours of new notes being implanted with secret GPS chips that can be tracked via satellite, followed by claims of the Rs 2,000 note using radioactive ink—a radioactive isotope of phosphorous (P32), making it possible for the income tax department to trace and seize bundles of Rs 2,000 notes. There's more. Recently, a woman in Kerala claimed that the new note, straight out of ATM, started crumbling within hours of withdrawal. 
As internet is bursting with rumours, jokes and memes, Google Play Store is home to 'currency note scanning' entertainment apps that play a video of PM Modi's speech on scanning new notes (Rs 2,000 and Rs 500) using a mobile device. These apps come in many names such as Modi Ki Note, Modi Ji Keynote and Modi Keynote, and are fake. How? You need not scan a note to play Modi's speech video. It'll play anyway.
Supermoon rising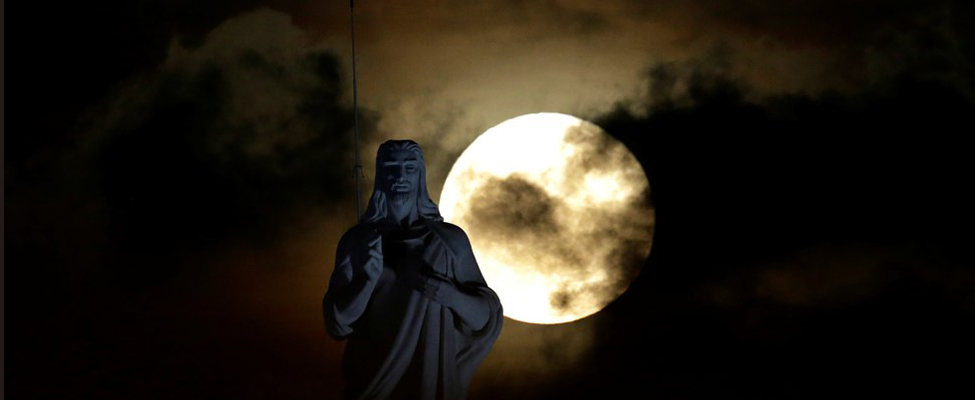 Supermoon is what poetic imagination and many surreal desktop wallpapers are made of. A rare phenomenon, supermoon is a new or full moon that occurs when the moon is at its closest point to Earth—90% of its closest approach—in its 27-day elliptical orbit. According to NASA, "A supermoon, or perigee full moon can be as much as 14% bigger and 30% brighter than an apogee full moon. However it's not always easy to tell the difference. A 30% difference in brightness can easily be masked by clouds or the competing glare of urban lights. Also, there are no rulers floating in the sky to measure lunar diameters." 
In 2016, this coincidence happened not once or twice, but three times as October's full Hunter's Moon, November's full Beaver Moon and December's full Cold Moon. On November 14, the moon became full within about two hours of perigee, making it an extra-supermoon. November's full Beaver Moon was not only the closest full moon of the year but also the closest full moon since 1948. The full moon won't come this close again until November 25, 2034.
"Low-hanging moons, on the other hand, can create what's called a "moon illusion". When the moon is near the horizon it can look unnaturally large when viewed through trees, buildings, or other foreground objects. The effect is an optical illusion, but that fact doesn't take away from the experience," NASA wrote in a blog post.
The short-lived note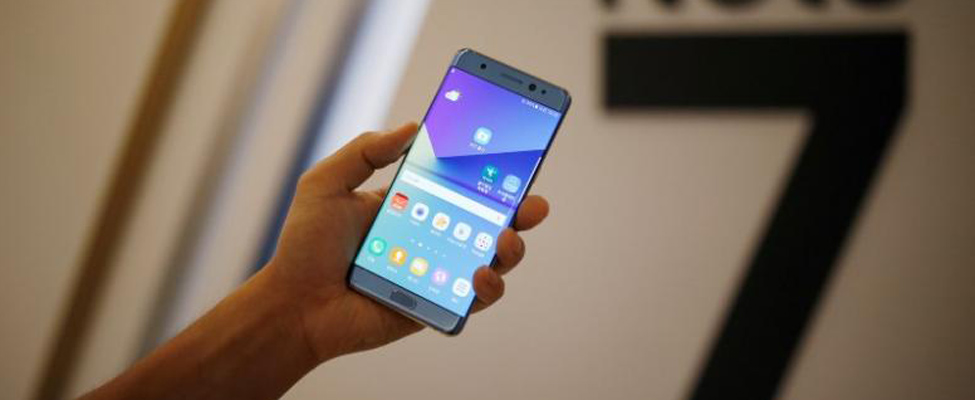 Each year comes with the promise of a new clash of the technology titans. This year was no different, with the launch of iPhone 7, iPhone 7 Plus, Google Pixel XL and Samsung Galaxy S7 among others. However, the phablet that stole the limelight was the South Korean company's Samsung Galaxy Note 7. 
The phone hit the global market in early August, 10 days ahead of its scheduled release, which experts believe was an attempt to gain the first-mover advantage over iPhone 7 and iPhone 7 Plus. But, Samsung's plans went up in flames. In less than 10 days of its launch, user reviews applauding Note 7's exceptional configuration and exciting features were overshadowed by the first report of a Note 7 explosion in South Korea, followed by many more reports of the phone's exploding batteries from all over the world. By end of the month, Samsung was left wondering where it went wrong; its investigations revealed flaw in construction. On September 2, Samsung announced global recall of 2.5 million Note 7 phones. Soon aviation departments and global airlines issued instructions-turned-ban on carrying Note 7 smartphones aboard aircraft, with defaulters subject to punitive measures including the confiscation of their phone. Refusing to give up, Samsung tried hard to revive Note 7 and convince users and authorities of safety of replaced units. However, reports of explosion incidents of replaced units forced the company to discontinue the production and sales of Note 7 on October 11.
Veni, vidi, vici: Pokémon Go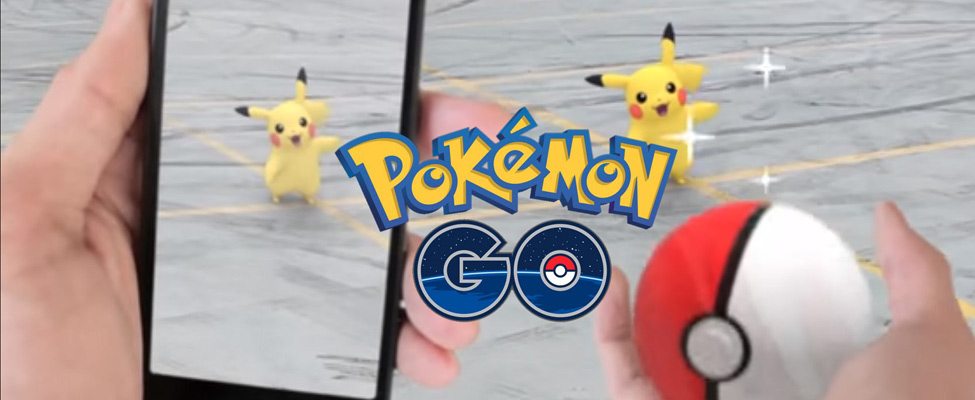 After sweeping the globe, Pokémon Go has finally arrived in India. Big deal, you say? Time you came out of your secret spot under the rock and saw the mobile game app that turned the world upside down.
Japanese video game from the mid 1990s, Pokémon has remained popular for over two decades. This year, in July, it made a huge comeback as Pokémon Go, an augmented reality-based game app that tracks a user's location through their phone's GPS and superimposes characters from the game on real-world locations. Within minutes of the launch, Pokémon Go started making news for the right and wrong reasons with players running around, with their noses buried in their mobile devices, to find and capture Pokémon creatures in their neighbourhood. While the app might have inspired many chronic couch potatoes to scamper for the outdoors, it also pushed many users into unexpected situations and unfortunate accidents. According to a study published in the JAMA journal, within the first 10 days of the launch of the game, more than 1,10,000 incidents were reported in the US alone, involving drivers and pedestrians distracted by the game. Interestingly, many countries such as Australia, Portugal and Indonesia revisited their rule books to include new rules regarding the game. Some countries like Egypt took the shortcut and banned it all together.
Now that Pokémon Go has entered India, what ripples it would create here remains to be seen.
N for… Neyyappam!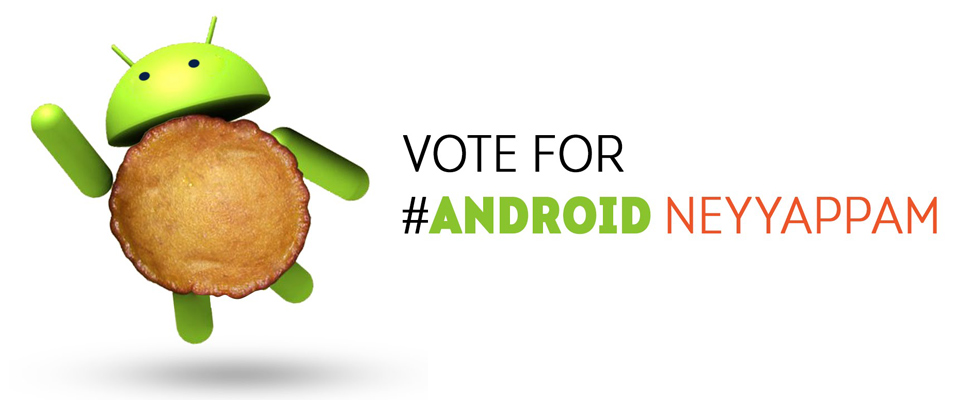 In May, the ghee-laden, deep-fried sweet pancake from Kerala, Neyyappam, found its moment of glory as a potential candidate for Google's confectionery-themed Android OS namelist as Android Neyyappam.
The frenzy started with Google CEO Sundar Pichai's visit to India in December 2015. Asked why none of Android OS have an Indian name, he suggested an online poll for the next version of the OS, Android 7.0 or simply Android N. Although there is no clarity on how Neyyappam popped up on the scene, once there, on the Google's poll page design, to be precise, it became a national sensation. All of a sudden people started talking about this traditional rice and jaggery pancake, online page visits to Neyyappam recipes soured high, Kerala tourism ministry turned to its official Twitter page to encourage people to vote for the native snack, some desi app-developers fine-tuned their digital promotions for the cause and Neyyappam lobbyists dedicated time and websites for the sake of India's own sweet snack.
However, India's hopes of seeing a gigantic Neyyappam figurine on the lawns of Google headquarters in California were shattered by the surprising victory of Nougat, a light and chewy Middle Eastern sweet made with sugar or honey, roasted nuts and rose water. And, Android named its version 7.0, Nougat.
The song of angels
Until April 2016, a Google search for 'angel' song threw Shaggy's bygone hit at you. Yes, all the way back from 2001, when it topped the charts around the world. But things changed this year when Pakistan's self-proclaimed pop sensation Taher Shah released his second music video, Angel. Within minutes of release, the video turned social media topsy turvy, causing such a frenzy that #TaherShah ruled the day's Twitter trends in Pakistan, India and the UK, triggering an avalanche of jokes and memes simultaneously both ridiculing his talent, and praising his confidence for officially releasing the song.
The video, which looks rather like a parody, depicts Shah as an angel dressed in purple robes, angel's wings and a tiara. The song also features two more angels in similar garb who seem to be Shah's family—a wife/girlfriend angel in white robes and venetian mask and a son angel in robes matching Shah's. The song's lyrics are simple: "I am like an angel, mankind's angel; my heart is like a rose, mankind's soul; dearest creation, by God; heaven on earth, mankind's angel; lonely for you, like an angel; your love is, my true angel."
In response, Bollywood actor Twinkle Khanna tweeted: "Pakistan doesn't need nuclear weapons they can just drop this purple bomb on us #TaherShah." Actor Varun Dhawan imitated Shah in a popular comedy television show—the video of which went viral—upsetting Shah, who refused to sell the rights to the song to Dhawan.
A Karachi-based businessman, Shah was inducted into the online hall of fame in 2013 when his first release Eye to Eye took social media by storm. Known for his long hair, offbeat costumes, English lyrics and unintentionally hilarious videos, Shah has over 49,163 followers on Twitter and the Angel song video has garnered over 14,90,400 views on his official channel alone.
Freedom 251: Ring a bell?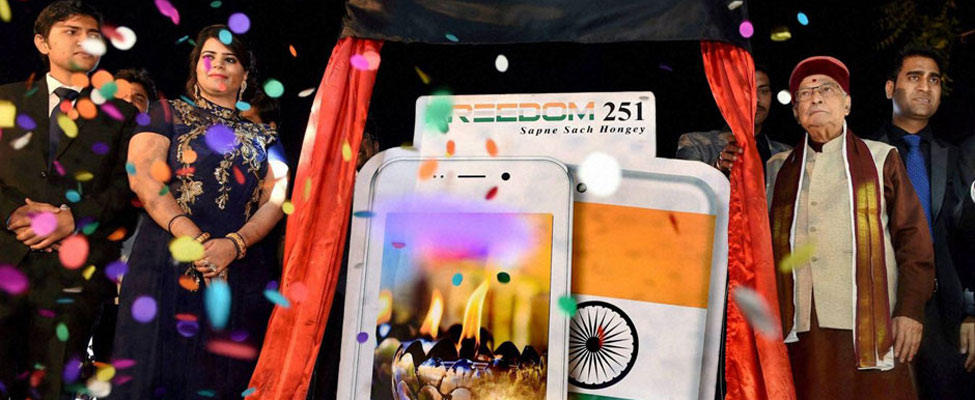 In February, Noida-based phone manufacturer Ringing Bells took the nation by surprise by introducing the world's cheapest smartphone, Freedom 251, priced at Rs 251 (less than $5). With specifications similar to entry-level smartphones, 3G-enabled and Android Lollipop OS-powered Freedom 251 embodied all popular initiatives of the Modi government—Digital India, Skill India, and Make in India. Not revealing too many details, the company emphasised on the fact that only the chipset was to be imported from Taiwan, and rest of the handset would be made in India, making it as desi as it could get. In fact, the handset wore its nationality on its back cover—the Indian tricolour. The handset was launched by senior BJP leader Murli Manohar Joshi who praised the product and emphasised on the importance of making in India as much as making for India. Finally, a phone that could bind rural and urban India by a common thread of affordable technology had arrived.
What followed was complete chaos and a mad rush to book the handset. Within hours of opening for pre-order the company's website crashed and its office got mobbed by eager buyers. Later in the day also, Ringing Bells online payment gateway remained unreachable until the website finally went down. However, the company claimed that within the three days of sale, it received orders for 30,000 handsets and 7 crore registrations for cash-on-delivery, and promised to deliver 25 lakh handsets before June 30.
Since then, Ringing Bells and Freedom 251 have been in the news every now and then for not meeting the delivery target, facing several charges including a Rs 2-crore cheque bounce case and recently, for rumours of shutdown which the company has denied.