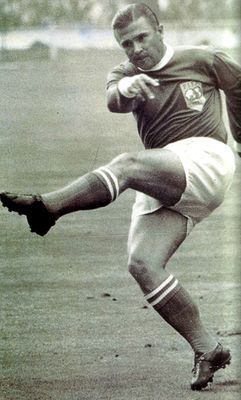 The glamour lay with the strikers, wearers of the No. 9 shirt, like Gerd Muller of Germany whose 40-year-old record of goals in a calendar year Messi broke in December 2012. But it was the No. 10 shirt, the man who linked midfield with attack, that drew the admiration.
Among the most admired of the great No. 10s of all time was the "galloping Major" Ferenc Puskas (Hungary) considered the world's best during 1950-56 and who first made the No. 10 jersey the most coveted of all. Other greats include Pele, of course, Yohan Cruyff and Dennis Bergkamp (the Netherlands), Zinedine Zidane (France), Johnny Haynes (England). Diego Maradona and, today, Lionel Messi (Argentina).
All were breathtakingly skillful players with their own incredible acts of flair like the Cruyff turn and the Puskas "drag-back". Puskas was known for his peerless left foot, cannonball shot, brilliant tactical brain, deft touch and outlandish spontaneity. His international and European goal scoring records are unsurpassed—85 goals in 84 matches for Hungary and 35 in 37 matches in European competitions for Real Madrid. In comparison Pele has scored 76 goals for Brazil in a career spanning four World Cups. Puskas played in only one World Cup and just three matches in that competition due to injury. From the spring of 1950 to February 1956 the Hungarian national team under Puskas' leadership lost only one match, the 1954 World Cup final, 2-3 to West Germany. An incredible character, Puskas followed no rigorous training regime, even as he smuggled wrist watches and nylon stockings, into communist Hungary to earn extra money. He visited pubs after each match and his fondness for food, especially stew and spicy sausages, is legendary.
The incredible Pele, who in full flight for his club Santos and Brazil, was a joy to behold and a complete player: speed with the ball, off the ball, superb dribbling, balance and visionary passing. Brazil never lost a match when Pele and the brilliant right winger Garrincha (No. 7) played together.
The Netherlands's Total Football of the 1970s, a style pioneered by Cruyff, was based on using a high defensive line, squeezing the space in which the opposition had to play and constant inter-changing of positions. The style clicked largely because of Cruyff's incredible speed, quick turn and ability to spot an opening. Though they lost the final to West Germany in 1974, Cruyff was the perfect No. 10, orchestrating attacks, helping in midfield, his bewildering ball skills making him devastating in any position.
For sheer improvisation and unpredictability Maradona reigns supreme, scoring two of the greatest goals ever in the 1986 World Cup. The dash from the centre line, beating five English defenders to score is rated as the goal of the century.
With total football and multitasking the norm today, all the recent great No. 10s, Bergkamp, Zidane and Ronaldinho, played a roving game for club and country. So, while the halo of No. 10 has declined, some of its wearers have been matched with the past greats. Lionel Messi without doubt is up there among them. And he still has many more years of the game left to become known as the best among them.
Kapadia is a sports writer and commentator.