The fishermen pray every morning to an effigy of Mother Mary hung on the bow of the boat for a 'bumper haul', which can fetch them up to Rs 10 lakh

During the middle ages, Kozhikode was dubbed the "City of Spices" for its role as the major trading point of eastern spices

Thalassery is known as the land of the three Cs—Cricket, Cake and Circus. All three were first introduced in Thalassery in Kerala during the British rule

Kumarakom is set in the backdrop of Vembanad Lake, which is the largest freshwater lake in Kerala

Kuttanad is one of the few places in the world where farming is done below sea level
Kerala, like any other state, is filled with clichés: the Marthoma achens on their scooters, the nasrani achayens with their Scotch whisky and waxy moustaches, the Gulf-returnees, the wiry-legged, bronze-chested coconut pluckers. The cuisine, too, is a potpourri of clichés: the abundant use of spices and coconuts, the ubiquity of kallu shaaps, the importance of rice as the staple food of the state. But in food, if not in anything else, we're not afraid of our clichés. In fact, we work them, as I learnt from a culinary expedition around the state.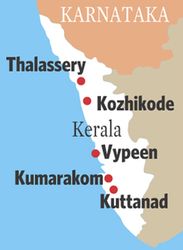 Vallam pachakam
You could order fresh seer, shrimp or lobsters from the fish stalls that line the shore at Fort Kochi, right by the cantilevered Chinese fishing nets. You could stroll by the old colonial bungalows, churches and monuments. Greek and Arab merchants were the first to arrive in dhows to trade for spices, followed by the Chinese. The Jews fled from their homeland to escape persecution and settled here, building a synagogue in what is now known as Jew Town. The Portuguese were the next to arrive with a fleet of ships. The cuisine of Kochi is influenced by all these cultures. The paalappam or lace-rimmed pancake, for example, is inspired by the Dutch pancake.
But this is old knowledge for anyone who has lived near Kochi for as many years as I have. So that's why I decide to try something new. A colleague suggested vallam pachakam—ferry cuisine. With this in mind, I amble to the Fort Kochi wharf and board a wooden ferry raft attached to a motorised boat that chugs its way to the numerous islands in this area—Mattancherry, Vypeen and Willingdon Island. I get down at the Vypeen harbour, which is chock-a-block with fishing boats. The one I board is called St George and is a one-year-old vessel captained by a man from Kanyakumari. The crew, 12 men in grubby lungis, are also from Kanyakumari. I'm promised lunch and a one-hour journey towards Ponnani.
When I enter, an earthen pot is simmering in the stern of the boat. Mussels curry, I am told. While we wait for lunch to be prepared, the men are full of questions, some of them familiar ones ("Where do you work?" "Will our pictures come in the paper?"), some not so familiar ("Who do you prefer between actors Surya and Vikram?" "Are you on Facebook?"). The captain, the father of a newborn, gives me a tour of the boat. He shows me the latest gadgets the boat is equipped with—a compass, an echo sounder, a GPS and a wireless. The wireless has access to more than 100 channels and there are 25 boats in each channel. Their channel number, he informs me, is 68. The boat cost Rs.25 lakh when he bought it last year. Sometimes they haul fish worth Rs.10 lakh in one go—what they call a 'bumper haul'. At other times, not even worth 010. That's why they're religious, and pray every morning to an effigy of Mother Mary hung on the bow of the boat.
The mussels curry, marinated with chicken masala, turmeric, tomato and onions and simmered with chilli in an earthen pot over a smoky wood fire, is served with watery rice on a steel plate. It is extremely spicy.
Mappila cuisine in Kozhikode and Thalassery
Within a generation of the Prophet's death, Islam had reached Malabar. Arab merchants from Aden and Hadramawt in Yemen, and Dhofar in Oman, were the early conduits through which the faith crossed the Arabian Sea. Thus, Islam got a good reception in Malabar. Its teachings were called the fourth Vedam (Vedam refers to revelation or knowledge, the other three being Hinduism, Christianity and Judaism). Many of the local fishermen converted to Islam and thus was born the community of the Mappilas.
As Faiza Moosa explains in her book Classic Malabar Recipes, Malabar's cuisine is the synthesis of two different culinary traditions. For example, the abundant use of coconut is a clear Malayali trait. But how did ghee inveigle its way into the Mappila kitchen? Some might say that the nomadic Bedouins of Arabia use it, they call it samn. The Mappila predilection for mutton is also an Arab legacy. The argument could be stretched to cooking techniques. The belief that food must 'surprise' the eater is the raison d'etre for many stuffed dishes in the Middle East. One Mappila recipe has a hard-boiled egg buried in a whole chicken, which is encased in a pillow of dough. The love of layering—think of the Turkish baklava and the Yemeni bint-al-sahn—is mirrored in the Mappila dessert, chatti pathiri.
There is a running joke in Kozhikode. A man walks into McDonald's and asks for chicken and parotta. "We don't serve parotta here, sir," says the waiter. "What? How can you serve chicken without parotta?" asks the enraged customer.
Food forms an integral part of the life of a Mappila. For me, Kozhikode is where I spent my childhood years. My early gastronomical expeditions were marked by my grandmother's diamond cuts, greasy halwa from mithai theru, a street in Calicut, and ice-cream sold by a vendor at Kappad beach that came in different colours and turned my tongue red and green and yellow by turn.
We start our culinary journey at Zains and Bombay Hotel on the Covent Cross Road, both of which were started in the early 1900s. They're similar in structure, with old- fashioned wooden benches arranged in rows and tables with checked table cloth. Zains was started by a Muslim woman called Zainabi Noor when her husband was working in the Gulf and she had to find a way to spend her time. It's famous for its fish pathiri, fish biriyani, irachi pathiri and pav chicken. The pav chicken, where a pav is stuffed with chicken marinated in masala and dipped in egg, was especially delicious. When we reached Bombay Hotel, it was late evening, the wrong time to come, we were told by a regular customer. It's until 4 p.m. that you can see the restaurant in all its crowded glory. The place is known for its elanji—a savoury dish made of grated coconut, sugar, banana and raisins wrapped in a layer of maida dosa.
No visit to Kozhikode is complete without a trip to the famous Paragon, swankier than Zains and Bombay Hotel. An English television channel recently voted it the number one restaurant in India for coastal cuisine. Paragon was started in 1939 by a retired railway officer. It was famous for its bakery products. My aunt remembers Paragon men cycling through the streets of Kozhikode, carrying a load of cream puffs for distribution. When the current owner Sumesh took it over, it was in a bad condition. "Kerala those days had a severe workers' union problem," he remembers. "Besides, people were not in favour of eating out. I wanted to give up but I had a guru those days who told me that when you give up without succeeding, the feeling of failure will dog you for the rest of your life. So I persevered. Today, there are four Paragon restaurants in Dubai and Sharjah, one in Abu Dhabi, five in Kozhikode and one coming up in Kochi's Lulu mall." From Paragon, we restaurant-hop to King's Bay, the swankiest of the lot, where the owner Sahir N.M. treats us to delicious cucumber sherbet.
From Kozhikode, I take a train to Thalassery, the land of cricket, cakes and circus. Paradoxically, the town is distinct in its anonymity—it could be any one of the dozens of north Malabar towns.
There is the smell of pickled fish wafting from the nearby harbour and fish market. Several European influences can be noticed if one traipses around the town, including names like Hermann Gundert, Brennan and Logan.
I am greeted at the station by a Thalasseri mussalman called C.P. Moosa, who pioneered the concept of home stays in Kerala. He takes me to his beautiful colonial bungalow, perched high on a cliff overlooking the Arabian Sea. Most of the guests here are foreigners, including the famous food critic Leo Schofield and writer William Dalrymple. The old terracotta-tiled floors and teak bed stands are filled with curious memorabilia, faded pictures and blue-and-white china. Outside, coconut palms and flowered gulmohar fringe an aquamarine swimming pool. But the highlight of the house, named Ayisha Manzil, is the extraordinary cooking skills of Moosa's warm and affable wife, Faiza Moosa. The guests sing paeans to her fish biriyani, made using fillets of a local fish called seer. The brilliance of the dish lies in the alchemical combination of a slew of spices—coriander powder, chilli powder, fresh green chillies, turmeric, cardamom, clove, garam masala, lime, fresh coriander and mint leaves, garlic, ginger and saffron.
Achayan cuisine at Kumarakom and Kuttanad
R-Block is a small island off the coast of Kumarakom, famous for its toddy and fried pearl spot. I booked a boat and set out one morning with two of my cousins. From the boat, we could make out the scraggly geometry of coconut trees set against the backdrop of a cloudless sky. The moss on the water flickered in the noonday insanity of the sun, like it was simply a trick of the eye. It takes us two hours to reach R-Block, from where we walk up a mud-trodden path to Kamalan's Moola, a nondescript toddy shop, with mud walls and a roof made of palm leaves. We're served mashed tapioca, rice, fried mussels and pearl spot. There I taste toddy for the first time in my life, served in an earthenware pot. It's slightly sweet and fizzy, with a bitter edge to it. Most toddy shops are licensed to sell the sour country brew that is freshly tapped each morning from coconut palms and palms all over Kerala.
Syrian Christian food is spicier than Mappila cuisine. The proportion of ingredients used and methods of cooking are also different. What is common is the importance of seafood in both Malabari and Syrian Christian cooking. The cooking traditions of the Syrian Christians of Kerala show the influence of Arabs, Chinese, Malay, Dutch, Portuguese and Syrian cultures. Rice is the staple food of the state. Chicken, eggs and beef are consumed often, pork and duck are reserved for festive occasions. Coconut is used in its various forms in almost all the dishes. As a practising Syrian Christian, I can attest to the importance of puttu (steamed rice cakes), erachi olathiyathu (fried beef) and ethakkappam (a sweet dish consisting of batter-fried bananas) in our diet. In our family, there's a running joke that when a child is born, a plate of ethakkappam is placed in front of him, to see if he'll grow into a true Malayali achayan.
A family friend informs us of the famous Kuttanadan duck roast served at a highway restaurant called Wayside Inn. Kuttanad is a place in south Kerala famous for its vast rice fields and farming below sea level. It's also known as the 'Rice Bowl of Kerala', rice being the primary agricultural product. Wayside Inn is one of those places which take the business of food seriously but almost nothing else. So the walls bear grubby fingerprints, the waiters are all men in lungis and the owner sits in a glass cubicle. Most of the customers are fishermen or truckers stopping on their way to the harbour. The place is not pretentious but the food is clean, honest. The duck roast, served in a slightly sweet semi-liquid broth, is an epicurean's delight. The secret of the Kuttanadan duck roast, the owner James Kutty informs us, is that 'kulikkunna tharavu', or ducks which are constantly in motion in the water, are used as opposed to the broiler ducks that are available in duck farms. The duck, marinated in garlic and chilli paste, spice powder and salt, is roasted in a large urali, which retains a slow steady heat.
As the proverb goes, 'You either eat to live or live to eat.' In ten days I met dozens of people who religiously believe in the latter. In addition to knowing about the nitty-gritty of different types of food, they were all extremely polite and courteous. I asked one of them if it's only people in the hospitality business who are so affable. His response was a lopsided grin, while he deftly shoved a plate of mutton stew toward me.