In the fast-paced world we live in, most people can barely catch some time to sit down and meditate. Even trying the 'Heartfulness' way becomes too much to ask for. The method simply involves sitting comfortably with eyes closed for no more than 20 minutes every Sunday at a fixed time and place, and focus on the presence of divine light in the heart.
However, Kamlesh D. Patel, the 62-year-old fourth guru in the Heartfulness lineage, believes those who say they don't have the time to meditate have more reasons to meditate. In his new book titled The Heartfulness Way: Heart-based Meditations for Spiritual Transformation , 'Daaji' as Patel is called, recalls an incident. A senior minister told "Babuji", the second guru—Ram Chandra—that he would like to meditate, but did not have the time. Babuji asked the minister if anyone was busier than him. The minister replied that the Prime Minister was; Indira Gandhi was the Prime Minister then. Babuji told him to give the "difference between her busyness and your busyness to meditation".
The book was unveiled on Thursday by President Ram Nath Kovind who received the first copy. Incidentally President Kovind is himself a practitioner of heartfulness meditation. Minister for Commerce & Industry Suresh Prabhu launched the book on Friday. Prabhu is a follower of the movement, and his wife Uma Prabhu is a certified trainer.
Heartfulness, founded in 1873 when Ram Chandra of Fatehgarh rediscovered "yogic transmission", today offers free meditation training at over 5,000 'Heartspots' in 130 countries across all continents. Headquartered on the outskirts of Hyderabad, they also have retreat centres, and are involved in diverse outreach efforts.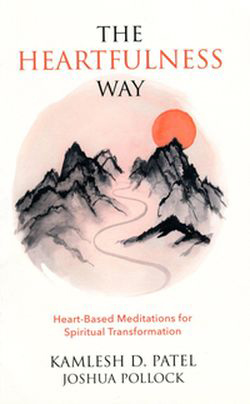 Written in the format of candid interactions between Daaji and his co-author Joshua Pollock, a heartfulness trainer from the US, the book examines the nature of the spiritual search and attempts to demystify meditation and yogic transmission. It is also as much about the practices and goes into the guru's "invisible yet vital role in supporting our inner journey".
Daaji says that busy people should also understand that meditation provides many shortcuts in life. In his view, often people invest a lot of time and energy in some endeavours, but the results are not what they would want. "Wouldn't it have been better to understand the reality of these situations from the very start? Meditation provides a level of insight that allows us to appreciate situations for what they actually are. This can save us years of time", he writes, going further to describe meditation as an enormous time-saver. "I would even say that the less time you have, the more vital meditation becomes. So do meditate—especially when you don't have enough time".
Fixing time to meditate is important to automate it to the extent that it becomes a habit, and regularity is important to stay in tune with nature's rhythms. But that said, Daaji said in the course of an interaction that those who come to learn heartfulness meditation are expected to be at least 15 years old. The meditation is generally done sitting comfortably cross-legged, not necessarily in 'padmasana', so that any discomfort does not distract. And all it takes is 20 minutes in the morning. But that is not the end. The evenings see people who do the heartfulness meditation, doing a "cleaning up" , which is "more simple, and leads to a more pure state". Like most other forms of meditation, heartfulness meditation also believe that doing it collectively makes for greater energy and synergy, than doing it alone.
Daaji himself started practising heartfulness meditation as a 20-year old in 1976, and became the fourth guru in 2011, when he was planning to retire from his work as a successful pharmaceutical business head in New York. Though he travels the world as a modern day guru, speaks at a number of places, leads meditations and transmits "life force", he says he did not have to do anything to propagate it. His predecessor Parthasarathi Rajagopalachari, the third guru, had spread it all over the world.
According to him, what distinguishes heartfulness meditation from many others is the scientific research that has endorsed its impact on heart and mind. This research is being done by research teams worldwide and at the Centre for Research, Education, Sadhana and Training (CREST) in Bengaluru.
"The brain behaves differently when one is thinking, one is excited or angry. There are neurocircuits and magnetic fields, the waves are different when one is quiet, compared to when one is dreaming, and the kind of dream also makes the difference. And when one is in deep sleep, the waves are calm," he explains.
A lot of experiments on mindfulness and EEG studies have been done by Harvard and institutions on novices as well as professors who have meditated for thousands of hours. "When they meditate ordinarily (close your eyes and sit calm), delta waves as those formed during deep sleep are seen after 15 minutes of meditation. But with heartfulness meditation, the delta waves are seen in five minutes," Daaji claims.
The transmission by a trainer or a guru is about sitting with eyes closed and focussing one's mind of the "source of divine light in one's heart". One receives transmission from the trainer, and the experience at that moment is the effect of the transmission. While the experience cannot be easily described, it is divinity, says Daaji.
Is it necessary to have a trainer or a guru? Why not meditate by oneself? The guru says meditation without a trainer and transmission is "placebo meditation". Drawing from his pharmaceutical life possibly, he points out that if the result of a new active medicine is less than 50 per cent of expected results, the industry drops it.
"With transmission, 99.99 per cent of people will feel the effect of meditation instantaneously—it is indescribable."
For heartfulness, it is not necessary for a practitioner to have faith in the spiritual. "Even a suspicious mind is OK", but it will help to have an open mind.
Belief in it comes as a result of meditation. "It is so profound and scientific and the practitioner will go into a deeper state of awareness, and though the delta wave stage as in deep sleep, he or she will have 360 degrees awareness", he explains, adding that when you meditate, there is calmness; the mind is not rushing into anything, and you get an inner guidance, become super sensitive to your own self , and you become selective about what you will do. You will be able to see the consequences of an action, before you actually do it." This helps practitioners to prioritise everything and manage time better.
Initiating a newcomer to heartfulness meditation takes about four sittings, In the days of the first guru, people came to meditate hoping to get 'moksha'. Next in line, people came for God realisation, others came for peace of mind. And a few for mundane reasons.
"Now nobody comes to seek God. It does not matter . If people were to ask, can you show me God, I would ask, "How would you recognise God?"