Try taking your eyes off these milkmaids.
They are sensual. Graceful.
Unsurprisingly, you might even wish they were alive!

One might assume that Vrindavan Solanki would have secretly fallen in love with one of those milkmaids in Rabari who appear again and again in his paintings.
Solanki denies it with a smile. But one thing he admits: "Those female figures in my paintings wearing backless dresses, revealing their lithe forms, were inspired by the Rabari women. They are so beautiful and innocent. Their simple life fascinates me to no end."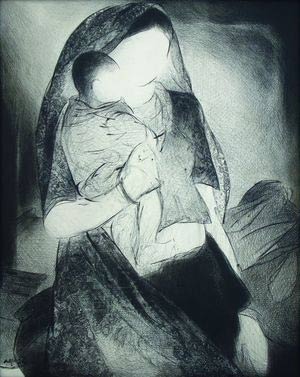 Hailing from Junagadh in the Saurashtra region of Gujarat, Solanki used to be fascinated with cattle herders too.
Solanki keeps his figures faceless. But the rest of the body is so expressive that you get a hint of what the expression on their face could be. The rural men and women in his paintings are busy with their own lives—talking, holding hands and walking or doing household chores; With the use of light and shadows, the artist creates a semblance of reality in his paintings.
One may find it hard to believe that the artist known for his finely detailed images never uses models. Whenever Solanki comes across something interesting, he makes a quick sketch of it. "It is like a handwritten note you can refer back to," smiles Solanki. His powers of observation also would have come in handy while depicting those women in ghagras and block-printed saris with exquisitely crafted jewellery.
As an artist, Solanki keeps on reinventing himself. Initially he used to be engrossed with themes like mother and child, couples and Girnal forest. The Tata Steel series turned to be a landmark in his career. Commissioned by the Tata Steel company for their annual calendar, it had 12 black and white drawings of machines which are a bit abstract in nature. The series on Mumbai also won him critical acclaim.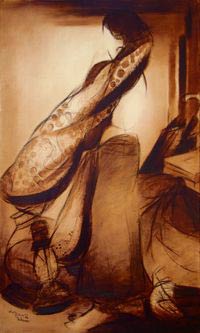 These works were done in a variety of media including acrylic, charcoal and oil on canvas. The use of warm colours adds a quaint charm to them. Solanki's palette has very few colours like black, brown and sepia. "Black and white came naturally to me. Later I started using brown on the insistence of my wife Chitra. She happened to see my mural at the Air India Office in New York. I had used 20 shades of brown in it. Chitra was so impressed and asked me to try sepia. Gradually it became a part of my palette," says Solanki.
Solanki always wanted to be an artist. On his first day in school, he picked up a crayon and started drawing pictures instead of writing. "The usual boisterousness was not part of my nature. I used to be very quiet. I would just roam around in the forest and look at things in great detail," he says.
Solanki left Junagadh in 1990 and moved to Ahmedabad. His wife Chitra has been a great source of strength to the artist. "I'm most attached to her," he says. Having had his fair share of struggles during his early years, Solanki tries to reach out to young artists in Gujarat and organise exhibitions of their work. Chitra supports him in all such endeavours.
Like the men and women in his paintings, Solanki always keeps himself occupied. Right now, he is busy with his series on Bengaluru city and important heritage sites in Gujarat. He has plans to do a series on horses, too.