If you typecast an Indian housewife as someone who is confined to the four walls of a home, takes care of her spouse and children without a whimper and hardly ever thinks of herself as an entity, Coimbatore-based Sheeba Wilson (33) would not have hesitated to identify herself as one. In the last two years, however, things changed drastically for her.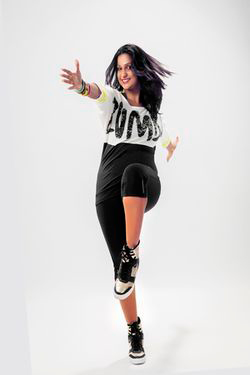 She says she was always the nervous kind who could not face a crowd or venture out of home on her own. Now, she is a recognised zumba instructor in her town, shuttles from one class to the other, inspires women to work out, takes part in marathon runs and has even travelled on her own for an advanced course in zumba in the US.
"Can you believe it? I have about 600 friends now!" she says enthusiastically. "Zumba has changed my life. I am fitter and happier," she adds. She was also able to shed the weight that she had put on after two C-sections, which gave her body confidence.
Forty-five-year-old Sahana Swaroop also has a similar story. She has been a housewife for 23 years, taking care of her kids and home. She moved to Mangaluru from Bengaluru for her daughter's education and started attending zumba classes there. After finishing the two-day instructor training in zumba two years ago, she has started earning for the first time in her life. "It feels so good to do something and have an income," she says. She looks forward to moving back to Bengaluru and taking up full-time teaching at her own house.
Party has begun
What is it about this Latin American dance-fitness programme that is changing the lives of many women like Sheeba and Sahana? "You may look at it as just another dance-fitness form but there is something about the movements involved, the fitness incorporated and the immediate result garnered that makes zumba one-of-a-kind, says Bengaluru-based zumba education specialist and master-trainer Shwetambari Shetty. She is one of the first instructors in the country and over the years, she says she has noticed a huge demand for the fitness form.
"The thing about zumba is 98 per cent of people, after attending one class, return for more," she says. Breaking zumba down, Shwetambari says, "Zumba is essentially a mix of four Latin American dance forms like cumbia, salsa, reggaethon and merengue," she says. Sometimes a bit of hip-hop, mambo and soca get thrown into the sequence and for the increasing tribe of Indians taking up the fitness form, there is always a bit of Bollywood dance and even belly dance included.
Be in the mood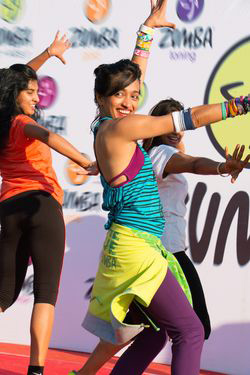 In a survey result generated by the fitness app, MyFitnessPal recently, there are eight million weekly participants in zumba classes in the US and 15 million worldwide. Though the survey showed a dip in enthusiasm for zumba among fitness enthusiasts in the US, Shwetambari says the most number of queries she gets at Tribe Fitness, the fitness centre she co-founded, is for zumba. "It is a stress-buster, a mood lifter and most of all, anybody of any age or shape can take it up," she says.
"The demand for zumba in India is only increasing," says Sucheta Pal, zumba master-trainer and the one who pioneered it in India. "Three years back in 2012, when I was given the responsibility to popularise it in India, there were no other teachers and it was completely new in the fitness world. I had to do gym tours, events and activities and TV series to get the message across. But now people come to us. The reality is we do not have as many qualified instructors to meet the demand," she says.
Life saver
Zumba does help in losing weight and getting back in shape but the most remarkable achievement that this dance form has garnered in India is its ability to provide jobs for women. Thanks to its phenomenal reach to tier-2 cities and small towns, housewives are coming forward in hordes to take it up as a career.
Thirty-eight-year-old Kheroda from Manipur, wife of colonel Vivek Pashupathi, is a case in point. Before she took up zumba, her identity was largely that of an army wife. She got hooked to zumba six years back and travelled all the way from Kota, Rajasthan where her husband was posted then to Kerala to train with Sucheta to become an instructor. Now, she is not just a popular instructor in Udhampur, Jammu where her husband is posted, she has also set a Limca book of records for doing zumba for the longest time. She danced for eight and a half hours non-stop to set the record.
"I was a Manipuri dancer and a kick-boxer during my college days. I had two fractures from my kick-boxing days on the right side of my body that gave me trouble until I took up zumba. It not only cured me of the pain, zumba also gave me a purpose in life. I teach college students and women in Jammu for free. Here, women are always kept at home and coming out to dance with me makes them feel very happy and liberated," she says adding, helping women understand their true potential is her motto. On setting a Limca record, she says mirthfully, "I'm from Manipuri and we have a habit of setting records".
Easy moves
It could be the simplicity of the steps that makes us all dance to Spanish tunes that are so removed from the dance forms that we have grown up seeing or doing. "The advantage of zumba is even a novice can be a teacher. I did not know what zumba was before I became an instructor. Once you finish your basic level, you get DVDs of new mixes and moves from the US every month. You needn't break your head on what to teach next," Shwetambari says.
Sucheta Pal says the biggest draw of zumba is its ability to dish out happiness. She says many housewives are quite depressed and are looking for a purpose in life, especially after their children have grown up and left the nest. Zumba has the ability to fish one out of this feeling of worthlessness, says Sucheta. Quoting her own example, she says, "I was an engineer who quit my job to pursue dancing." She also did odd jobs in between. Depression hit her along the way, nudging her towards attempting to end her life more than once. She shares her story with her students stuck in similar situations to inspire and guide them.
Ahead in life
Shwetambari says she has noticed in her class what she calls the "psychology of zumba" where the first-timer who is often a timid backbencher evolves into a smart extrovert who has the confidence to turn around and face the entire class. "We have observed this positive behavioural change in most of our clients. At least five in my class have confessed to having a life-changing experience after taking up zumba," she says.
There is no doubt the world loves music. Zumba is a mix of great music with great dance. With a lot of fitness movements included, it is happiness leading to weight loss and vice versa. As zumba's tagline says, ditch the workout and join the party!