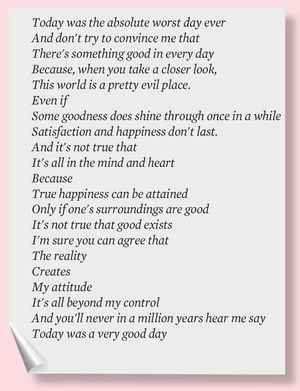 No, this downer is not from Sylvia Plath. It is by Chanie Gorkin, a high school student in New York.
A copy of the poem, titled 'Worst Day Ever?', was posted on the wall of a bar in London. The bar-owner himself could have posted it—nothing sells beer like despair.
But then, beauty cannot escape the eyes of the beerholder. A patron found the poem deceptively downbeat, so he read it from bottom to top (like it was meant to be). And, voila!, the poem was transformed.
The lines have now gone viral in the UK. Not much is known about Gorkin, except that she is a member of Poetrynation.com, an online community for budding poets. 'Worst Day Ever?' was published last year in the collection Beyond the Sea: Odyssey.