You are a star," said filmmaker Mahesh Bhatt to Anu Aggarwal, a young model in Mumbai, when he first met her.
"In the galaxy?" Aggarwal joked.
A year later, he called her and offered her the role of Anu Varghese in his film Aashiqui. The film, he told Aggarwal, was based on her life. No other actor had the sensibility to play the role. Aggarwal initially resisted the offer— she felt the typical heroine of films those days was a bimbo who shook her "boobies and booty" for a couple of song-and-dance numbers—but she finally gave in to Bhatt's insistence.
Aashiqui, which released in 1990, told the story of a young woman who runs away from an oppressive girl's hostel and meets a man called Rahul (played by Rahul Roy) who helps her find her feet and become independent. They fall in love but when Anu becomes a successful model, Rahul feels threatened by her fame. When she accepts an offer to go to Paris with a film director, Rahul prevents her from boarding the flight. In the end, she decides to stay back and give their love a second chance.
The film became a blockbuster and propelled Aggarwal to stardom. The press turned her into a "sex bomb", fans banged on her car when she stepped out, producers with clattering gold chains frantically sought her out. A few films like The Cloud Door and King Uncle followed, cementing her status as a rising star of Bollywood.
Like Bhatt said, there were a few things common to the lives of Varghese and Aggarwal. They were both models who were impetuous, free-spirited and beautiful. But there the similarities ended. In real life, Aggarwal was no dainty Bollywood heroine; she cocked a snook at rigid social mores. She wore what she wanted, acted in an erotic film, endorsed condoms and smoked cigarettes during shoots. Also, Aggarwal didn't have a Rahul in her life. Or rather, there were many Rahuls, from a young handsome friend of her brother's in school to whom she couldn't speak because her heart fluttered wildly whenever she met him, to a Giorgio Armani supermodel, to a swami at a yogashram in Uttarakhand.
"That was a time when I was experimenting with my sexuality," says Aggarwal. "I was growing up and I needed to know things."
A day after the launch of her book Anusual in Chennai, Aggarwal, 47, sits in a crowded café sipping black coffee, empty sugar sachets scattered around her. She has a natural poise about her, a confidence instilled in her by her mother in Delhi who used to call her "gunu" from the time she was three years old which, in Sanskrit, means qualities. "She used to tell me that I have all good qualities," says Aggarwal. "She used to tell me that I'm an incredible child." Her narration of her rise to fame is impersonal, occasionally punctuated by a full-throttle laugh, dangling silver earrings glinting in the light. She glosses over important details because, as she keeps emphasising, the book is not about Anu the superstar; rather, it is about Anu the human being, the person she became after her accident, which marked the beginning of what she calls "life 2".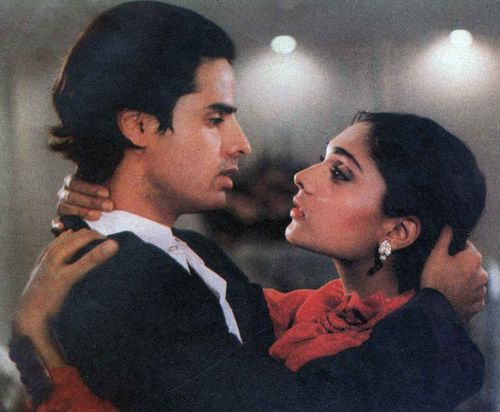 The car accident happened nine years after the release of Aashiqui while she was returning home from a party given by the US consul general. She was barely breathing when the policemen pulled her out of the battered white Mercedes and was in a coma for 29 days after that. While the external world spun about in chaos, Aggarwal existed in an otherworldly zone of "weightless fairies, melodious voices and angular harps", an out-of-body experience vividly described in her book. When she woke up, her body was broken in more than a dozen places—multiple fracture of the right collarbone, unstable pelvic fracture, bladder rupture, dislocated jaw, basilar skull fracture, sinuses smashed, inner ear fracture, head injury, brain bleed…
"I had a fracture in the corner of the eye," says Aggarwal. "I didn't even know you could have a fracture there."
None of the doctors believed she would live beyond three years, she says. If she lived, she would be in such bad shape that she would have to be taught the alphabet once again. She used the methods of vipassana and karmic healing to get better. The doctors labelled her a medical marvel. "When I got better, I cat-walked down the stretch of the hospital in my half-paralysed body, trying to smile at the attendants with a twisted face," she says. "I would slur my thanks to them because I couldn't speak properly. Doctors sprang out of their chairs when they saw me. My face, which used to be my fortune, was marred beyond recognition."
Aggarwal says that before her accident, she was arrogant and ignorant of a lot of things. "I didn't have a lot of inner knowledge or compassion towards others." That, she says, was the worst part of coming out of the coma. "When I first woke up, there was a lot of anxiety that comes from not knowing what the future has in store for you. It was difficult because I couldn't interact with others. The world is a harsh place. People expected the old me. I didn't know how to tell them that I had changed."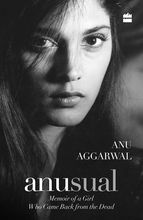 WHAT SHE LEARNED was that when you take each thing as it comes, live in the moment, and always be positive, the world opens up for you. "Now I'm filled with love, which is the only thing that's important. Earlier, when something I didn't want to happen happened, I would ask myself why it happened. Now, I'm aware of every thought I have. I study my mind, and as a result, everything is working well for me." Even before she finished her book, she got a call from HarperCollins asking to see it. After she gave a TED talk, several companies asked her to give motivational talks to their employees. She's got an offer to teach karmic healing in Barcelona. She's taking abroad AnuFun yoga—a healing module she devised and has been teaching to children from slums.
At the launch of her book, filmmaker Mani Ratnam, who directed her in the Tamil film Thiruda Thiruda, asked an interesting question: "The movies we make are fictional but if they bear at least a small resemblance to reality, we consider them a success. When it comes to the book you wrote, which is rooted in reality, does the opposite also hold true?" He asked the question because her story has been more thrilling than a fictional blockbuster. Bhatt could not have foreseen it but in a future yet not lived, both his Anus would have one more thing in common: in the end, both of them would go on to trade fame for love.
Excerpt 1
"Who's that girl?"
And with the first advertisement, irrevocably, I had become one of the most sought-after and highly-paid models. It was a time in India when the term 'supermodel' was just being coined. Society magazine in 1988 had me dressed in my tight blue jeans on the cover, with the title 'India's first supermodel'. One of the first models that magazines vied to converse with, interview and feature. It was anybody's guess as to how, within just six months of her arrival in the city, an unknown young lass with zero family credentials, perhaps still not of a mature age, had tasted public success… In my silly uppity way, I was not looking for it, but earning money meant I could get off the diet I had followed since my start in Bombay – I could afford more than just an apple and salted peanuts for lunch. And not only did my rent get looked after but I could buy toothpaste and cream too.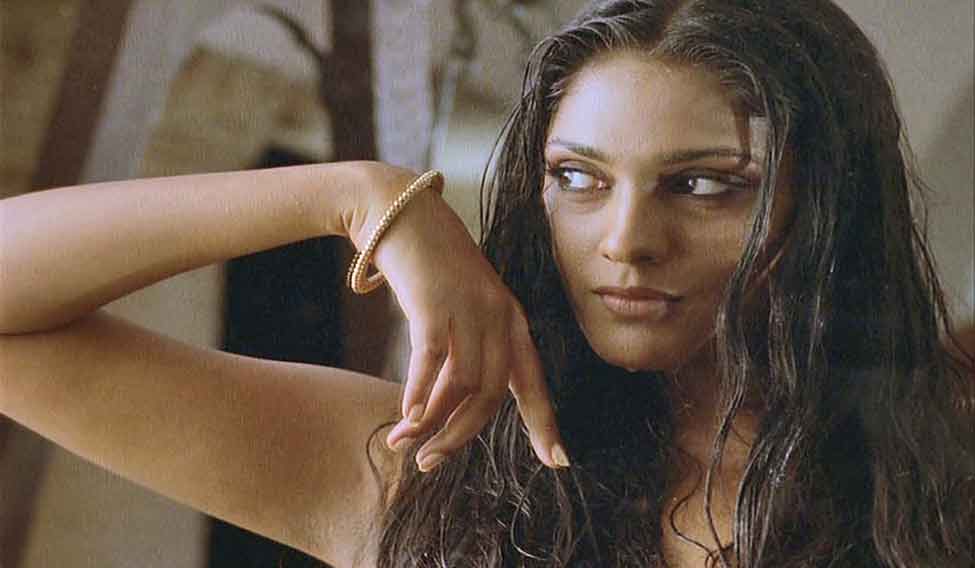 Excerpt 2
It was only a couple of months later I understood what the crux of our yoga course was: in essence we studied how to get back to the Source. Fascinating! A way of thinking, behaving, and finding what actually matters, all that we tend to ignore in city life – an ignorance that comes from a narrow perspective about life. Here, in the yogashram, we were learning how to excel, how to maximize human potential. Marvellous! I had found the reason why I was born on earth. And who I really was. However attractive it might have been, how could even Hollywood have given this to me? I was surer than ever I had made the right choice – even though I had at times felt a prickly regret for not taking up the offer of the International Creative Management agency to sign me up. But what was interesting was – there was another side of me that was revealing itself now. A recipient of appreciation from fans, I was now ready to give. Love, this time. Karmayoga, here I come! Yoga was changing the despondency I had felt, the pitfalls I had faced, it was transforming it to joy. Love life.
Excerpt 3
Returning home from the US consul general's party, Anu was lacerated by metal. Cut by broken glass. Pulped inside the grunting car that was shaken by the stormy wind. Mercilessly reduced to a bloody mass of defeated bones; crushed and cracked, Anu would still breathe, however sparingly. The policemen were astonished when they saw the white Mercedes take three 360-degree James Bond-kind of turns before flopping down next to the turbulent sea. It was only when they saw a female body slither out of the driver's seat that they rushed to pick up her body, which looked electrocuted. Her feet fell on the broken glass of the windscreen, blood oozed out of her soles.
Excerpt 4
In the hospital –
Flat-pressed on the bed strapped in wires, titanium knots, I am inside the Intensive Care Unit. In a comatose state I lie 'asleep' in a space where fatality is normal. Though unconscious to the world, I was alive. Inside my head the slate of life lived so far, was being wiped out. An inner orderliness, a melody existed amid that external, physical chaos: transmitted to another zone, I saw angular harps played by horrific, twisted black creatures in an ugly splash of filth and stink in dungeons of darkness. Weightless fairies gleamed in contentment as they flew wingless in higher space. The two stark opposites of love and hate exist in harmony. It is due to the light that darkness exists. And the meaning of balance was the acceptance of the opposites. This was not visible to anybody. A calculated amnesia followed.