After a long time I got an opportunity to travel by train. It was the Delhi-Howrah Rajdhani Express, which I had taken to go to Dhanbad. A train journey is always a pleasure to undertake as it showcases so much of the countryside that one passes and the people one comes across in the train itself, namely the fellow passengers and the train staff. The Rajdhani trains are in some ways brand ambassadors of the railways and hence are necessarily well maintained, have courteous and responsive staff, are generally on time and serve good food.
The fellow passengers, and the countryside that one passes, provide an excellent insight of what India is all about. As I passed towns like Tundla, Hathras, Aligarh and Ghaziabad, I recalled train journeys I had undertaken from my hometown to college hostel in Delhi and back. My sister and I, travelling from Delhi to Kanpur, or Bareilly, where my father was posted, used to look for the 'usual morning scenes' that heralded the arrival of a large town—our hometown. These early morning scenes were of people with a 'lotta' (a water vessel of brass) in their hands seated along the track. They would be seated all along the rail track. This time, returning from Dhanbad, my wife and I saw the very same scenes again, with the only change that the 'lotta' had been replaced by plastic bottles! These scenes were on show despite India having embarked on a massive programme of constructing toilets and ending open defecation by October, 2019.
The sights around the towns that one could not at all reconcile with were of huge—I mean really huge— dumps of garbage lying all along the rail track. It was a very depressing sight. Maybe open defecation is a personal habit and this may be on the wane, what with the massive public opinion campaign that has been launched. But, how can we put up with the massive pile up of garbage outside all towns? What is the public opinion build-up on this aspect of Swachh Bharat? What are the local bodies doing in response to the call of the prime minister? Has solid waste disposal become such an issue that we are waging a losing battle with it and will allow our towns and cities to succumb to diseases such as the plague, gastroenteritis and typhoid? Do we have to reach a disaster situation, as Surat had, before we pull ourselves up and launch a cleanliness drive?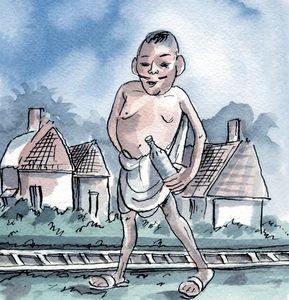 Solid waste management has to become a priority area. Unless it is undertaken on war-footing and on a mission mode, I shudder at what we would be doing with the health of the community at large. Mere reliance on government activity will not help tide over the crisis situation that we face. We have to first take steps to ensure proper and scientific disposal of the accumulated garbage. This obviously can be done only by community efforts which could be through local bodies or through voluntary agencies. Protecting the environment is probably more important today than protecting one's religious beliefs. The parallel mission which does not seem to have attained the traction that is required is educating people and moulding mindsets on how we treat solid waste that emerges out of our households.
All the expenditure on corporate social responsibility, which has now been mandated by law for companies of different sizes, will bewcome useless unless we change mindsets and ensure that households henceforth maintain cleanliness outside as much as they do within. This mindset reform and responsiveness will be the key factor if India really has to emerge Swachh before the Mahatma's 150th birthday, which is the target that the nation has set for itself. Each household will have to target this mission and undertake it as its own personal household stake.
Former comptroller and auditor general, Rai is head of the Supreme Court-appointed BCCI's Committee of Administrators.