The country seems to be getting into election mode again. The onset of elections in Gujarat and Himachal Pradesh has seen the election machinery of all the parties get active, with claims and counterclaims. And, this is just after having done with the polls in Uttar Pradesh, Uttarakhand, Punjab, Goa and Manipur this year. In 2018, we have Chattisgarh, Madhya Pradesh, Karnataka, Meghalaya, Rajasthan, Nagaland, Tripura and Mizoram. As India has 29 states, we will constantly be in election mode.
It is in this context that what had been discussed in this column a while back is gaining currency with the Election Commission willing to consider simultaneous elections but being handicapped as of now, with inadequate numbers of EVMs and VVPAT machines. It is encouraging to learn that while legal issues are under examination of the law ministry, logistical arrangements are being seriously considered. It is generally believed that this will be a big relief for everyone concerned. It will be a relief to political parties, too, as 'election fatigue' sets in very easily, with polls being spaced out in multiple phases (UP elections this year were held in seven phases). The administration has a very trying time; preserving the integrity of the EVMs till counting day is no mean task.
The proposal to hold simultaneous elections has been discussed many times in the past. The single most critical factor necessitating this decision has been the huge expenditure the government incurs. Added to this is the fact that with the onset of polls, routine government administration becomes a casualty. With the ruling political party getting into election gear, a kind of inertia or stupor overtakes administration. Then, there is the policy paralysis caused by the model code of conduct kicking in, which again leads to delay of vital decisions.
There, however, does not seem to be any unanimity among political parties on the simultaneous polls. While the Congress and the BJP appear to be receptive to the idea, the views of other parties are not known. A major argument is that such a move will be undemocratic and it may lead to an artificial fixity of tenure of the legislature. The feeling is that such insistence on uniformity may undermine people's will, by making them unresponsive. However, this is only a mindset and can easily be overcome by the massive advantages of simultaneous elections. India could do with some discipline, some compliance to systems and general recognition among political parties of people's revulsion towards the politics of defection.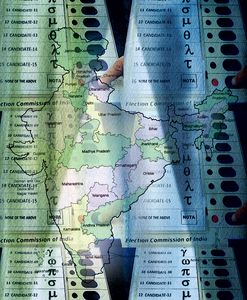 What I consider to be an overpowering reason for simultaneous election is the most deplorable fashion in which we defile and deface public places with posters and election graffiti. What is most disgusting is that during campus elections, in which the contestants are the budding political leaders of tomorrow, student outfits plaster public spaces far beyond their college premises with posters.
In Delhi, when election to colleges in the south campus were to be held, there was no pillar of a flyover, no wall of a compound or bridge that was not plastered with posters. In fact, even road signages were not spared. Most distressing was the realisation that this was the potential political leader of tomorrow, who in fact should be the flag-bearer of a 'Swachh Bharat'. This was despite the fact that the Green Tribunal and the High Court of Delhi had taken a very serious view of these posters defacing walls and causing permanent damage.
It may do the nation a world of good if we consider simultaneous elections, and, in the event of unavoidable factors, hold elections only in the midterm—only after half the term has been covered.
Former comptroller and auditor general, Rai is head of the Supreme Court-appointed BCCI's Committee of Administrators.