The headline in the morning newspaper reads: "Blue Whale: class V pupil suspended." The news item goes on to narrate that a class V student of a renowned primary school in Dehradun has been suspended over participation in the Blue Whale Challenge. The ten-year-old had deep cuts on his forearms, and was about to jump from the fourth floor of the school building when a classmate saw and stopped him. The school has confirmed the suspension and said that the boy and his parents are being counselled. What is this madness which seems to have gripped our young students? Of all the challenges that confront us and our children, what is this new one which sees students wanting to take their lives?
The Blue Whale Challenge is an internet game which allegedly consists of a series of tasks to be completed in 50 days. The game is based on the relationship between the challengers (players) and the administrators. It involves a series of duties given by the administrators that players must complete, usually one per day. The tasks involve poking needles into oneself, watching videos sent by the administrators and the last task being committing suicide. The game seems to have been devised by an expelled former psychology student, who claimed that his purpose was to 'clean' society by pushing to suicide those people who did not seem to have value.
Such extremes steps and fantasies afflicting society worldwide are symptomatic of the degenerating and strained familial relations. In each of the six deaths that have been reported in India, hindsight has shown that the boys displayed a changed behavioural pattern. Clearly, there have been failures on the parental and school front. There needs to be better cyber monitoring by the government. The virtual world is different from the real world, necessitating different rules and responsibilities. An unrestrained and reckless exposure to the internet coupled with the emotional stress and conflict that most teenagers go through are the recipe for disaster.
Parents have an important role to play in ensuring that their children do not become vulnerable to life-threatening trends because there are theories that sadistic people lurking on the internet search for teens showing signs of lack of parental love. Parents have been advised to look for symptoms of depression, loss of interest in activities, sudden drop in school performance, regular complaints of headache, changes in eating and sleeping patterns and the like. Surveillance of a teenagers' internet surfing history and remaining connected with his thoughts on a regular basis seem to be essential.
Schools, on their part, have to ensure that children who are adventure-prone or shy need to be watched closely. Those who are generally teased as 'losers' may get a sense of achievement by playing these games.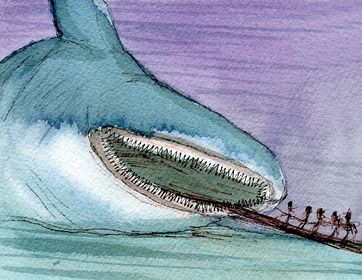 The government needs to have a strict cyber security system and ban sites that perpetrate such gory deeds. Parents should monitor the digital footprints of their children and only give limited access to social media websites. We are planning to conduct workshops to educate parents as well as students about the pros and cons of social media.
Modern times call for greater stress on issues which were hitherto taken as normal. Greater stress on family relationships, stricter monitoring by teachers of student activities or tendencies, persistent surfing of the internet and, of course, lack of regulatory surveillance of cyber content are the new normal and these will have to be addressed with renewed emphasis than it has been done in the recent past. It is the future of impressionable minds that is at stake. Thus a coordinated and cohesive effort among families, educational institutions and the government is the need of the hour.
Former comptroller and auditor general, Rai is head of the Supreme Court-appointed BCCI's Committee of Administrators.