Water, a substance that we take for granted, has been considered from time immemorial to be a fundamental element along with Earth, Air and Fire. Ninety seven percent of the water on the earth's surface is in the oceans, and being saline, is not potable. About two per cent is in polar ice caps and glaciers. It is only the balance one per cent, or thereabouts, that it is found in lakes, rivers and ground water sources. It is essential as a precondition for existence and to sustain life on the planet.
The criticality of the need for water was realised, resulting in mammoth constructions such as the Hoover Dam on the Colorado river in the USA, as early as 1935, and our very own Bhakra Dam, which was completed in 1963. India's first prime minister Jawaharlal Nehru called the dam the 'new temple of resurgent India'. However, over the years, have we maintained the value of water as an essential ingredient of human life? India has many perennial rivers, and civilisations had flourished along these rivers. The Ganga, our most revered river, is often being referred to as 'mother'. However, it is questionable, whether we really treat our water bodies and rivers with the care and respect that they deserve.
In Kerala, almost all the backwaters and the canals of Alappuzha are choked with hyacinth. The Ganga, Yamuna and many other rivers have become the automatic discharge areas for industrial effluents. The world famous Dal Lake in Srinagar, besides being reduced to about two thirds of its original area by encroachment, has become a receptacle of city effluents. If degradation of these water bodies continues, we will soon be facing severe shortage of drinking water, let alone having adequate water for agriculture and irrigation. The damage that effluents and water hyacinth cause to riverine life is another alarming factor.
The environmental damage being caused to the Ganga has raised concern in the collective consciousness of the country. Various action plans have been drawn up. Thousands of crores have been spent with no perceptible improvement in the water quality of the river. It has been facing onslaught from unplanned urbanisation, despite riparian states spending crores for its conservation. Repeated legislations have been passed, and government interventions and institutional frameworks have been constituted right from 1974.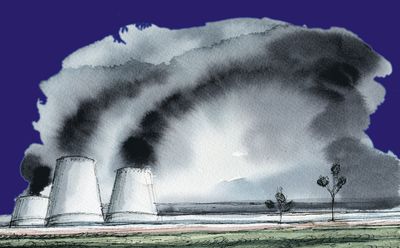 The most recent initiative has been setting up the 'Namami Gange' or the Integrated Ganga Conservation Mission—a programme subsuming all initiatives into an umbrella effort for better coordinated interventions. It is a scheme to be completed with an outlay of Rs 20,000 crore, within five years from its inception in 2014. It is most distressing to learn that in the audits conducted, it was revealed that in these three years only 8 per cent to 63 per cent funds have been spent from the overall allocation. Even government bodies, such as the Central Pollution Control Board, have barely spent seven per cent of the amounts sanctioned to them. The scheme involved drawing up long-term and short-term programmes for timely implementation of the scheduled improvements. It is pointed out that National Mission for Clean Ganga could not even finalise the long-term action plan with the consortium of IITs, despite passage of six years.
I think the laxity in our approach is an indicator of the importance that we attach to such critical aspects of life in the country. It will be most unfortunate if we are unable to preserve our natural resources and deplete them below sustainable levels, thereby depriving following generations of their due requirements.
Former comptroller and auditor general, Rai is the head of the Supreme Court-appointed BCCI's committee of Administrators.