Two issues that stare the country in its face are unemployment and pollution of the environment. The nation is estimated to be adding one million educated people to its roll every month. But, it seems to be creating barely one million jobs every year! When it comes to environment, the lesser said the better. The country, and, in fact, its capital in particular, have just undergone the poorest air quality phase in history. What steps have the governments—both federal and state—proposed to thwart a repeat of the situation? India faced worldwide ignominy when Sri Lankan cricketers wore masks, and vomited on the field because of poor air
quality and pollution.
It was Indira Gandhi who coined the slogan 'Garibi Hatao'. We have lived with that slogan for about 50 years now. But, to see garibi we need not look too far. Right under the nose of the Central government and the Delhi government, at every intersection we can see families begging. They knock on car windows and seek alms. They merrily curse the non-obligers. They could be husband, wife, children, lepers, or transgenders. Every traffic junction on the Ring Road or the Outer Ring Road in Delhi has families permanently settled there. Their homes are under the flyovers. Just after the construction of flyovers, these families move in and establish homes. The Delhi government has criminalised begging. Officials of the social welfare department, with the help of the police are mandated to remove beggars, try them in beggar courts, and if convicted, put them in Sewa Kutirs. There are numerous WhatsApp messages doing the rounds, asking not to give any money to child beggars, as we may be indirectly aiding child trafficking. But, who is to ensure that there are no children on the streets begging? And, why is the mandated body not fulfilling its duties? Politicians will not act against them as they see them as vote bank. Then, how do we bring about 'Swachh Bharat', if citizens have to live on the streets and do all their washing and ablutions there?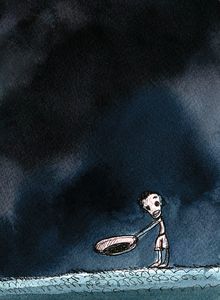 The scourge of begging is a blot on the face of the country. It is such an adverse commentary on the fruits of economic development. We need to start, not from poor and inaccessible rural areas to see the widespread nature of this scourge. We have to just drive around Lutyens Delhi, for the scourge to showcase itself. But, what steps are we taking to eliminate the problem? How do we include them in 'Sabka Saath, Sabka Vikas'? How do we ensure that future election results are decided on, and future electoral battles are fought on issues of employment, clean environment and a beggar-free society? How are we going to ensure that employment generation takes place, and multitudes of families that one sees at road intersections begging for alms find gainful livelihood? The citizens await the government's roadmap in this direction, so that they can put their weight behind these initiatives. Till then, our children will continue to breathe heavily polluted air and we will continue to give alms on every traffic intersection to beggars and undernourished children. These unattended issues may soon trigger a socioeconomic uprising, as multitudes of young educated and unemployed citizens descend on India's streets protesting the lack of job opportunities. Is the government listening?
Former comptroller and auditor general, Rai is head of the Supreme Court-appointed BCCI's Committee of Administrators.