The old adage of 'flattery will get you anywhere' may just have been proved to be scientifically true. But how universally valid is it?
A team of Japanese scientists, led by their National Institute for Physiological Sciences professor, Norihiro Sadato, has found evidence that people perform better when they receive a compliment. Being told flattering things can stimulate the brain, it seems, in the same way as being rewarded financially. Apparently, it's a part of the brain known as the striatum, which is activated when a person is complimented. Courtiers have known for about 3,000 years that flattery works, but it's good that a team of assiduous researchers has now confirmed it scientifically.
But a recent news item made me wonder whether both the flatterers and the Japanese scientists had got it wrong after all. Passing through the Arab world recently, I read that Saudi King Salman bin Abdulaziz ordered the suspension of a columnist for a piece that praised him too much.
Saudi Arabia possesses many virtues, but democracy is not one of them. The monarch and his family are the absolute powers in the land, and flattering them is an essential survival skill that Saudis imbibe with their mothers' milk. Journalists usually take this skill to a fine art, praising the brilliance of the Saudi royals in language as resplendent as the qualities they are said to possess.
But there is, apparently, an invisible line drawn even for flattery, and Ramadan Al Enenzi, the columnist of the Saudi daily Al Jazeera (not to be confused with the Qatari television channel of the same name, which is even more detested in Riyadh) transgressed it. In his anxiety to exalt the monarch, the columnist ascribed to King Salman God-like attributes. This, the Custodian of the Two Holy Mosques felt, was too much.
In a letter to his Information Minister, King Salman declared that he was shocked by the headline used by Al Jazeera and some of the expressions in the column. The monarch said the piece "contained excessive words and descriptions of praise", according to a news agency report, "including attributes that God used for Himself or to describe Prophet Abraham."
Benjamin Disraeli had famously observed that "everyone likes flattery; and when you come to Royalty, you should lay it on with a trowel." Wrong! When flattery teeters over into blasphemy, woe betide the flatterer. "Such a matter has disturbed us and we cannot accept or tolerate it. We do not want it and we do not acknowledge it...." King Salman said in his letter, calling for the immediate suspension of the offending journalist and strictures against his newspaper.
Al Jazeera hastened to issue a full apology. I am not sure what punishments the newspaper had to endure, but no doubt it has submitted to them without a murmur. Hank Ketcham, the creator of Dennis the Menace, once wisecracked that flattery is like chewing gum; enjoy it, but don't swallow it. King Salman went further, and spat it out.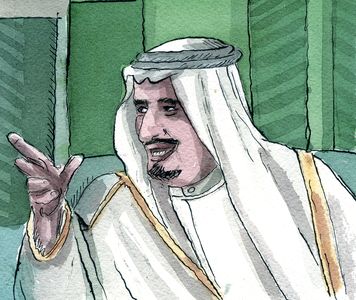 Dale Carnegie, the author of How to Win Friends and Influence People, drew an important distinction between praise and flattery. Praise, he said, was sincere; flattery was not. Praise is unselfish; flattery is selfish (because, in the words of 18th century novelist Sarah Fielding, while flattery pretends to give you more than you deserve, it really seeks to deprive you of what you have). The columnist may well have thought he was earning royal favour through his unctuous language. Instead, he incurred royal displeasure.
There's a lesson in this for us all. The best advice came from the 17th century French philosopher Jean de la Bruyère, who recommended silence in respect of the powerful. "To speak well of them implies flattery; to speak ill of them is dangerous when they are alive, and cowardly when they are dead". Next time you are tempted to flatter one of your betters, bite your tongue instead.
editor@theweek.in