What better way to celebrate the World Theatre Day (March 27) than by concluding a five-day workshop with children (aged six to nine) in an utter state of exuberance and overdrive! Having spent three hours daily for five days with 25 little creatures playing, exploring, creating, sharing and delighting in discoveries one was privy to, I was in a blissful state.
As the day came to a close, and I recharged my batteries for the next day's workshop with an older group of children, I received an SMS: "Hi Sanjna, I apologise for not being present for the interaction today. I had official commitments.... My kids are shy and HATE my enthusiasm with drama classes for them, and attempts to have them participate are more of my projects than theirs! But this is the first time they opened up so completely to a teacher, a group of strangers and a new environment—thirsting for more. My daughter has asked me to include her in future endeavours and I'd request your continued involvement through theatre in my kids' lives. Warm regards and good wishes from a very happy mother."
All I could think of at that moment was the joy these children gave me, and how I wanted to celebrate and thank the wonderful parents who wanted theatre in their children's lives.
The next day, after the workshop with the group of older children, a parent sent this SMS: "When your 13-year-old thanks you for making him attend the workshop and says he had lots of fun... must be some magic you are doing!"
How I wish the latent talent of our children could be ignited through immersion in the arts! How completely essential this is to nurture a truly empowered, knowledgeable, rounded, empathetic and confident generation. Imagine an India where every child has this opportunity. It would terrify our politicians!
As I speak with principals across the country about Junoon's school programme, it is encouraging to learn that, in the past couple of years, more and more schools have realised the dire need of the arts and creativity in students' lives. Yet, one occasionally comes across principals who ask, "But only five days, what about the rest of the year?"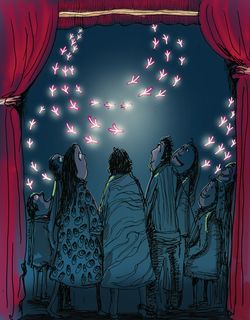 Is it not enough to see what impact even one day can make when children are engaged in a joyful experience that opens up their senses and gives them an immense sense of being alive? All it takes is that 'one' experience to ignite the passion for more.
After 21 years of summer workshops at Prithvi Theatre, with me conducting workshops intermittently, I had taken a break of three years. In that longish period, I forgot what ecstasy I get from immersing myself in the world of children and enjoying the privilege of their attention and affection.
An astonishing thing happened to me while working with the younger kids' batch. I completely forgot how old they were, as they seemed like complete and delightful individuals. When I glanced at the photos at the end of each day, I would be flabbergasted to see how tiny they were, and what a looming giant I was in comparison!
I was also constantly reminded how treacherous they could be, as they jumped with glee at the late arrival of one of their classmates, and all eyes turned towards me expecting my 'rakshas avatar', which I had threatened them would appear at the breaking of the two cardinal rules—maintaining punctuality and participating in everything. One little monkey pointed out that I actually had seven cardinal rules that called for immediate rakshas avatar on breaking them!
No matter how exhausted I might be at the end of the day, working with children is a balm for my soul.
www.junoontheatre.org