In a world that is getting more and more besotted with superheroes, who save us from the quagmire that we have got ourselves into, I was fortunate enough to have encountered a true-life superhero—Kiran Bir Sethi. Kiran is a powerhouse of energy, passion and commitment, and her "superpower" radiates from her when she is surrounded by children. And that is exactly how I saw her—glowing, amid scores of children at the I Can Awards in Ahmedabad. These awards celebrate the innovative ideas and creations of children, who work on designs to create change in their immediate environment—be it in their own lives, in their school or in their community. The awards are the culmination of an ingenious programme founded by Kiran, called Design for Change. The beauty of this idea is that it is simple yet powerful. Kiran, who began the inspirational Riverside School in Ahmedabad, started Design for Change believing in the simple idea that if you allow children to believe they can make a difference, they do. And, ultimately, if they are brought up in a world that believes in them, they will contribute to creating a better world for their tomorrow.
What I love most about this simple programme is that today—though it works across 40 countries, in over 17 languages, with over 2 million children and 60,000 teachers and 48,000 schools—it is based on the children getting in touch, very personally, with the world around them, realising what it makes them feel and figuring out how they may change what bothers them. Breaking the shackles of our apathetic responses to most things today, each child realises the world is filled with possibility and they can be the change they dream of.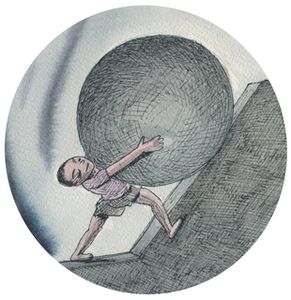 It is quite extraordinary the variety of concerns that children react to and find solutions to, including bullying, water management, child abuse, addiction, adult literacy and so much more. And, what is more incredible is that this programme crossed over the huge divide of well-off schools and "poorer" government schools, enabling all schools to participate on equal terms.
This year, from the 3,000 schools (both urban and rural) that participated, it was tough task to shortlist 100 schools that were invited to send their representatives to Ahmedabad for the I Can Awards, where they met each other across two days and participated in a wide range of creative activities and workshops.
Design for Change this year saw the children learn how to use bamboo to design a simple, strong trolley to help a physically challenged classmate's walk to school easier. Some children from a small town addressed the difficult issue of child abuse and to their own surprise found that 80 per cent of their co-students had faced such abuse. Thus, through addressing this taboo subject, they strengthened their own resolve and sense of self-worth, as well as engaged with society to take heed of such occurrences. Another group designed a unique urinal from large plastic bottles with a drip flush. One set of students decided to teach the adults in their village how to read and write. Every single design starts with a "feel, design, do and share" approach. Imagine the day when every nook and corner of this country and beyond will be touched by this innovation.
This programme's design is beautifully conceived and implemented, impacting the teacher as much as the students. And thereby impacting the school culture as well. It also inspires a strong sense of citizenship. One superhero at a time, Kiran and her team are creating an army of little superheroes, who will be the change they wish to see in their world.
Kapoor is a theatre personality and cofounder of Junoon.
www.junoontheatre.org.