The word philanthropy is derived from the Greek word philanthropos meaning "man-loving". How much better this world would be if we truly inculcated this notion of philanthropy into our lives.
Recently, I was at a unique evening in Mumbai, anchoring a discussion to plead the case for support for the arts, culture and heritage. The audience comprised members of some of the wealthiest families in India. Under the aegis of the Indian Philanthropy Initiative, hosted by Azim Premji and Jamshyd Godrej, they had gathered to work out where best their money would be most effectual.
I felt a little like Cordelia having to prove her love to her father, King Lear, who had decided to divide his kingdom among his three daughters and give the biggest chunk to the daughter who proves her love for him the most. Cordelia, his favourite daughter, refuses to play along with this shameful game and is disowned.
There we were­—Rajeev Sethi, Tasneem Mehta and I—with 20 minutes in hand to plead our case. An impossible task! So, we took for granted that this august company understood the value of the arts, culture and heritage in our lives today. And, we took for granted that we were all concerned with 'nation building'. So, we said the arts had an intrinsic and urgent role to play in India becoming a vibrant and confident global player.
Having said that, this 5,000-year-old culture has survived despite sporadic and short-term patronage and support through the years. But, this does not mean it will continue to do so. What we need is sustainable structures of support. Azim Premji said in his opening remarks that wealthy individuals should bring their individual passion, ambition, enterprise and expertise to the fore and work together with NGOs to impact social change.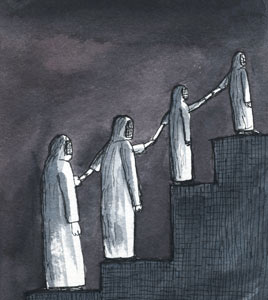 Kiran Mazumdar-Shaw promised us that this evening was just a 'trailer', for more in-depth engagements in the future. Bill Gates stressed the need for R&D in the field of development. This would be truly remarkable. If philanthropists could fund research into imagining new cities with arts and sports centres at their core, what would the social impact of such cities be? Can we have research on ways in which urban India can stay truly connected to rural India? And, can we create models of reality from this research? And, as Gates said, can we also be unafraid to fail? And be determined to learn from failures? Can we investigate existing rules and systems that were put in place years ago that will impact our world today? For example, as Rajeev Sethi told us, 2 per cent of the cost of all corporate buildings must be spent on some form of the arts and heritage. Who knows this rule? Can we devise systemic ways to share our experiences and learnings and impart this knowledge to the younger generation?
And, importantly, can we look at the world in a more integrated manner? Placing philanthropic support into silos will never have any long-term impact. We must move towards a more holistic way of functioning.
The central point of arts, culture and heritage (even if it deals with inanimate tangible objects or buildings) is people. People are central to the realisation of our experience. Our field comes alive through people. And, you can't 'scale up' people. So, what 'scaling up' would mean with respect to the arts needs a whole new definition and outlook. However, people can be touched, and, therefore, impacted and changed. And that is what the arts do: they are capable of transforming you. So we can change the world… one person at a time!
A friend of mine, Wahid Chauhan, has set up an educational foundation in Sikar, Rajasthan. He told me that true social impact of this endeavour to educate Muslim women would only be realised after 30 years, once a generation has been touched. Another friend, Sanjiv Kumar, has established Parivartan in his village in Siwar, Bihar, an integrated rural development initiative, with seven vertices that address ground needs. Both these initiatives have a long-term vision, and both these gentlemen are willing to put in the 'man hours' to realise their dream.
www.junoontheatre.org