Recently, at a gathering of school students who I spent an hour with, sharing our love of poetry, a boy said he loved poetry "because it came straight from the centre of your heart".
I was nervous as I knew I sat amongst young poets who write, and I, merely a lover of poetry, had nothing but my love to share. So I decided to share the poems that I loved most from my small array of precious poetry books for children.
I love reading poems aloud, and as Eunice De Souza and Melanie Silgardo say in the forward to their anthology Poetry for Children: 101 Poems, "Poetry often works much better when you hear it." And they go on to coerce children to read poems aloud and even get their parents to read to them. And they ask, "...what makes them so pleasing to read, even when we don't immediately understand what is going on? Part of the pleasure is that they are mysterious jewels that glint a little more, or differently, every time you read them."
And that is certainly what I experience every time I read a poem aloud. And an audience made up of children is the very best one can find, for they listen so attentively, allow the imagery to play across their minds so openly, and experience the meaning through their heart so completely, it is an absolute delight!
Eunice and Melanie go on to say, "We cannot all be writers, but happily we can all be readers, turning these poems as they glint and sparkle, discovering treasures as we go along."
Another treasure of an anthology is Kaye Webb's I Like This Poem, a collection of best-loved poems chosen by children for other children. I found so many of my own favourites, from A.A. Milne's The End to Spike Milligan's The ABC and Langston Hughes I, Too. The beautiful explanation that the child, Amanda Kemp, gave for choosing I, Too was: "...because it has a nice rhythmic sound which reminds me of the Negro spiritual songs. Each time I read it, the poem makes me so sad to think the boy is treated in this manner and yet happy because the boy is hopeful about his future."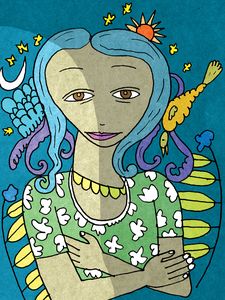 But nothing delights me as much as the nonsense verse of Sukumar Ray's Abol Tabol, translated splendidly by Sampurna Chatterji. "The most marvellous thing about Sukumar Ray's poetry, for me, is the sound," says Sampurna as she goes on to describe "the riotous caboodle of effects that he conjures up" and the challenges that he poses any translator, from the puns he uses, to the names he gives his characters. Sampurna talks of the name "'Hiji-bij-bij' that she turns into 'Gobbledygook' as an example of a straightforward translation. 'Heshoram Hushiyar' became 'Cautious Chuckleonymous' in an attempt to convey not just the meaning and alliterativeness of the original, but also the nonsensicality.
From the mad world of Sukumar Ray to the height of logic in a truly surprising little gem I found called Math Talk: Mathematical Ideas in Poems for Two Voices by Theoni Pappas, where she explains how "Mathematical ideas can be learned through art, reading, conversations, lectures. Therefore, why not link mathematical ideas and poetic dialogues?" And what a wonderful journey you embark on as you discover the meaning of zero, and roller coast endlessly on a Mobius strip.
And then we climbed the Childhood Tree with Priya Sarukkai Chabria's simple yet beautiful poem in Anju Makhija and Jane Bhandari's To Catch a Poem: An Anthology for Young People.
Abuzz with all these poems, it became clear to us that growing up with poetry is like growing up with music, the essential ingredient to stay connected to the deepest recesses of your being. As Eunice says, it is the gem that is your eternal friend for life.
As Sampurna says,
"A poem should be full
of new sounds, empty of noise,
a poem should feel
like it spoke in your voice."
So, this festive season, go out and gift a friend a book of poems. And, better still, read them out to your friend!
The writer is a theatre personality and cofounder of Junoon. www.junoontheatre.org