Twenty-two years ago I received a fateful message on my pager (way before the age of mobile phones) from a complete stranger. It was Mr Ramchandran, who wished to meet me regarding a cultural programme, from Kerala. We fixed to meet. Mr Ramachandran wished to invite me to a programme he was arranging. It was an evening of Kathakali and Nangiar Kuthu. And, thus, began a precious friendship that opened up the cultural world of Kerala to me, leading to some of the most wonderful festivals, presented in collaboration between Keli and Prithvi Theatre.

Ramachandran's uniqueness is his ability in curating traditional performances that challenge the performers, yet engage and speak to an uninitiated urban audience. In this manner, he allows audience to digest a completely alien art form without diluting it in any way. For instance, I have watched Nangiar Kuthu, the 1,200-year-old theatre form, that has delighted me with subtle nuances and sheer brilliance of the performers, leaving me enthralled. In contrast, I have watched other Koodiyattam performances, not curated by Ramchandran that have left my insides curdled. The sheer alien-ness and inapproachable language of the form have left me out in the cold, struggling to make head or tale of the performance.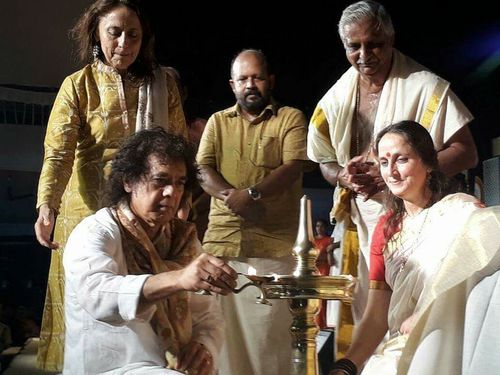 Ramachandran's deep knowledge and appreciation of traditional art forms and his ambition to preserve, document and share these performance forms with acute attention to detail is what sets him apart from other impresarios. This focus on the dynamics of live interaction and engagement between performer and audience, allows him to conceive of the perfect blend of authentic yet approachable performances. He is a curator in the perfect sense of the word! What is also remarkable about Ramachandran is how he has challenged his traditional performers, coercing them to revisit ancient, almost forgotten texts. Be it rarely performed percussion ensembles or Nangiar Koothu texts or Kathakali characters, he provokes the artist to research and recreate, thereby keeping the old traditions alive. There is a scholarly element to Ramchandran's approach. And he has an overarching vision that propels him. A vision seeped in the deep understanding of his cultural roots, the political and social developments and the possibilities of ensuring true engagements with the arts in our contemporary lives. So his scholarly approach is not only to archive the past, but to also seed a greater appreciation, understanding and value of what there exists today and how it can be part of ones daily life.

Ramachandran grew up in a small village Cherpu near Trichur in the northern part of Kerala. As a child he was drawn to temple festivals. Cherpu is home to innumerable art forms and cradles a rich variety of the traditional and contemporary arts.

When the need to earn his 'bread and butter' (as he puts it!) brought Ramachandran to Bombay, he decided to bring a little bit of his home with him. And thus began Keli's journey. A journey that has delighted Bombay audiences annually for the past twenty-five years.

I was fortunate to have visited Cherpu to celebrate Keli's twenty-fifth anniversary with a truly unique evening. Coming back to home base after all these years, Keli marked its mid-journey between the past 25 years and the path it wishes to embark on into the future. And what better place to do this than back 'home' in Kerala!

It was a truly magical evening. In the courtyard of the 101-year old school, the master mizhavu performer, V.K.K. Hariharan invoked the gods, followed by the Pandi Melam by Peruvanam Kuttan Marar, whose rhythms engulfed the skies and left us in a state of heightened senses. Then came the formal felicitation of Ustad Zakir Hussain, who was presented with the Veershrumghala. Zakirbhai has been audience to several Keli performances in Bombay, and today, it was as if he thanked Keli for all those magical evenings with his own brilliant solo tabla performance, accompanied by Dilshad Khan on the sarangi. It was one of the most intimate performances I have heard of Zakirbhai. Seated in the lap of rhythm country, he excelled himself in all humility and brilliance. But there was more to come… the pièce de résistance was a jugalbandi between Ustad Zakir Hussain and Mattannur Sankarankutty Marar on chenda. This unique, first-of-its-kind encounter between the table and chenda left its audience spellbound. A fitting celebration of the past 25 years of Keli and an auspicious launch to its 'Saga of a Village: An Arts Story', wherein Keli will document the oral history of Peruvanam preserving the artistic heritage of this unique village for posterity. Truly made in India. Something that should be done in every hamlet across this rich country of ours.