One of my fondest childhood memories is of a frequent visitor at our breakfast table—a mischievous wild squirrel. My father would gently hold this precious guest in the palm of his hand, and tenderly pet her, urging me to pet her, too. As I would lean forward, the mischievous squirrel would leap up my father's arm. He would gently grab her back. This was our routine. And my heart would leap with delight! More so because this squirrel was made up of my father's napkin rolled up in its silver napkin ring! This was possibly my first introduction to the magical world of puppetry! And what was so wonderful was that even though I knew it was his napkin, it took nothing away from my absolute belief in the life of that beautiful squirrel.
Years later I was fortunate to have experienced the same feeling of magic when I watched the show of master puppeteer Philippe Genty's magnificent Ne M'oublie Pas at the Prithvi Festival. The sheer genius and control of his craft to be able to journey you into his dream worlds and beyond, to play with your sense of perspective, imagination and memory was truly awe-inspiring.
It is possible that this childhood memory of awe and delight at the complete immersion into this magical world of make-believe has always left me thoroughly inspired by Anurupa Roy. Her passion for puppetry thrills me to the core.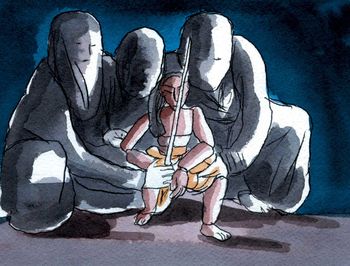 When Anurupa was nine years old, she fell in love with puppet theatre. When she was 20 and had to choose a career, it was either film school or social anthropology. There was a third option though, but it was a path she would have to carve out for herself. And, she chose to chase her love. But how was she to learn this art, for there were no schools or training opportunities in India in puppet theatre. There were, of course, the traditional puppet forms, mostly family concerns passed down from generations across the country—from the 3,500-year-old shadow puppet tradition from Andhra Pradesh to the 'youngest' form of puppetry in India, the string puppets of Rajasthan that are just 400 years old! With this vast, varied and rich heritage, we have only 15 contemporary repertory companies in India and of them only five are full-time puppet theatre companies and not a single school for puppetry.
So Anurupa did what every passionate theatrewallah does, simply follow her passion. And as Anurupa says she "learned from trial and error, mostly error!" As most great leaps of learning happen, serendipity played an enormous role in ensuring that Anurupa was at the right place at the right time to watch a puppet company from Sweden. She was blown away, and wrote to the director, who wrote back and invited her to Sweden to intern with the company for a year. This was life changing! Thus in 1998 KatKatha came into being. Anurupa and her KatKatha are entrepreneurial in creating their own opportunities from organising original puppet theatre for adults, children and NGOs. KatKatha is in search of its own grammar with which to breathe life into their puppets, which could be 27 feet long to 4 inches high, and made up of papier-mâché, polystyrene, wood, newspaper, fabric, waste material, just about anything at all!
Anurupa is dedicated to building a curriculum for a puppetry school, and has been doing this through Master Classes of the very finest international puppet masters. I was fortunate to have been invited to be on the jury of KatKatha's first college competition. After an intense three-day training, the college groups are given guidelines to create their one piece of puppet theatre. And the awardees get financial aid and mentorship to help them further develop their production. And, best of all, performance opportunities are offered to the winners, and a young promising puppeteer is offered a free internship for an entire month at KatKatha. The open and warm spirit with which Anurupa welcomes youngsters in her world is truly wonderful. More strength to Anurupa and her kin!