I have just returned from an international meeting in South Africa for a Global South Colloquium on Arts, Culture and Social Justice. Quite a mouthful!
I was perhaps the odd one out, not being a regular at academic seminars of this nature. I told everyone on our last evening that it was pure "luck by chance" that brought me to this meeting! And how happy I was that I got lucky!
I accepted the invitation with more than a little trepidation, but was curious about the idea behind the colloquium. It would also be a chance to meet old friends and to selfishly enjoy Cape Town again.
Given the changing world we live in (with the rise of BRICS and changing economic relationships), the idea was to re-imagine our position in the world. Given we were from the 'global south', we had to explore our perspectives and see if there would be value in building a link between ourselves, our countries and our regions in order to strengthen our cultural and artistic world within the framework of social justice.
We were a group of 15 representing network organisations (I was representing the India Theatre Forum) from countries in Africa, Asia, Central and South America, the Arab region and the Caribbean and Pacific regions.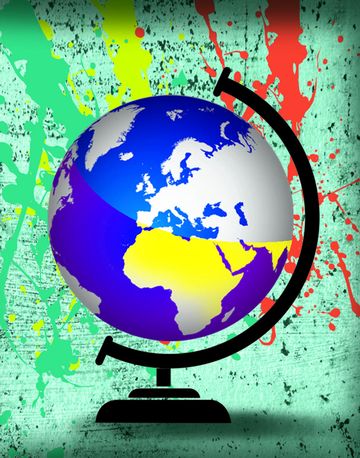 We unanimously felt there was a deep need for a strong connect between the global south countries. A need for us to speak to each other directly, to build our confidences in ourselves and each other, to build trust, to share stories and to impact our attitudes to ourselves, each other and the world. And to reduce dependency on the north for initiating ideas, for funding and for setting agendas. We agreed that we needed to become a 'voice' and that the idea was much larger than just an end in itself in a colloquium next year. So now we shall move with baby steps towards realising this dream, sure that we do not want to give birth to yet another bureaucratic white elephant, but that we want to create a strong relationship built on understanding and exchange. And as an African proverb wisely says, "Until the lions have their own storytellers, tales of the hunt shall always glorify the hunter." It is this shift that needs to take place. Slowly, gently and with confidence.
Personally, I want to know so much more about what happens in the global south. I want to know how Medellin in Colombia, a city ravaged by crime, transformed itself through cultural and arts engagements. How SESC, Brazil's arts and sports community centres, actually impact urban society and culture, or how Venezuela's music training programme El Sistema changed the lives of entire poverty-stricken communities. There is so much more to learn from the global south. And I have not even begun to look east!
On my way to the airport in Cape Town, I stopped by to visit the Guga S'Thebe Theatre in Langa. For me a purely selfish desire to see this new community theatre. Suddenly the penny dropped! I walked through this amazing space still under construction and I knew this is what we can do in India across our smart cities. I am deeply grateful for this chance encounter that has left me abuzz with ideas. I now have to get to work putting down these ideas of how we can imagine breathing soul into the 100 smart cities that our government has set its heart on building.
It is befitting that I end with the words of the man who impacted both South Africa and India in a strong way:
_"I do not want my house to be walled in on all sides and my windows to be stuffed. I want the cultures of all the lands to be blown about my house as freely as possible. But I refuse to be blown off my feet by any." _
―Mahatma Gandhi