In 2000, I saw him play one of the best debut innings in international cricket. He didn't get to bat in his first One-Dayer, and it was his second match. Seventeen years on, I saw him make one of the best comebacks I have seen. Yes, I am talking about Yuvraj Singh.
So much has happened in his life between then and now, most of all the health scare that he overcame. Thank God for that! But I want to talk only about his cricket here. In this span of 17 years, he went on to become an all-time great One-Day batsman. He could not quite replicate that in Tests and subsequently lost his place in the Indian test team. But his One-Day credentials ensured that he still dons the India colours and entertains the fans, especially the Yuvi fans.
Yuvi is a very popular cricketer, a real crowd-puller. When the ball is short, a batsman pulls it and the ball goes for four. But when Yuvraj does it, it somehow just takes your breath away. This happened to me many times while commentating in the recent series against England, his comeback series.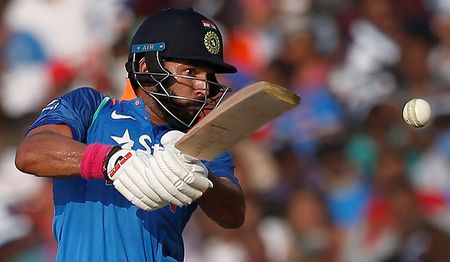 I have seen a few comebacks. I have had my share of them as a player, too. They are not easy, they are far more difficult than debuts. When you are playing your first international match, there are good, recent memories from your impressive track record in first-class cricket. But when you are making a comeback, you know that you were recently dropped because the selectors thought you were not good enough. So it is about convincing them all over again that you are deserving of the place you had lost in the team. When you come back to the big stage, you can't help but remember what happened the last time you were here. Unlike when you are making your debut, not everyone is willing you to do well now. There are sceptics around, you can sense their presence, they who think you should not be playing for India, that you are done, finished as an international player.
In comebacks, age also becomes a factor. You are older, not an agile, naive 20-year-old. At 35, you think more, you are more aware of the pitfalls around you.
Yuvi amazingly managed to rein in all this, and play like he did in his 20s, when he was in his prime. And this is why, this was a very unique comeback. Generally when an ageing cricketer makes a comeback, it is never a happy one, like Gautam Gambhir's this season.
In some instances, the experience of the player comes to his aid and he is able to use that to perform well enough to keep his place. But there is always an important part of his batting or bowling that has gone missing. To us he does not look the same as he did in his heyday. That has surprised me with this Yuvi's comeback. I don't know how long he can keep this form and keep playing for India, but to see someone batting at 35 like he did in his 20s is brilliant. It is another medal on his chest.
Life has been testing for him recently, but it seems like fate is trying to make amends. All the pieces that had gone missing from the jigsaw have come back and fallen in their places, revealing a picture of Yuvraj Singh at his best.