My association with cricket is a long one. It started when I was 12 years old, with dreams in my eyes of becoming a Test cricketer. Ten years later the dream was achieved, and I got first-hand experience of what international cricket was all about. And, after ten years it was time to move into the next phase of life—a retired cricketer. But, cricket continued to be the main subject of my life. So, I have kept a vigilant eye on the game for 40 years now. Currently, I think we are watching the lowest phase of international cricket from the standpoint of quality. This is not a retired cricketer talking about how things were great in our times, not anymore. Many years after retirement I was still enjoying watching, writing and commentating on cricket that was high quality. Who can forget the 2001 series against Australia? What about VVS Laxman's 281 to win the game at the Eden Gardens in Kolkata? There has not been an Indian innings of a better quality than that. Then, there was Harbhajan Singh with his off-spinners, making the Aussie batsmen dance to his tune.
Today, international cricket disappoints me, especially Test cricket. I tweeted recently that a lot of Test cricket that's played today is first-class cricket played in the garb of international cricket. And no one has to take my word for it. Look at the numbers closely and that's exactly what they will tell you. Batsmen, for instance. More and more batsmen are playing for their countries in Tests after average performances at domestic level. So, these are average domestic batsmen that fans are watching at the Tests level. This was unheard of earlier.
A batting average of 35 is considered a decent performance, over 40 is very good and over 50 exceptional. Most batsmen who broke into their national teams earlier would boast of an average of over 40, if not 50.
Last year there was a West Indian who opened the innings in Tests against India whose first-class average was 29. Can you believe that!
And, West Indies is not alone in this regard. New Zealand and even England have batsmen playing in Tests with their domestic averages in the 30s. And, England is regarded as a strong team in world cricket. In the last Test match they played against West Indies they had three batsmen in the top six who averaged in the early 30s.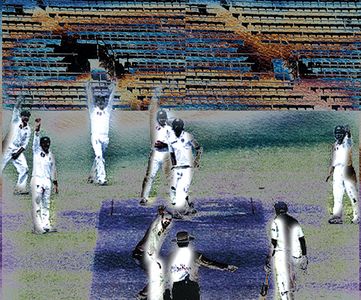 Mercifully, there's T20 cricket and ODI, where you still see performances that take your breath away. IPL gives me a lot of pleasure, because I see excellence in power hitting and some cunning high-quality bowling to counter the power hitting. But, Test cricket, well it's mostly about me adjusting my expectations to remain interested in it. Watching the former greats Australia recently was not easy. It's now showing all the weaknesses of an ordinary international side. Australia is now India of the 1990s while India is resembling Australia of the 1990s.
Test cricket is a misfit in today's times, we all know that. It's not the most watched, and, hence, not the most lucrative format for players to take part.
So, subconsciously, players are not driving themselves hard to become top-grade Test players. It takes a lot of hard work and time to acquire exceptional Test cricket skills. It's a bit like classical singing versus light fun vocals.
Test cricket is on a slippery slope, and it's quality, which was its biggest selling point, seems to be on it too.
Manjrekar, former cricketer, is a commentator.
editor@theweek.in