You don't see them on billboards. Theirs will not be the faces you will see in TV promos before an India series. But, today, if India is the No 1 team in limited overs cricket, it is as much thanks to Bhuvneshwar Kumar and Jasprit Bumrah as it is to Virat Kohli.
They are the unsung heroes of India's triumphs of late. India has always been a batting country, it is their batsmen who are more the cricketing icons, it is the batting that has been India's strength over the years. Until now. Today, I believe India's bowling is as strong, if not, stronger than their batting. This is a very rare situation in Indian cricket. There are a couple of young, exciting wrist spinners around, but, this scenario is largely because of these two earnest seam bowlers—Bhuvi and Bumrah. They quietly turn the tide of the game and deliver the match on a platter for the batsmen to finish.
In the past, batsmen had to work overtime to make up for the lacklustre contribution of bowlers. Not any more. Match after match Bhuvi and Bumrah have made it a cakewalk for their batsmen, to keep the Indian juggernaut going. What's amazing is that these two are not naturally gifted seam bowlers. They are not over six feet tall, strapping guys with big shoulders—a huge advantage for any seam bowler. But, both are medium height, average-looking people. If they were not cricketers, you wouldn't give them a second look.
Bumrah came into the reckoning and the public spotlight because of his bowling action. His action is, well, nothing like you would have seen before. It's an action you won't find in any coaching manual. And, this was the reason he was picked to play in the IPL and in the T20 side. His team thought that his awkward bowling action will put batsmen off while they are trying to belt every ball for a six, and, by the time they worked him out, the game would be over.
This is a hit tactic in IPL. Which is why you see so many bowlers with unorthodox actions playing and thriving in this format. It took a little while for people to discover that there was more to Bumrah than just his unique action. They realised that he had other skills, too, and the ability to bowl all variations that a seam bowler can.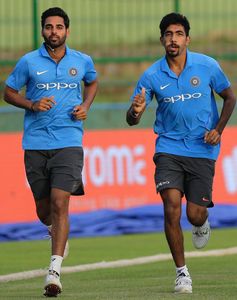 But, his greatest asset is his temperament. His ability to think sensibly and keep calm under pressure is what makes him invaluable to any side. He is a game changer in limited overs cricket, I see no reason why he can't be the same in Tests. It's just a matter of time.
As for Bhuvi, this unassuming cricketer has made such rapid strides in international cricket that those who saw him five years back would not recognise him today. He burst on the scene as a 'banana swing' bowler who bowled at about 125kmph.
He was mostly a new ball bowler, and captains often bowled him eight overs non-stop when he started off a one day innings. They were wary of bowling him later. Today, he is India's best death over bowler, bowling at an average speed of 135kmph. This change is incredible. He epitomises the mantra of 'making the most of what you have'. He ensures that not an ounce of energy is wasted when he runs to bowl; he knows he has a limited supply of it. Someone told me recently that there are two guys in this Indian team with six-packs, one is Virat, the other, would you believe it, is Bhuvi!
Manjrekar, former cricketer, is a commentator.
editor@theweek.in