My wife is not really into cricket.
She did follow cricket for a while, only because I was playing it. Now that I have quit playing, she does not watch it anymore.
But, the other day, when she was sitting in her hotel room in England, flicking TV channels, she stumbled upon the live coverage of the Women's World Cup in the UK. As I was commentating on this game, she stayed on it for a while.
When I returned, she told me excitedly that she had watched the game till the very end, and that she had enjoyed every bit of it. She said she loved the style with which these girls were playing, and made one interesting observation: Having watched women's cricket many years ago, she said these women did not look like they were making a great effort to do the basic things of the game.
Bowling, for example.
Earlier, when woman cricketers bowled, it looked like they were hurling a heavy iron ball. They do the same thing effortlessly now. Also, while batting, today's women hit boundaries without much fuss—the sixes are effortless.
There is no better example of this than our very own Smriti Mandhana and Deepti Sharma. It has been fun watching them hit the fast bowlers out of the ground nonchalantly.
What my wife basically saw was that today's women are doing all the things of the past better and more easily and naturally. Earlier, when people, especially men, watched women's cricket, the first thing they noticed and found hard to get out of their minds was how much of an effort all this activity was for these women.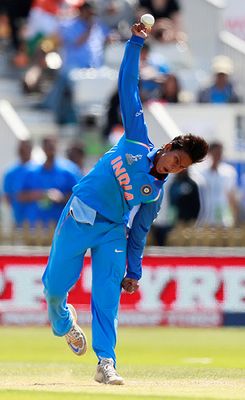 This put them off. Not anymore, like my wife found out. Now it is just about watching cricket, enjoying the skills of batters and bowlers, and see who is winning. It is much more seamless, going from men's cricket to women's cricket. Like how it is with tennis.
The ICC has put all its might behind this edition of the Women's World Cup. When there were four matches played simultaneously on one day, ICC covered all four games live. One game is picked out every few days for a full-fledged TV coverage, matching the standards of men's international cricket. Why, women's cricket has DRS for the first time!
I do believe that this is a crunch time in women's cricket. For it to get the much-needed boost, India must continue to play well. If India makes it to the semis, women's cricket will have the biggest audience ever!
Such is the state of international cricket today—for the TRPs to be high, Indian fans must watch it.
This is not the first time I am commentating on women's cricket, by the way. I quite enjoy doing this. Women do a few things that you wish men could—in the case of over rates, for example. Men are supposed to bowl 15 overs an hour, but they bowl only 13. Women bowl 17 an hour!
A 50-over women's match never drags on like men's can. There is no sledging, and no players are penalised for bad behaviour. Women just get on with the game.
And, finally, the Indian women here in England have told their male counterparts, who were playing the Champions Trophy only weeks ago: "This is how you do it; this is how you beat Pakistan."
editor@theweek.in