I was to attend the first meeting of International Olympic Committee's (IOC) Athletes' Commission in Lausanne, Switzerland, during November 3-6. Since I had to prepare for the China Open, I wrote to the Athletes Commission chair, Angela Ruggiero, about my training for the China Super Series and requesting exemption. She obliged and wished me all the best for the tournament.
Luckily it was not just me who had asked to be exempted. Luis Scola, the Argentine basketball player, could not attend the meeting since he, too, had a game to play. Despite my absence, I received daily updates of the meeting.
The China Open Super Series starts on November 12 and I am super excited to participate in this because I have not played in any tournament after my Olympics campaign, which ended on August 15. Because of my injury, I also missed the Denmark and France Super Series tournaments.
Yes, I am excited, and a tad scared; after all, I am human. I have not been on a court for the past two months and my coaches do not want to put me under any kind of pressure. It is a platform to perform at an international level and we will only have to wait and watch how I manage there.
Normally, if you are an active player you are required to practise the usual game every day. But in my case, there has been a long gap and we are a little worried about that. Recuperation is a slow process. There may be some weight gain, stamina will be lower and the courage, too, is somewhat shattered. All these things need to be taken into consideration.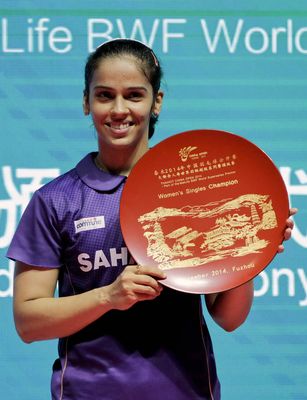 Even though the hiatus may have been great, there are no special exercises. They are almost the same as those for a healthy player. Exercises are the same for rehab and match practice.
The body is a definite indicator. When there is no pain and no fear then I will play my usual game of badminton. Or I may have to take more time to come on top, with my weak, unprepared body. It is a difficult issue to deal with injuries. Am I panicky? Yes, I am, but then it happened to me earlier, even when I was playing without this injury break. It happens to all normal players.
Having said all this, I do not think I am going to get any sympathy from my opponent. Why should they be sympathetic? In fact, they will take advantage of it by doing several things, including increasing the pace of the game. They can try me in several ways, and if I am able to face all that, then I will know that I have recovered completely.
You may wonder if I am feeling confident. I am a player and I do not want to pretend about anything. In reality, it is all very simple: I am a player, I have to play the game and I am going to do just that.
I am not doing anything new. Everything is the same as earlier. I have come out of an injury and I have to see how I will be on court, where it is highly competitive. Nothing has changed in my diet too. I am on no medication and am only doing exercises for all parts of the body at various levels of difficulty. That should help.
I will be leaving for Fuzhou, almost 1,600km south of Beijing, with my physiotherapist on the evening of November 11. Since I am a seeded player, my match will be either on November 14 or 15.
I was winner of the 2014 edition and runner-up in 2015. I have been here at least three times. Now, let us hope for the best. I hope my courage stays with me, my body does not give in and all the hard work I have put in stands by me. I promise to give my best out there.
editor@theweek.in