Yes, I won the Malaysia Masters Grand Prix Gold, and a win is a win since all wins have a high significance. The last time I won a tournament was in
June 2016 at the Australian Open, which was followed by a large gap owing to the injury that you all know about.
After any sports injury, the recovery usually takes six months. Looks like I have recovered well. I am fit and doing all the training schedule as suggested by my coach Vimal Kumar. I hope to do better in the coming tournaments.
A win gives a morale boost to all athletes and that is how it is in my case, too. But then, the Malaysia Open is not a high-level tournament and is only third on the ladder after Super Series Premier and Super Series tournaments. But a win is a win, and I am satisfied.
I played in the Premier Badminton League from January 1 to January 14 and then immediately went to Malaysia, which means I had no rest. This is one of the reasons why I skipped the Syed Modi tournament. This one week of rest will do me good.
Take Ajay Jayaram, a young player who played well at the Malaysia Open and reached the quarters. I think he lost because of lack of rest. He is a good player and will show better results in the coming tournaments. There is no fixed rule about how much rest one needs, but rest is rest. A player will be able to give the best results after a good rest followed by better training.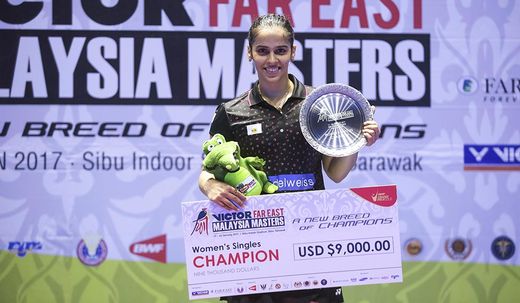 Recently, I tweeted to Yuvraj Singh, to appreciate his achievements. Yuvraj considers me brave because I came back into the game after the career-threatening injury to my knee. Since Yuvraj made a century in the ODI after a long absence, I thought it was appropriate for me to praise him and so I tweeted. Social media is interesting and convenient in certain ways!
My term continues at the International Olympics Committee's Athletes' Commission. Usually, there are two meetings each year, and the first one happened in November 2016. I think the next meeting will be held soon.
Now I am preparing for the All England Open in March. Some players do like to play the German Open prior to this one for conditioning, especially in Europe. But then I have never played the German Open in the past, so I am skipping it again.
But the All England Open is important, and maybe I should play one or two major tournaments in between so that I get the practice and the exercise also.
Come to think of it, the All England Open is like any Super Series Premier. I won the Indonesia Open in 2009, which is of the same rank. It is not very difficult. But then if a win is important, it takes a different meaning. My game will remain the same as I have been playing till now. To change technique, I think, may be a bit risky.
By the way, I watched the finals of the Australian Open (tennis). In fact, I had already predicted that Roger Federer would win this grand slam, and he did. Among the Williams sisters, Serena had an upper hand over Venus. It sure was a pleasure to watch the greats play.
editor@theweek.in