Time always seems to be of great paucity for me. I do not remember how and when my childhood went by. I have never played with dolls, neither did I bunk college to go watch a movie. I have had no time to attend any marriages or birthday parties. And, holidays have been an unknown entity. It has always been badminton, 24 hours, seven days a week and 12 months a year. The years between 2000 and 2017 have gone by as a single day, or so it seems.
There are, however, moments I have cherished over the years—winning over 20 titles at international level and becoming world number one besides winning a national championship, being conferred several civilian awards and two honorary D Litt degrees for excellence in sports. But yes, time has flown by.
My time is managed by my coaches, the travel by the government and the finance by my sports company manager and my father. I merely have to prepare to play. My job is to play. My day is normally full of practice, games, followed by stretching, meals and sleep. Once in a while, I go to see a movie or watch a serial on TV with permission.
For most matches, I keep aside one day for travel and one day for rest and to get used to the time difference. The third day is for the match. Over a period of time, we get well adjusted to the timings as we have to travel across 27 countries, in Asia, Europe or Australia.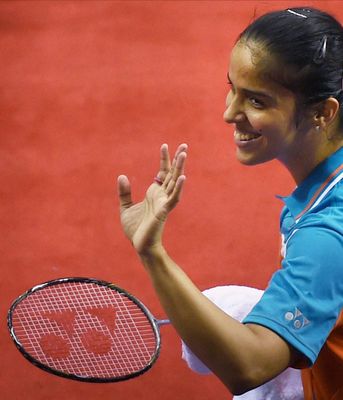 In 2010, I won the India Open Grand Prix Gold International (first chapter), held in Chennai. I won it in three sets, defeating Wong Mew Choo of Malaysia. From there, I headed to Singapore, where I defeated Tai Tzu Ying, at present the World No 1, to win the Super Series. Incidentally, my first match in Singapore was against Wong Mew Choo. Next, I went to Indonesia and won the Super Series. This was my third win in three consecutive weeks. There was absolutely no time to rest or to celebrate. It was a rare event to win three tournaments back to back in badminton, which was appreciated by one and all.
In 2012, I won the Denmark Super Series Premier, and was runner up at the France Super Series the following week. I have gone through some lean periods, too—2014 was one. But the next year was better—I won the China Super Series Premier, reached the finals of the All England and World Championships and also became World No 1.
Sports, eventually, is all about victories and losses. When I win, I rejoice—I practise more, eat and sleep well and indulge in an occasional body massage. When I lose, I weep, console myself and then practise without any sign of frustration. You learn to tell yourself that loss is part of the game. When I return home after a loss, my parents and coaches encourage me to learn from the mistakes and use the loss to improve myself and learn from it. I am going through a fairly tough phase now because of the injuries I suffered last year. I suppose one has to fight the lows with courage and sound technique. I also believe in God. You can lose a match, but not enthusiasm. Playing with enthusiasm is my duty, my religion and also my bread and butter. And, I will keep doing that.
It is, however, time to say goodbye to the readers. It has been a matter of pride for me to be a part of THE WEEK. I started writing this column at the beginning of Olympics 2016. I saw many ups and downs in my life during this period, and I shared most of them with the readers and enjoyed their interest in my views. I thank all the readers for their love and wish them all the best. I also thank THE WEEK for giving me this opportunity.
editor@theweek.in