Achievements bring you awards. And awards, in turn, inspire you to achieve more. As a player, receiving awards is important, because it speaks of your performance. They are given to those who perform consistently for years, especially in the international arena.
The first big recognition I received was the Arjuna Award in 2009. By then, I had twice been national champion (in 2007 and 2008) and had won gold at the 2006 Philippines Open Grand Prix and at the 2008 Taipei Open, and bronze at the 2006 Commonwealth Games. I had also won the 2008 World Junior Championships and came fifth in the 2008 Beijing Olympics. The year I won the Arjuna Award, I won gold at the Lucknow Open and the Indonesia Open.
I received the Padma Shri in 2010. I was very happy to receive the honour from the president and it had a very positive impact on my game. After winning gold at the Commonwealth Games that year, I won three tournaments back-to-back in three weeks—the India Open, the Singapore Super Series and the Indonesia Super Series. I am proud to say that I was the only player at that time to achieve the feat. There was also the Asian Championship bronze that year. The achievements also helped me win the coveted Rajiv Gandhi Khel Ratna the same year.
2010 was a landmark year for me. I had been performing consistently for more than seven years, and it helped me become world number two. The awards I received gave a major fillip to my game. My brand value, too, increased and I was recognised as a seasoned player.
I received the Padma Bhushan in 2010. As per rules, there has to be a gap of five years between two Padma awards. The time between 2010 and 2015 was golden for me. I won more than 20 golds in prestigious international events, and won bronze at the 2012 Olympics. Receiving a prestigious honour such as the Padma Bhushan was highly rewarding and satisfying.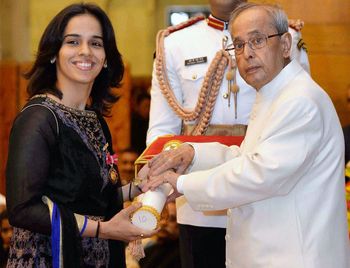 Having said that, what remains etched in my mind is my first win and my first award. It was in the Under-10 category of a tournament at Sri Venkateswara University in Tirupati. I remember that time in great detail. I left Hyderabad on Tirupati Express. My father was with me and we stayed at the TTD guest house in Tirupati, where four persons had to share a room. We ate at a nearby restaurant. It was a non-AC hall where a meal cost 030 per head. We took autorickshaws to reach the tournament venue. We had to make our own arrangements, as I was not a seeded player.
The win in my first match, however, worked like magic. I became a hero and was given a hotel room to stay. Transport was arranged for me to reach the venue. People started asking for autographs. The prize money was small, but it had much value. I still remember receiving the award from L.V. Subramanyam, IAS.
My second win was in Prague in Czech Republic in 2003. That win made me a player to reckon with in my age group. When I won at big events like the Commonwealth Games in 2006 and 2010, the Super Series in 2009 and the Olympics in 2012, people came to receive me at the airport. Awards were given and press conferences held. I was on cloud nine.
In my opinion, a win can play a very big role in a sportsperson's life. It can prolong one's career. Let me give you an example. I have played.
Wong Mew Chew of Malaysia several times. Though she is senior to me, I defeated her in the 2010 Commonwealth Games in three sets. She won the first set. In the second set, I was one match point down, but I equalled it and went on to win the match. Had she earned that point, she would have been the Commonwealth champion.
But it was my day, and it made my career. I went on to become the first Indian woman to win Commonwealth gold. Chew retired and is now married to Lee Chong Wei, her compatriot and former world number one.
As I said, one win can make a difference.
editor@theweek.in