I was selected to play the European circuit—the Czech Republic, Germany and Denmark—in February 2003 for 15 days. Winners and runners up among girls and boys in all categories are selected to travel abroad. The first country I landed in was Denmark. We were accompanied by a couple of coaches like Shrikant Vad, a physiotherapist and other staff. It was very cold, and all I could see was snow all around. We were travelling by bus from Copenhagen to Odense, which was about 200km. It was an air-conditioned bus, but the heaters had been turned on. It was a totally new experience.
My performance in the Denmark Open was okay. I was a seeded player and reached the quarterfinal. In the second leg of the tournament, we were in Prague and I won the under-19 tournament. Anand Pawar won the junior boys tournament. We were the first Indians to do so, I think. In Germany, the match was held at Bonn and I reached the quarterfinal there as well. Though I have visited the city several times, I have never dared to explore it because of the extreme cold.
But travelling abroad was definitely a learning experience. I learnt a lot from the players, changed my style of living and also learnt to be friendly with people I had never met before. In fact, staying in a hotel on my own was also a new experience.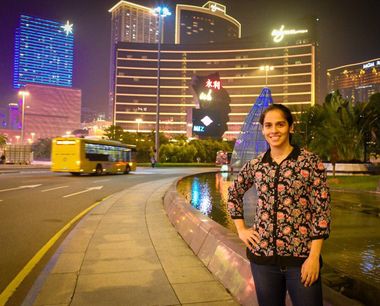 In 2000, 2001 and 2002, I played junior category tournaments in many cities of India, like Chennai, Bengaluru, Mumbai, Pune, Lucknow, Jaipur, Chandigarh, Kolkata, Patna, Jamshedpur, Kochi, Coimbatore, Delhi, Guwahati and Hyderabad. Most cities have their own unique food and scenery. I enjoyed every city in India. I also travelled extensively in Andhra Pradesh—Bhimavaram, Gudivada, Visakhapatnam, Vijayawada, Nandyal and Tirupati. Hyderabad, however, continues to be my favourite, probably because it is home.
Yes, I travel a lot and have been to every continent, except Africa. But, I do not really fancy travelling as I fear air travel, because of the turbulence and, of course, the food. It is all so routine. I do not think I make a good traveller.
I usually travel two days before a tournament so that I do not feel any jet lag and tiredness. After a long travel, I take rest for eight to ten hours and only then head for practice and trainings.
In a new and foreign place, we, Indians, tend to get together, and food brings us closer. There are times when we eat our meals in solitude, too. I am not a fussy eater. Every place now has an Indian restaurant, and these act as saviours. And no, I do not carry pickles or such from home. If I need something, I pick it from the local malls.
I travel alone. My mother or father accompanies me on rare occasions, and I have to bear their air fare and room rent and take care of their meals. I never, therefore, extend my stay in any place. We get $50 as daily allowance, which is sufficient for meals even with one guest. And if I save some money, I spend it on hairbands or trinkets. Rarely have I bought a cell phone or accessories. And since there is no excess money, I do not buy any gifts. Nobody expects them either. I am never tempted to buy anything from abroad. I just eat properly and perform to the best of my ability. I think India is my first choice and I will always live here and enjoy my life. For short trips, I do not mind Singapore or Dubai.
editor@theweek.in