In a recent trip to Delhi, I learnt about the centennial commemoration of Indian participation in World War I. The Indian Army was the largest volunteer army in Asia, and one of the two largest in the world.
In the first war, over a million strong army of Indian troops were taken by the British to various battle fronts across Europe, Middle East, Central Asia and Northern Africa. Seventy-four thousand died, nearly hundred thousand were grievously injured and many went missing. These brave soldiers fought in unfamiliar terrain and with unfamiliar weapons, spending winter months in summer clothing, lives and limbs lost. We are largely unaware of their sacrifice, and that of their families who suffered immensely, surviving on a salary of Rs.15 a month or 50 paisa a day.
As if this wasn't enough, once again, a two million strong Indian Army supported the British in World War II. The Indian Army began the war in 1939, numbering 2,00,000 men. As the war ended, it had become the largest volunteer army in history, rising to over 2.5 million men by 1945. Serving in divisions of infantry, armour and a fledgling airborne force, they fought on three continents in Africa, Europe and Asia. Nearly three million lives were claimed in military combat, civilian death and war-induced famine.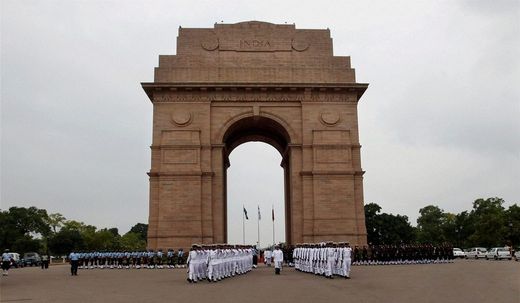 Ironically our fight for freedom was also on at the same time, but it was a non-violent one. Some of the Indian revolutionaries said that it was the right moment to take advantage of the situation and pressure the already weakened British to give us freedom. But somehow our political leadership of the day disagreed. When Mahatma Gandhi said, "If we could later improve our status through the help and cooperation of the British, it was our duty to win their help by standing by them in their hour of need," we did our duty, laid down our lives, and simultaneously continued our fight for freedom without lifting a single weapon. It is important to notice that this is a phenomenon unknown anywhere else—that you protest against your enemy peacefully but you also lay down your life to support him. We have always held up what's right above our own well-being. That's true even today.
In pursuit of what is ultimately right, this is a nation where a large population will give up every comfort, everything that normally a human being aspires for. It is because of this spiritual ethos that runs in our blood that the independence struggle had this unique streak. But we also had lessons to learn from it.
After the war, the unconditional support lent to the British did not pay off. Even Gandhiji felt that he had received 'stone for bread'. He later said, "Among the many misdeeds of the British rule in India, history will look upon the act of depriving a whole nation of arms, as the blackest". It is amazing that he said this, but that is the man he was, more than a moral code. And that is why you need to respect him. But the world has not reached such a level of consciousness that we can simply live without protection.
Today the four limbs of a nation are the executive, the judiciary, the military and the civil services, and it is imperative that all of them are limbered and agile. A strong military, as we have today, has to be on top of the list. It is, after all better to be wise than wounded, isn't it? Look at the history of this nation. After never having invaded a single nation, we have been invaded and brutalised many times over. We have been broken by every invader; our ingenuity was systematically broken, our industry was broken, our business systems were broken. This is because there was no consciously built military wing.
So much for political wisdom and after having paid through the price of nearly four million lives, so much for a non-violent way of claiming freedom for the nation. It is with a very heavy heart that I write that we have been 'taken' too many times. It is time that India lives wise and strong.