Old socialist Rabi Ray, who passed away last week at 91, had been living in oblivion for a while. But a few old Parliament hands had remembered him last year, when Speaker Sumitra Mahajan ordered a Jaguar, costing close to half a crore. They recalled how Ray, after taking office as speaker of the 9th Lok Sabha in 1989, had sent back a Mercedes-Benz that his flamboyant predecessor Balram Jakhar had got for the speaker's use. Ray insisted he would have an Ambassador.
Ray belonged to the old school of socialists that had Jayaprakash Narayan, Ram Manohar Lohia, Acharya Narendra Deva, J.B. Kripalani, Madhu Limaye, Madhu Dandavate, George Fernandes, S.R. Bommai et al—erudite, principled, well-meaning souls; incorruptible to the core; liberal to the point of being libertarian. Men who would forgo their own liberties for upholding the liberty of the masses against despotic regimes.
They possessed angelic hearts of gold, yet also had devilishly disruptive minds of lead. Their hatred for the despotic order often made them stray into the realm of anarchic disorder. They revelled in bringing down bad regimes, but didn't know how to build good regimes, and sustain them. An exception was Fernandes who started as a disruptor of regimes, but mended his ways to become one of India's best defence ministers, and a guarantor of coalitional stability to the Vajpayee regime.
Procedural order and political disorder marked Ray's 19 months of speakership. He let the President's address to the joint sitting be telecast for the first time, and brought sanity to the zero hour by making institutional arrangement for MPs to raise issues.
Ray had come to preside over the house at a time when, as was said of mid-19th century Britain, the house rather than the electorate made and unmade governments. No PM till then had had to prove his numbers in the house. It was in Ray's house that a PM, V.P. Singh, had to move and win a motion of confidence for the first time. It was also in Ray's house that a PM, again VP, moved and lost a motion of confidence for the first time.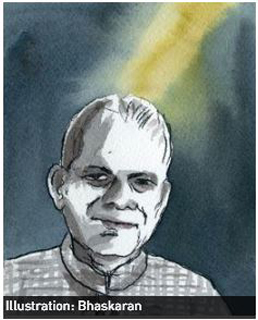 Ray tested Parliament's power against both the judiciary and the executive, and prevailed. It was he who admitted the first ever motion to impeach a judge, and the move was upheld by the court. It is another matter that the motion, against V. Ramaswami, was defeated in the next Lok Sabha (impeachment motion does not lapse with the house), presided over by another speaker.
Ray's clash with the executive was equally historic and partly comic. As V.P. Singh's Janata Dal-led government tottered following the Ayodhya-charioting BJP's withdrawal of support, more than a third of the Dal MPs moved towards rebel leader Chandra Shekhar. Sensing that the revolt by more than a third would have to be recognised as a split, and would not attract disqualification under the anti-defection law, party boss S.R. Bommai informed Ray overnight that he was expelling them. Ray sent notices to the members, which some of them challenged in the High Court. When the court issued notice to him, Ray said he was not obliged to explain to the court his actions as the head of the legislature.
As Ray was mulling over giving a ruling over the 'defectors', Chandra Shekhar's law minister Subramanian Swamy walked into his chamber and allegedly threatened to get him arrested for contempt of court. Swamy later apologised in the house, and Ray unseated the 'defectors'.
It is another matter that the PM had the last laugh. He kept his disqualified ministers within the cabinet, saying they could continue for six months. The government fell in fewer months.
This columnist once asked Ray what had been ailing Indian socialists. He gave a smile and one word: "Warlordism". A candid confession?
prasannan@theweek.in