There are a few iconic photos—which look ironic too—in the annals of Indian rocket science. One is of the nose-cone of a rocket being taken on a bicycle in the 1960s; another is of the Apple satellite's components being carried on a bullock-cart in 1981.
ISRO scientists are proud of the photos; show how we built rocket science in the age of rationed food, they say.
Something equally ironic happened on June 5. That day, TV screens showed ISRO's cryogenically-powered 'Fat Boy' soaring into the sky, carrying India's heaviest-ever satellite GSAT-19, which will revolutionise digital communication in this bullock-driven, beef-riven country. The same day, a video went viral on social media, showing Union Minister Arjun Meghwal climbing a ladder kept against a tree in a Bikaner village, to capture the feeble cellphone signal. "Now you know the importance of planting trees," quipped a friend. It was Environment Day.
The two videos of ascent—one of the rocket and the other of the minister—point to the digital divide in India. But digital wizards assure us that the gap will be bridged under Digital India.
At present, India has the world's second largest (after China) number of internetters, but we rank 105th in net speed, with an average connection speed of 4.1 megabits per second. The GSAT-19, and two more satellites that ISRO will launch before Modi goes to the polls in 2019, will connect every hamlet on terra Indica (including Meghwal's), and speed up the net to 60 to 70 gigabits per second.
Modi has been launching schemes and programmes at gigabit rate—one a month for the last 36 months. Some like Skill India are running at megabit rate; a few like Make in India and Clean India at kilobit rate; and a few others like Pradhan Mantri Gram Sinchai Yojana and Krishi Amdani Bima Yojana have been lost in the vast Indian rural wilderness. And most people in the south are clueless about what Sinchai and Amdani mean, and who these schemes are meant for.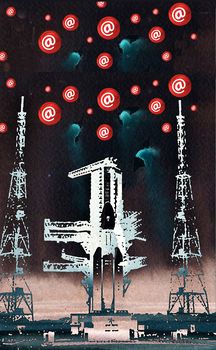 The one programme that is truly rocking and rocketing ahead is Digital India, piloted by Ravi Shankar Prasad's electronics and IT ministry. Digital India appears to have cut across the linguistic divide and the class divide, and reached across to the Brahmin and the Dalit, the Hindu and the Muslim, the townie and the rustic, the northie and the southie, the wise and the fool, the banker and the bankrupt, the learned and the unlettered.
Prasad has impressive figures to flaunt. The number of smartphoners has gone up from 22 crore three years ago to 40 crore today, and internetters from 24 crore to 50 crore. More than 114 crore people have been Aadhaared till date, from 63 crore in 2014. E-governance deals have gone up from 97 lakh a day in 2014 to 3.5 crore in 2017. Two lakh kilometres of optical fibre cable has been laid and 91,000 of India's targeted 2.5 lakh village panchayats have been connected. Close to 50 lakh persons have digilocked their 73 lakh documents.
Prasad can also claim much of the credit for dousing the citizen's anger over Modi's cash-ban of November 8. While the Reserve Bank looked clueless in the 'cashtration' chaos, Prasad's Digital Indian mandarins were getting software made, programmes written and networks built for a host of digital payment modes. Mobile wallet transactions rose from 22 lakh on November 8 to 45 lakh on May 17; unified paying interface deals from a mere 3,721 to 3.31 lakh, recording a whopping 8,800 per cent growth; and debit card use from 4 lakh to 14 lakh.
The worry is about cyber security. The cyber security policy is yet to be implemented, but Prasad promises that the Cyber Coordination Centre, which will act as an internet traffic authority, will start running this month.
Good luck! In gigabits.
prasannan@theweek.in