Narendra Modi's Israel visit was historic. He is the first Indian prime minister to go there. It was also historical. It recalled several events in the making of Israel. Indians had roles in a few.
The Jews had been scattered, and treated bad, all over the world except India, since Palestine was taken by the pagan Romans, then the Christians and finally the Muslims. Yet, many Jews also grew wealthy in Britain and America. The British had a Jew prime minister in Benjamin Disraeli, and India had a viceroy in Lord Reading.
On November 2, 1917 British foreign secretary Arthur Balfour promised a Jewish state in Palestine—the first step towards forming Israel. Israel is celebrating its centenary now.
A British army under Edmund Allenby was then marching to take Palestine from the Turks in World War I. Within a month, he captured Gaza and Haifa. It was at the memorial of the Indian troops killed in Haifa that Modi placed a wreath on July 6.
The assault on Jerusalem was made by Indian and European troops under Philip Chetwode. Later, as Indian Army chief, he would lend his name to the main hall of the Dehradun Military Academy.
On December 11, Allenby became the first Christian commander to capture Jerusalem in 800 years after the Crusades. But he was discreet and reverential. He dismounted, didn't use the word 'crusade' (unlike the George Bushes when they launched wars on Iraq and Afghanistan) in his speech, and took with him Lawrence of Arabia, the greatest European friend of the Muslims.
Allenby promised "the adherents of three of the great religions of mankind", that "every sacred building, monument, holy spot, shrine, traditional site, endowment, pious bequest, or customary place of prayer... will be maintained and protected according to the existing customs and beliefs...." As he marched out, he asked his trusted Muslim troops from India to guard the Temple Mount.
The war ended, Palestine came under British mandate, Jews from Europe arrived, and strife with Palestine's Muslim natives began. Both sides wooed India. If the Jews sent Hermann Kallenbach, Gandhi's "soulmate" from South Africa (as Israel's Gandhi scholar Shimon Lev, whom I met in the Hebrew University Library, calls him), the Khilafat wooed Gandhi through the Ali brothers. Nehru, a champion of decolonisation, could not side with the Jews who were getting their land as a colonial gift. And the Jews hated the Hindu rightists who had been cheering Hitler.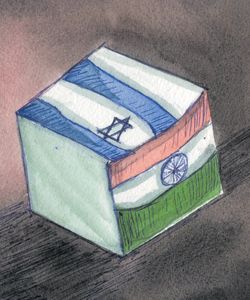 World War II ended, Israel was formed, and Arab-Israeli wars began. The first one ended with Jerusalem being divided between the Jews and the Muslims. In 1967, Israel captured the entire city, and a lot more lands all around. Israel is celebrating 50 years of this victory now, but Modi discreetly kept quiet about it.
Nehru had recognised Israel, but kept off ties in view of India's anti-colonial cause, commitment to non-alignment, and dependence on Arab oil and jobs. The world changed in the 1990s, the Cold War ended, Israel and Palestine went for a peace deal, and Yasser Arafat told Narasimha Rao that India should reach out to Israel.
Modi and Netanyahu are celebrating the silver jubilee of this diplomatic reach-out. Modi also wants Israel's technologies for India to grow; while Netanyahu wants India's good offices to reach out to the Arabs and Iran.
TAILPIECE: Memorial slabs mark out every square inch of Jerusalem, but it took me six days of late evening strolls through the city's ancient streets to spot the Allenby Monument, an unmarked cenotaph standing in an obscure corner. It had been moved there from the spot where Allenby had accepted the city's surrender. As luck would have it, I found a nice little hotel next to it, owned by an English-speaking Jew who had a room with a view of the monument.
prasannan@theweek.in