When a killer tsunami hit the Indian Ocean shores ten years ago, Manmohan Singh, then six months into office, sent out his warships and military planes with food, medicine, water, blankets and rescue kits to our neighbours in distress. Many in the west hadn't thought that India could mobilise its men and material in such quick time and reach them to the coasts of distress. By the time the bleeding-heart NGOs from elsewhere landed on the tsunami-swept shores, some with used blankets and torn T-shirts, the dead had been buried, the trapped rescued, the injured tended, and the homeless sheltered in Indian military tents.
Mein hoon na!―India told its neighbours, as THE WEEK headlined the Herculean effort in a cover story.
Atlas shrugged under the Himalayas a few minutes before noon last Saturday. Within minutes Narendra Modi was on the phone with Nepal's President Ram Baran Yadav; within hours Indian aid was on the plane to Kathmandu. In four hours, the first Indian Air Force Hercules, carrying 39 relief men and 3.5 tonnes of food, medicines, medical kit and tents, was winging its way into the shaken, stirred and shattered Nepal. By Saturday nightfall, Modi had despatched half a dozen mammoth military planes carrying tonnes of relief and rescue material. Another ten of them landed on Sunday.
Mein hoon na! India reassured its neighbour.
India has been maturing as a friend in need. We have been sending our airplanes as aid planes, and naval vessels as vessels of kindness, to every coast that has been putting up flags of distress. The very next year after the tsunami, aid-loaded IAF Ilyushins landed in Chakrata, Pakistan, where they would otherwise have been shot down, to give succour to quake victims in Pakistan-held Kashmir. Another few landed in Arkansas in America to help those hit by hurricane Katrina. And only weeks ago, IAF Globemasters landed overnight in the Maldives when the islands ran out of water.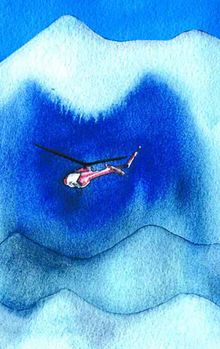 We have also learnt to manage home troubles better, after the supercyclone of 1999. There is a disaster management authority in place headed by the prime minister, which formulates policies and even drills for managing calamities. Predictable disasters such as cyclones no longer scare us in the way they used to. The coasts are cleared, so to speak, well before the cyclone comes calling, and relief is readied before distress hits. Even the freak floods of Kashmir last year were confronted and contained in a better manner than they would have been in the nineties or earlier.
India has stopped weeping over its own dead and started reaching out to wipe others' tears. All the same, the self-congratulating must be restrained, especially when aiding neighbours. For one, other neighbours haven't been found wanting. From Beijing, Xi Jinping sent several rescue teams to Nepal with sniffer dogs, tonnes of medicines, tents, blankets and generators. From Islamabad, Nawaz Sharif despatched two airplanes loaded with relief stuff and goodwill and a large team of doctors.
Unabashed 'self-sabashing' will make us look small. Cathartic philanthropy will backfire on the donors. Nepal should be helped, but not with torn blankets and old T-shirts. It will offend the Nepalis, a proud people with a strong sense of honour.
TAILPIECE: Nepalis are like the legendary Porus before Alexander―a people who, even in defeat and distress, demand to be treated with honour. The British understood them well. Two Anglo-Gorkha wars, fought exactly two hundred years ago, ended in a convincing British victory. But instead of subjugating Nepal, the British entered into an honourable treaty with Nepal. The winner and the loser parted as friends, with enhanced respect for each other. Why, they even built memorials for each other's dead.
prasannan@theweek.in