Hypocrisy, thy name is Arvind Kejriwal. The ongoing events where you are "breaking news" (or rather breaking the back of sensible news) make it amply clear to the average Indian that you are here only to become a household name via news media, courtesy your theatrics. While you may believe you are projecting an image wherein people think of you as the victim or the hero of make-believe political tussles and circumstances, the country loathes your brand of politics for the new low that you have brought it to.
History will not remember you for your good work or policies, but for your vagabond ways and loathsome words that you have not only for your colleagues, but also for the prime minister of our country, and also for levelling false allegations to stay in headlines.
Your record would show a rather poor performance in terms of governance, in terms of transparency and in terms of humility expected of an aam aadmi rising through the ranks, promising utopia in Delhi.
Your educational background ought to have brought that intelligence, finesse and humility required of a person from a "humble" background as you claim for yourself. On the contrary, you have adopted and subscribed to an attitude of smugness and faux commonality, which even the most common of men from the village you claim you belong to would find totally abhorrent.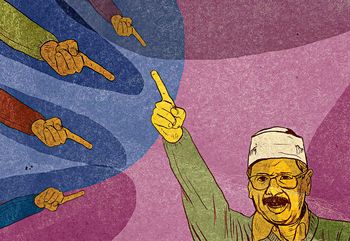 Mr Chief Minister, why are you shifting the goalposts from abusing the country's prime minister to false allegations against the CBI to dragging in the Delhi and District Cricket Association files on which you have sat since July to now accusing the finance minister of irregularities without an iota of proof? Does this not reek of a nexus between the political affiliates and elected members of the Aam Aadmi Party and your favourite bureaucrat Rajendra Kumar, who is under the scanner for his alleged acts of omission and commission since 2007?
You, Mr CM, demand answers and make accusations with no substantive proof, while choosing to overlook and drown in rhetoric the following issues: 1. An FIR registered in 2012 in a Rs.100 crore transport/CNG scam for which Kumar is being questioned. 2. A Transparency International letter dated May 2015, informing you of alleged wrongdoings by your principal secretary, again Kumar. 3. A letter by bureaucrat Ashish Joshi addressed to the Anti-Corruption Bureau alleging irregularities in various governmental departments, again naming Kumar. 4. The questioning of Kumar in the aforementioned 2012 FIR on the CNG scam just a week prior to the CBI raids in his office.
Mr Kejriwal, don't you get the feeling that you have lost the plot, and in the process your and your party's histrionics on television are a blot on your credibility as not once have you uttered a word on the allegations of corruption against your chosen bureaucrat? Your entire plank of anti-corruption has fallen in the public eye. Who and what are you shielding, Mr CM?