Much has been said and written about Delhi's sickeningly-high air pollution levels and the implementation of the imported and copied—yet called "innovative" in some quarters—odd-even policy on Delhi roads.
While courts in Delhi and elsewhere are now hearing public interest litigations over the same policy, I thought I would share my two cents, having been at the receiving end of this haphazardly-announced, much-talked-about but not-quite-there policy.
We should look beyond the political gimmickry of self-congratulatory press conferences, full-page ads in dailies and a muffler-wearing doppelgänger of Delhi Chief Minister Arvind Kejriwal telling you to ditch your car and ride a motorcycle instead. The statistics—on levels of air pollution during the 15 days of odd-even policy and on the cause of air pollution—show that we were fooled by Kejriwal & Co., just so that they could use the tax-payer's money to throw a grand odd-even success party at a Delhi stadium. He claims a heroic victory against all "odds", but the reality is different.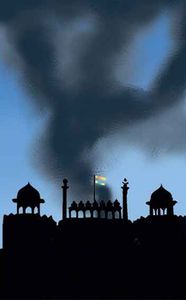 According to a leading newspaper, on the eve of the final day of the policy, particulate matter levels remained between very poor and severe levels in five locations. And, at the end of the 15-day policy, as per an independent study, the daily average of particulate matter levels was alarmingly high or severe. So what is the celebration about, you ask. Well, precisely my question!
If there is anything to be happy about, it is about the spirit of Delhi. Some Delhiites accepted the policy out of the desire to live in a cleaner environment; others were intimidated by the 02,000 fine for offenders. The residents can surely pat their backs for obeying the law.
In the absence of proper public transport for the last-mile traveller or the long-distance commuter, and despite existing means of transport facing dearth of capacity, the harassed and inconvenienced Delhiite has emerged victorious. But, to mislead him with advertising worth 0526 crore is unfair to say the least.
Studies show and experts say that the leading causes of air pollution are dust, burning of waste and particulate matter from construction sites. And, when we consider vehicular pollution, two-wheelers cause maximum damage (32 per cent), followed by trucks (28 per cent; mostly diesel-run) and cars (22 per cent). Not only were two-wheelers and taxi-cabs exempted, but also Mr Kejriwal encouraged people to go the two-wheeler way. The entry time of commercial trucks was shifted to 10:30pm, as if plying at night would not cause air pollution.
Let us also not forget the forced shutting down of schools, which will now lead to additional classes and ruined weekends for students. So, what has been attained on the ground? Zilch, actually.
In stark contrast, you have Prime Minister Narendra Modi continuing his push for Swachch Bharat. The oil ministry has decided to directly switch from Bharat Stage IV to Stage VI fuel, and the road transport ministry is undertaking measures like the construction of the eastern expressway to keep commercial vehicles out of Delhi, provision of 5 lakh litres of bio-diesel to Delhi, support for ethanol-run cars and issuing various pollution-cutting directives to car manufacturers.
All this is sans the ostentatious chest-thumping that is costing us Rs526 crore.