With Delhi Chief Minister Arvind Kejriwal finding yet another tactic to remain alive in the news and in newspaper headlines, it is amply clear that he remains a man less concerned with governance and delivery of his tall promises and what the people of Delhi elected him for, and more with full-of-nuisance-value theatrics. Albeit, this time, it could be the inception of a drama laced with dangerous undertones of setting up an unwanted extra-constitutional precedent and could perhaps result in unrest in the entire nation.
A referendum in a distant country called by a leftist government teetering on the brink of bankruptcy is being cunningly used as an example to call for a referendum with regard to the statehood of Delhi. A referendum to help decide on the financial austerity of a faraway land can hardly be used as an example to lend credence to a similar exercise that could throw into turmoil the established relations between the Union government and the capital city-state, from where the Union government is also run.
For those who can read between the lines, here is a man dangerously smart and ready to use any world event to ensure that his challenge of confrontational politics is a constant to the constitutionally elected Union government, a challenge masked in popular appeal to the masses who, perhaps, are not necessarily trained to understand the deeper evil behind his rhetoric.
While people may have thought it laughable that the chief minister chose to discuss the finer points of Constitutional law in a mass rally of autorickshaw wallahs, I believe these to be dangerous portents for the future. What else would explain Aam Aadmi Party MLA, lawyer and former law minister Somnath Bharti tweeting half-truths about a referendum proposal made during the 44th Constitutional Amendment Bill in 1978, but sinisterly leaving out the failure of the proposal to get two-thirds majority in the Rajya Sabha, effectively rejecting the very referendum proposal that members of the AAP are sheepishly attempting to declare as constitutionally valid.
This attempt at drumming up passions and whipping up mob frenzy, not necessarily conversant with the peculiar requirements of safety and stability of the capital, is an extremely perilous way for the future of our country. Additionally, a masterstroke of manipulation is the CM's attempt to rope in the Election Commission to give his megalomaniacal bid at usurping power a semblance of democratic legitimacy.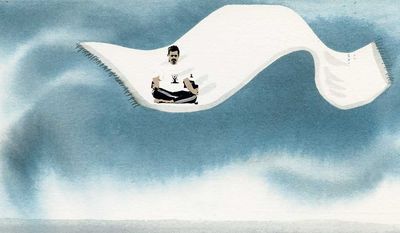 Not surprisingly, his treacherous designs at misleading the public and perhaps causing mass upheaval have found detractors. Legal eagles have termed his call for a referendum as unconstitutional, and even his ardent supporters, at best, have clarified that he perhaps meant a mere 'public opinion' poll. This ambiguity of how this plank will play out with respect to public sentiments is where the actual risk lies.
While full statehood for the Union territory of Delhi might be appropriate in the future, the choice between the majority voice of untrained masses and those with constitutional, administrative and governmental knowledge is hardly comparable. In fact, what can be inferred from these malicious attempts at causing disruption is perhaps a "show" of governance through mass appeal.
Not everyone's memory is short-lived to not recall how Kejriwal, on his last dramatised dharna for full statehood in January 2014, called for a boycott of Republic Day and threatened to not allow it. Of course, his packing-up his drama solely on the suspension of law-abiding cops and before his "demands" were met raised quite a few eyebrows and questions regarding his real intention for full statehood of Delhi.