Shakespeare lived a double life as a playwright/ dramatist in London and as a landowner/ businessman in Stratford-upon-Avon

It is believed that Shakespeare's original grave marker had shown him holding a bag of grain. It was only in 1747 that the bag was replaced with a quill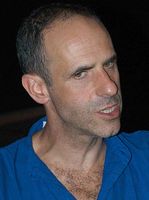 When we think of Shakespeare's stage we are most likely to think of the physical playhouse most associated with his name: The Globe―its recent reincarnation on London's South Bank. This is the quintessential, iconic image of Shakespeare's space: outdoors but partly covered, a courtyard with raised platform, audience wrapped around the stage, some standing with tiers of seats reaching up into the thatched roof.
It is a beautiful and simple space compared with the grandeur and comfort of theatres that aspired to follow the later European model.
The 'Italian stage' or 'proscenium arch' brought with it lights, stage sets, scene changes and illusion. Shakespeare and his contemporaries needed none of that, playing directly to the audiences' imagination and sensory hunger via the astonishing text. But Shakespeare did not only write for that stage, he also played in small indoor spaces. These were also simple and a precursor to today's 'studio' (no proscenium or fixed seating) albeit belonging to court, judiciary and aristocracy... rather like the performances now staged in the palaces of the Emirates.
So, we should not get too obsessed with the actual physical space. A performance of a play by Shakespeare in a recreation of his Globe is no more likely to be 'authentic'―close to the true qualities of the play―than one in a black box, a glittering opera house or a school hall. Indeed, why think of his stage at all―other than for academic or technical reasons? How could it lead us to better understanding of life, of being human? It is not the space itself that matters, we must instead understand how the space manifests itself in the plays. This search is indeed profound and deeply rewarding.
Shakespeare's stage was transformative; a collision between ancient and modern theatre; an earthquake that we still feel today; a radical development with which we have not entirely caught up. In his playhouse, we see the bringing together of the street (the standing courtyard) and the chamber (the covered seats) and with it the bringing together of all levels of society and tastes. This simple fact explodes through his plays in a number of essential ways.
The street gives us clear, bold, popular narratives and soliloquies shared with audiences and opening up the action to comment, objection and laughter. It gives us magnificent characters from the working, serving and criminal classes and generous, inclusive comedy. It gives us ritual and pageant, music and dance, battle and epic political tragedy.
The chamber gives us uniquely detailed and penetrating text; complex characters in thought and action; subtlety, delicacy and psychology―the invention of modern theatre no less. It is the combination of the two that creates the special character of Shakespeare's plays. Think of any of his plays, and you will see it.
A Midsummer Night's Dream is a seminal example with its working men, aristocratic lovers and spirit gods; its unrivalled comedy and intense deadly seriousness; its exemplary narrative and acute dissection of family, love, marriage and social class; its dazzling use of verse, prose, song and dance. This phenomenal play works equally well in amateur, community, experimental and mainstream theatres, outdoors, in small studios and huge playhouses. But the great lesson we could learn, if we wished, does not lie in its adaptability but in its holistic nature.
Looking at the mountain range of Shakespeare's works, I see A Midsummer Night's Dream in the middle, a magnificent peak of beauty and joy. There are greater pinnacles to come―King Lear, Hamlet, Henry IV, Coriolanus, Macbeth, Measure for Measure, Twelfth Night, As You Like It, The Winter's Tale and The Tempest. These works stand out because the characters, their words, actions and dilemmas achieve levels of detail, insight and emotional intensity unmatched to this day. Lear and his daughters, Hamlet and his mother and uncle, the Macbeths, Falstaff and Hal, Coriolanus and his mother, Viola and Olivia, Rosalind and Celia, Othello and Iago, Leontes and Hermione―all drawn with unnerving psychological, social and physical clarity in language that has kept scholars and actors unlocking riddles for hundreds of years. But that is only half the story. The fools, the witches, the Plebeians; the doctors and servants and shepherds and gentlemen; the drunks and soldiers and prostitutes and pimps that Shakespeare places in the heart of these stories of rulers and aristocrats are essential to the whole. Add to that the disguises; use of mythic, epic, biblical and folk narratives; the inexorable and ritualistic plotting; and a language that is as concrete as it is complex and as full of popular argot as it is of classical text and poetic form.
If we are truly interested in Shakespeare's stage, we would think less about the physical structure and more about the true nature of the plays. They do not belong to the rich, the educated, the intellectual and scholarly. Nor do they belong to the 'sophisticated', 'advanced', western theatre traditions. We have forgotten our other half, our other selves. Shakespeare inherited theatres' popular roots―passion plays, storytelling, poetic narratives, shadow and puppet plays, and commedia dell'arte.
The west has largely lost this sensibility and would do well to look elsewhere to understand it better before the evidence disappears. Half-truth is no truth at all, half way to our destination means not arriving. Shakespeare's stage teaches us what to look for: it is up to us to learn to see, hear and perform the plays with the awareness, openness and detail they deserve.
Turning our gaze to the earlier plays, we can see the true Shakespearean qualities with even greater clarity and simplicity. Richard III, Titus Andronicus and The Comedy of Errors all lack the greatness and wholeness of the more famous later plays. However, ritual, mythic, sensational drama flows like a torrent through Titus; a natural feel for political and historical epic sweeps Richard III to the stage; and in The Comedy of Errors we see the essence of Shakespeare better than anywhere else. This miniature masterpiece, this jewel from a young, almost naïve pen, takes a well-known classical farce and not only executes it with hilarious skill, but also flexes the emotional, introspective, supernatural, psychological and social muscles that would later create The Winter's Tale, Hamlet, A Midsummer Night's Dream, The Tempest, Othello and various Fools.
Most of all, in its final scene, it collects together a duke and an abbess with a prostitute and police officer; merchants and aristocrats with slaves and servants to share in a miraculous family reunion. On the way, it even manages a dig at religious fundamentalism and cruelty as a divisive and destructive force. In a stunning last scene, the abbess, in The Comedy of Errors, sees that individual resolution and evolution, mutual reconciliation and understanding between kin and family, and social coexistence all require that we take time to listen to each other's story. And, this means that each and everyone of that 'days' errors' must be invited to the feast.
The slave will sit with the duke and the prostitute will sit with the abbess.
For Shakespeare, it was never sentimental. His plays echoed his audience and it was the way he saw the world: as a shared reality. Imperfect, painful but hopeful. Not mine or yours but ours. At the beginning, the duke talks to Aegeon as a nameless enemy of the state―'Merchant of Syracuse'; by the end, he will be the guest of honour.
It took a photograph of the pitiful body of a four-year-old Syrian boy washed up on the sand to shake the British government to stop seeing migrants as a horde or swarm. Each is an individual with a unique story that needs to be told and heard. In The Comedy of Errors, it is a slave who speaks the simple truth: 'We came into the world like brother and brother/ And now let's go hand in hand, not one before another.' When will we catch up?
Supple is a theatre director.